January 7, 2020
U.S. Youth Poet Laureate at MLK Celebration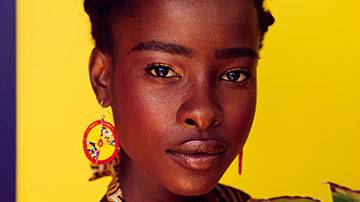 Martin Luther King, Jr. Celebration Jan. 20 in Santa Monica
Keynote Speaker Amanda Gorman is First-ever US National Youth Poet Laureate
SANTA MONICA, CA — Santa Monica College (SMC) and the Rev. Dr. Martin Luther King, Jr. Westside Coalition has announced that Amanda Gorman—named the first-ever United States National Youth Poet Laureate in 2017—will be the keynote speaker at the birthday celebration for Rev. Dr. Martin Luther King, Jr. The celebration will be held on Monday, January 20, at the SGI-USA World Peace Ikeda Auditorium, 525 Wilshire Blvd., Santa Monica.
The free event – one of the largest and most diverse celebrations of its kind in Southern California – is scheduled for 9 a.m. The event is presented by The Reverend Dr. Martin Luther King, Jr. Westside Coalition, a nonprofit coalition whose mission is consistent with King's legacy. Event sponsors include the City of Santa Monica, SGI-USA, Santa Monica College Associates, Santa Monica College, RAND Corporation, Fairmont Miramar Hotel & Bungalows, Santa Monica Bay Area Human Relations Council, CityTV-Santa Monica, and a variety of other organizations, individuals, and corporate contributors.
This year's celebration marks the event's 35th anniversary and embraces the theme "Now is the time to make real the promises of democracy." The multi-ethnic, interfaith program will include inspirational readings, speakers, music, and dance. The program also features the presentation of education awards to local students and a Community Light Award to Ruby's House 1-6 of Chosen Gospel Recovery Inc., offering collaborative services and support to promote the wellbeing and economic self-sufficiency of chronically homeless families and individuals.
Immediately following the program, a Community Involvement Fair offering refreshments and informational displays by a variety of community organizations will be held from 10:30 a.m. to noon at the nearby Fairmont Miramar Hotel & Bungalows, 101 Wilshire Blvd., Santa Monica.
Heralded as "the next great figure in American poetry," Gorman made history in 2017 at age 21 when she was named the first-ever National Youth Poet Laureate in the United States. She is a Los Angeles native who graduated from New Roads School in Santa Monica and continued her education studying sociology at Harvard University, where she is a rising senior in the top of her class. She has advocated for racial equality, climate action, and LGBTQ rights, and at age 16, was a youth delegate to the United Nations and the executive director of a nonprofit that promoted literacy. Gorman has spoken at events and venues across the country — including the Library of Congress and Lincoln Center — and currently writes for the New York Times newsletter The Edi. Her recent endeavors include signing a two-book deal with Viking (a division of Penguin Random House), and traveling to Slovenia with Prada as a reporter on the company's latest sustainability project.
Details about the birthday celebration and other related special events are available at The Reverend Dr. Martin Luther King Westside Coalition website mlkjrwestside.org. You can also find more on Facebook; Instagram @MLKWestside; and on Twitter: @Westsidemlk
Additional information may be requested by sending email to mlkwestside@icloud.com or by calling (818) 207-3934 or 310-434-4100.