January 22, 2020
Flamenco Macbeth! Goes to Regional KCACTF Festival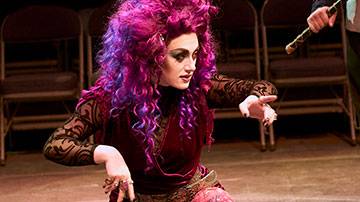 SMC'S Flamenco Macbeth! Chosen for 2020 Regional Kennedy Center/American College Theater Festival
Pre-Festival Benefit Performances on February 7-8 at SMC
SANTA MONICA, CA—The Santa Monica College Theatre Arts Department production of Flamenco Macbeth! has been selected to participate in the renowned 2020 Regional Kennedy Center/American College Theater Festival (KCACTF), which will be held February 11-15 at CSU Fullerton. To help send students to the event, SMC will present three pre-festival benefit performances.
Fundraising performances of Flamenco Macbeth! will be held Friday and Saturday, February 7 and 8 at 7:30 p.m., and Saturday, February 8 at 2 p.m. in the Theatre Arts Studio Stage on the main SMC campus, 1900 Pico Blvd., Santa Monica. Tickets are $20 (plus a modest service charge). Advance tickets are available by calling 310-434-4319 Monday through Friday. Parking is free.
Originally performed at SMC in April/May 2019, Flamenco Macbeth! is one of only six plays selected from productions judged at colleges and universities throughout the western region: Southern and Central California, Southern Nevada, Arizona, Utah, Hawaii, and Guam.
"I am excited for audiences to experience Flamenco Macbeth!." said SMC Theatre Arts professor Perviz Sawoski, the production's director. "This production blends the passionate language of Shakespeare with the intricate rhythms of flamenco, creating a new art form! I am so proud of our students and truly excited for us to share this production at the festival."
Flamenco Macbeth! was adapted by Sawoski from William Shakespeare's grand tragedy. When witches prophesy that Macbeth will become king of Scotland, he kills the king and names himself the new ruler, leading to civil war, madness, and finally, death. With choreography created by Sawoski and SMC dance instructor and flamenco expert Cihtli Ocampo, the story is intensified through flamenco rhythms, song, and dance.
The regional performances of the play at CSU Fullerton are scheduled for Friday, February 14, at 4 p.m. and 7:30 p.m., and Saturday, February 15 at 10 a.m.
SMC has a history of success at the regional levels of the Kennedy Center/ACTF competitions. Flamenco Macbeth is SMC's sixth full-performance production selected for competition at the regional festival in the past decade. Others include Quartet: 4 Short Plays by Samuel Beckett (2017), M. Courage (2016), The Old Lady Shows Her Medals (2014), Heart Mountain (2013), and Cesar and Ruben (2012).
For more information, please call 310-434-4319.