January 28, 2020
Number 1 in Transfers for 29th Straight Year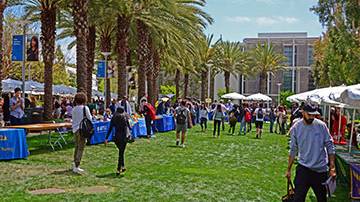 SMC No.1 in Transfers to University of California for 29th
Consecutive Year
College Also Continues to Lead in African American and Hispanic UC Transfers, Maintains Top Spot for Transfers to Loyola Marymount University & USC
SANTA MONICA, CA—Santa Monica College (SMC) upheld its record as the leading transfer institution to the University of California (UC) system for the 29th consecutive year. Transfer data for the 2018-2019 academic year released by the UC Information Center showed that SMC sent 1,272 students to UC campuses—294 more than the No.2 feeder college.
SMC also maintained the top spot for African American and Hispanic UC transfers, and continued to be the No.1 transfer college to the University of Southern California (USC) and Loyola Marymount University (LMU).
A few highlights from SMC's 2018-2019 transfer numbers:
Out of 1,272 Santa Monica College-to-UC transfers were 218 Hispanic and 71 African American students. This marks a leap in numbers for both demographic groups—last year SMC sent 199 and 54 Hispanic and African American students respectively to UC campuses. UCLA continued to be the most popular destination for SMC students: 486 of them headed to the Westwood campus, while UC San Diego and UC Santa Barbara came in second and third, receiving 217 and 151 SMC students respectively.

According to fall 2019 data, SMC had more students enrolled at Loyola Marymount University than any other community college: 78 (the second-ranking "feeder" had 17 students).

Out of 1,382 students in USC's fall 2019 entering transfer class, Santa Monica College had 118 students—more than any other sending institution—while the second-highest feeder college sent 79.
"As always, we are deeply proud of these numbers, which demonstrate Santa Monica College's longstanding commitment to student success; I congratulate our transfer students as well as the professors, counselors, and staff who have taught, championed and guided them," SMC Superintendent/President Dr. Kathryn E. Jefferysaid. "The increase in Hispanic and African American transfers also speaks volumes to the urgent work taking place here to close the gap between our highest achieving student groups and those from racially minoritized groups—it is a heartening moment in the college's efforts towards becoming a more equitable institution."
"2018-19 was another year of amazing collaboration between members of the Santa Monica College community to support all of our transferring students," said SMC Transfer Faculty Leader Dr. Janet Robinson, "In particular, we have increased our equity efforts by partnering with special programs on campus such as EOPS (Extended Opportunity Programs and Services) to expand students' awareness of their transfer options.
SMC's Transfer Center holds the largest college fair in California—the Fall 2019 College Fair held Oct. 10 at the main campus on 1900 Pico Blvd. featured 175 U.S. and international colleges and universities. The Transfer Admission Guarantees (TAGs) offered at SMC provide guaranteed admission for students who meet specific requirements to several universities including Loyola Marymount University, Arizona State University (ASU), and many Historically Black Colleges and Universities (HBCUs), among others.
The college's Scholars Program prepares enrolled and eligible students for the rigor of upper-division coursework through smaller classes taught by highly recommended faculty, coupled with intensive counseling and support. Scholars students receive priority consideration for admissions through special transfer agreements with The UCLA College of Letters and Science (Transfer Alliance Program), UC Irvine, Loyola Marymount University, to name a few.
For more information about SMC's Transfer Center and its services, please visit smc.edu/transfer or email Robinson_Janet@smc.edu.
# # # #
About Santa Monica College
Founded in 1929, Santa Monica College is a California Community College accredited by the Accrediting Commission for Community and Junior Colleges (ACCJC) of the Western Association of Schools and Colleges (WASC). In addition to being California's leader in transfers to the University of California system, the University of Southern California, and Loyola Marymount University, SMC also offers more than 110 career training degrees and certificates. SMC provides news and cultural enrichment through its NPR radio station KCRW (89.9 FM) and The Broad Stage at the SMC Performing Arts Center as well as lifelong learning through distinctive programs such as its Emeritus Program for older adults.