February 24, 2020
SMC Wins Active Minds Healthy Campus Award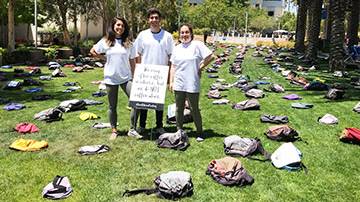 Santa Monica College Recognized as One of the Healthiest U.S. College/University Campuses
College is a National Winner of the 2020 Active Minds Healthy Campus Award, Along with Four Other Institutions
SANTA MONICA, CA – Santa Monica College (SMC) was named a winner of the 2020 Active Minds Healthy Campus Award and recognized as one of the healthiest college campuses in the nation. The prestigious award—given by Active Minds, a leading nonprofit organization supporting mental health awareness and education for young adults—was announced at the Active Minds National Conference held Feb. 21-22 in Washington, D.C.
Along with Santa Monica College, Active Minds recognized four other colleges and universities for demonstrated excellence in prioritizing and promoting the health and well-being of their students: Skidmore College, University of Arizona, University of Richmond, and Denison University.
"Santa Monica College takes great pride in providing quality support services to over 30,000 students across multiple dimensions, including ensuring that basic needs and physical and mental health are prioritized," said SMC Superintendent/President Dr. Kathryn E. Jeffery. "This college community has expanded and institutionalized efforts that support student success both inside and outside the classroom. That commitment has been actively demonstrated and most recently recognized through this award."
The Healthy Campus Award involves an extensive application process as well as multiple endorsements and interviews. Each applicant was assessed across eight criteria, with winners chosen by a panel of prominent researchers and health and higher education experts. The award recognizes colleges and universities that are leading the way in prioritizing student health. It recognizes schools that provide access to quality healthcare and champions institutions that not only serve students' physical health but give equal priority to mental health.
"Santa Monica College stands out because of its comprehensive program to integrate mental health programs into the fabric of student life," said Alison Malmon, executive director and founder of Active Minds. "The college is a model for the impact institutions of higher education can have by prioritizing a campus culture that promotes and protects the physical and mental health of its students."
The review panel for the Healthy Campus Award cited the following innovative practices at Santa Monica College in particular:
Integrating Mental and Physical Health Practices: At Santa Monica College, physical health, mental health, and basic needs are all overseen by one director, which allows for a wraparound care model. "Not all students in need access mental health support or basic needs resources due to the stigma around it," said SMC Director of Health & Wellbeing Susan Fila. "SMC's student health services provides mental health and basic needs screening for all students and provides a warm handoff to mental health providers and resource specialists on campus." SMC's robust food security program—encompassing a free lunch voucher program made possible by its Associated Students; 10 food closets and a new centralized food pantry; and application/enrollment opportunities through CalFresh for eligible students—was also commended by the Active Minds review panel.
Making Access a Priority: In addition to a main center, services including short-term therapy and case management are embedded in SMC special programs such as Black Collegians, Latino Center, Veterans Success Center, the Center for Students with Disabilities, the Guardian Scholars Program for foster youth and Student Health Services. Through a partnership with the USC Telehealth Program and the USC Suzanne Dworak-Peck School of Social Work, SMC has also made a free telehealth option available to students. Active Minds of Santa Monica College, a student club, works in tandem, providing peer-to-peer support at outreach events throughout the academic year, thus helping to break down barriers to access and reduce stigma across the campus. The SMC club is one of 550 student-led chapters across the country, and has, since its inception in Spring 2018, created monthly newsletters, held film screenings, hosted mental health carnivals, initiated student-led mental health events, and much more.
Co-location with Community Based Organizations: Santa Monica College has over ten MOUs with community-based organizations helping to meet students where they live in order to give them the best care possible. Many of these organizations also co-locate in student health and mental health services, increasing capacity and access to care. Some of these services include housing support, Cal Fresh enrollment, long-term mental health treatment, group therapy, and reproductive health services.
Students enrolled at schools like SMC often find that the health programs and services offered are seamlessly made part of the fabric of the college community.
"I have a history of anxiety and depression with panic disorder, which began when I was four years old. I have been able to succeed at Santa Monica College due to the support I have received from the college's Center for Students with Disabilities," said SMC student Camille Horrigan-Slajus, in reference to embedded therapy/counseling services she received through the center. "It has been my lifeline!"
The Healthy Campus Award is made possible through the generous support of Peg's Foundation. To learn more about Active Minds, visit activeminds.org. To sign up for the 2020 Healthy Campus Webinar on March 10, visit activeminds.org/HCAWebinar2020. For more information on Santa Monica College's health and wellbeing services, go to smc.edu/healthandwellbeing. Students interested in joining the Active Minds club may email Ladyzhenskaya_Lina@smc.edu. And for the mental health services that were particularly recognized by Active Minds, email Lisa Golden, SMC's Mental Health Grant Manager at Golden_Lisa@smc.edu.
Active Minds is proud to be partnered with Each Mind Matters: California's Mental Health Movement and statewide efforts to prevent suicide, reduce stigma and discrimination related to mental illness, and to promote the mental health and wellness of students. Santa Monica College is part of the innovative statewide prevention and early intervention efforts funded by counties through the Mental Health Services Act and administered by the California Mental Health Services Authority (CalMHSA). For more information visit: calmhsa.org.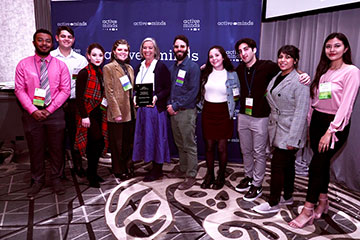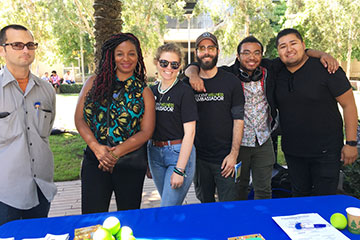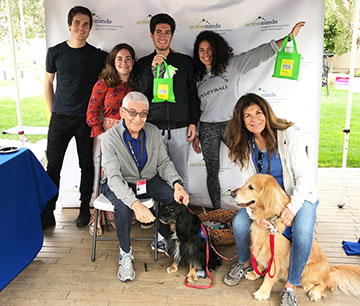 # # #
About Active Minds: Active Minds is the nation's leading nonprofit organization supporting mental health awareness and education for young adults. Active Minds has a presence on over 800 college, university, and high school campuses nationwide, and is powered by a robust Chapter Network, the nationally acclaimed Send Silence Packing® exhibit, and inspiring Active Minds Speakers. Active Minds is creating communities of support and saving lives. To help change the conversation about mental health, visit activeminds.org.
About Santa Monica College: Founded in 1929, Santa Monica College is a California Community College accredited by the Accrediting Commission for Community and Junior Colleges (ACCJC) of the Western Association of Schools and Colleges (WASC). In addition to being California's leader in transfers to the University of California system, the University of Southern California, and Loyola Marymount University, SMC also offers more than 110 career training degrees and certificates. SMC provides news and cultural enrichment through its NPR radio station KCRW (89.9 FM) and The Broad Stage at the SMC Performing Arts Center as well as lifelong learning through distinctive programs such as its Emeritus Program for older adults. SMC has one of the most comprehensive student support networks which include counseling, academic & career support services, and a robust food security program.