February 26, 2020
SMC Celebrates the First Everytable Lounge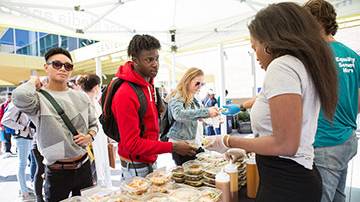 Santa Monica College Celebrates Grand Opening of First-Ever Everytable SmartFridge Lounge
Social Enterprise Everytable Partnered with SMC Foundation to Offer Healthy & Affordable Meals, Plus Hundreds of Weekly Free Meals for Food Insecure Students
SANTA MONICA, CA—Santa Monica College (SMC) celebrated the grand opening of the first-ever Everytable SmartFridge Lounge at its Center for Media and Design campus on Tuesday, Feb. 25. Social enterprise Everytable partnered with the SMC Foundation to make healthy, affordable meals beginning at under $5 accessible to students. In lieu of paying rent, Everytable will donate 300-500 meals per week to SMC's new centralized food pantry, which food insecure students can receive free of cost.
The grand opening featured free food samples, games, giveaways, a performance by the SMC cheerleading team, and music by KCRW DJ Mario Cotto from the college's NPR radio station KCRW (89.9 FM), which is also housed at the Center for Media & Design.
According to the #RealCollege survey conducted in April 2019 by the Hope Center—the nation's largest annual assessment of basic needs security among college students—45 percent of the 86,000 students who participated in the survey were food insecure. SMC has one of the most robust food security programs of any community college in the nation: it includes a free lunch voucher program sponsored by its Associated Students; 10 food closets and a new centralized food pantry; and application/enrollment opportunities through CalFresh for eligible students.
Everytable launched in 2015 as a revolutionary grab-and-go restaurant concept offering delicious, made-from-scratch meals priced according to what a specific neighborhood can afford. Meals are prepared by chefs at a single central kitchen to reduce costs, and those savings are passed on to guests with meals typically starting around $5.00 in underserved neighborhoods and $7.00 in middle-income or affluent communities. Recently, Everytable has stepped up efforts to help solve food insecurity among higher education students opening storefronts at several Los Angeles-area community colleges and universities. The SmartFridge lounge at Santa Monica College is the first of its kind on a college campus.
Sam Polk, CEO of Everytable, saw this partnership as a natural step for the enterprise. "We understand that SMC is the Harvard of community colleges—and we are in awe of the courage of so many of these students who often come from underserved neighborhoods, who travel across town every single day, and in many cases, work to support themselves while they are going through a very difficult education in order to better their lives and improve their career trajectories," Polk said. "You're not going to study well if you're hungry and now students have an actual freshly prepared meal that they can eat on campus!"
Polk attributed the unique alternative of donating hundreds of meals to the college's food pantry instead of paying rent to Lizzy Moore, SMC Foundation president. "What it creates is this very virtuous cycle where students all over campus have access to this healthy food whether or not you can afford it. We [at Everytable] think we're doing a small part in supporting these students on a journey to become the leaders of tomorrow."
The Everytable Lounge at SMC blends the company's traditional storefront design with its tech-enabled, cashierless vending machines to provide a welcoming gathering spot for the community. The lounge has a distinct look and feel: it features student-led design elements to help foster community, including a Community Board, curated by students for students and an Art Wall featuring work from students at the Center for Media and Design, which also houses Santa Monica College's baccalaureate program in Interaction Design.
Interaction Design Devin Anderson and Joey Fonacier were among the students who inspired design for the lounge. They had "user-tested" with their fellow students the ideal layout of furniture and such, and were discussing it when Lizzy Moore happened to walk by. She subsequently brought them—and their ideas—to Everytable.
"It's really exciting," Fonacier said, "it started out as a school project, and you don't think anything is going to come out of it – we get this email from Lizzy asking do we want to come to a meeting with Everytable, and they were like, 'Oh, great, you have designers!'" Fonacier and Anderson used renderings, 3D experiences, and Virtual Reality to convey the design students wanted. The goal, Anderson said, was "to bring community to this campus at SMC."
The new Everytable Lounge is located in the SMC Center for Media & Design (1660 Stewart Street in Santa Monica 90404) and will be open during school operating hours. To learn more about Santa Monica College's food security programs, go to: smc.edu/foodsecurity. For more information on Everytable, visit everytable.com.