April 22, 2020
The Corsair Wins Multiple JACC Awards for Excellence in Journalism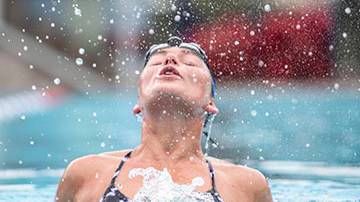 Two Student Journalists Also Win California Journalism Awards
SANTA MONICA, CA—The Corsair, Santa Monica College's student-run news outlet, has won an award for "online general excellence" from the Journalism Association of Community Colleges (JACC) and four student photojournalists won individual awards. These wins for the statewide competition were announced Friday, April 17. In addition, two student photojournalists have also won awards from the California Newspaper Publishers Association's California Journalism Awards, announced March 31.
"Corsair student journalists and photojournalists dedicate themselves to covering our campus and our communities every single day, semester after semester, even during this unprecedented COVID-19 crisis," SMC journalism professor Sharyn Obsatz said. "It's great to see their talent, skill and hard work recognized by these awards."
Journalism Association of Community Colleges Awards:
The Journalism Association of Community Colleges—which holds contests that are a benchmark for community college journalism excellence—announced the following awards for The Corsair, for content published in 2019 and 2020:
Online General Excellence:

The Corsair
Environmental Portrait, Second Place:

Glenn Zucman
Online Photo Story/Essay, Third Place:

Marco Pallotti

(for

"Two Falls in New York")
Sports Feature Photo, Honorable Mention:

Kevin Tidmore
Sports Action Photo, Honorable Mention:

Michael Waas
California Journalism Awards:
The California News Publishers Association (CNPA)—which has protected the interests of California newspapers for 131 years—announced the following California Journalism Awards for Corsair student journalists:
Feature Photo, First Place:

Yasamin Jtehrani
News Photo, Third Place: Yasamin Jtehrani
Sports Action Photo, Fifth Place:

Andrew Narvaez
"It is an ongoing joy to see the Corsair photojournalists produce quality work at a professional level," said SMC Photojournalism Professor Gerard Burkhart, who is photo adviser to The Corsair. "They work hard, going above and beyond expectations. It is great to see their talent and efforts honored in these competitions."
Under regular circumstances, The Corsair staff produces a bi-weekly newspaper in the spring and fall semesters and also maintains an online news site: thecorsaironline.com. In the wake of the COVID-19 crisis, The Corsair has also launched The Pandemic Podcast—with conversations every Wednesday and Friday on art, culture, and the human experience during this time of isolation—co-hosted by current editor-in-chief Jackie Sedley and Glenn Zucman.
SMC Journalism Professor Ashanti Blaize-Hopkins advises the Corsair (Sharyn Obsatz is interim adviser); Photojournalism Professor Gerard Burkhart serves as the photo adviser. For more information on The Corsair, email Obsatz_Sharyn@smc.edu.