May 27, 2020
Corsair Photojournalist Wins Top Award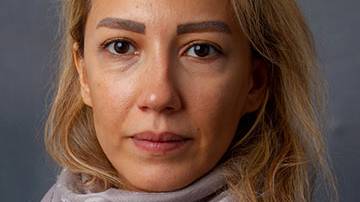 SMC Corsair Photojournalist Wins Top PPAGLA Award
Santa Monica College's Student-Run Media Outlet Has Dominated Prestigious Competition Since 2005
SANTA MONICA, CA— Santa Monica College (SMC) student photojournalist Yasamin Jafari Tehrani—who is on the staff of SMC's student-run news outlet The Corsair—has won the 2019 Richard Turner Student Photojournalist of the Year from the Press Photographers' Association of Greater Los Angeles (PPAGLA). The honor was announced during a Zoom awards ceremony on Saturday, May 23.
The prestigious award is in its 25th year—and SMC Corsair student photojournalists have dominated the competition since 2005, with 19 first-place or runner-up awards over these years.
Jafari Tehrani, 36, had already acquired some freelance photography experience in her home country of Iran. After studying commercial photography at Santa Monica College, Tehrani earned a Bachelor's Degree in Art from Cal State Northridge, with a concentration in photography. She returned to SMC to take news photography classes and was The Corsair's photo editor in fall 2019; she hopes to work for a news agency.
"I want to document whatever is happening in the world," Tehrani said. "I'm interested in social issues and political photography." Her winning student portfolio included photos of presidential candidates and SMC athletes.
"Yasamin has always approached her craft with a professional eye and a passionate zeal for high-news-value stories. Her skills provide insightful coverage of Santa Monica College events to the national stage following presidential politics," SMC Photojournalism professor and Corsair photo adviser Gerard Burkhart said. "She is a true pleasure to work with because of her talent and the humanity she brings to photojournalism."
The contest judges' comments about Tehrani's photo submissions included the following: "Topical and relevant subject matter on the national stage showed this photographer had no trouble covering national news events. This photographer skillfully captured 'moments' while nailing good exposures and composition."
The Corsair staff produces a bi-weekly newspaper in the spring and fall semesters, currently available on issuu.com/corsair.website, and it is also online at thecorsaironline.com. SMC Journalism Professor Ashanti Blaize-Hopkins advises The Corsair; SMC Journalism Professor Sharyn Obsatz serves as the interim adviser. Photojournalism Professor Gerard Burkhart serves as the photo adviser. For more information on The Corsair, email Obsatz_Sharyn@smc.edu.
# # # #
About Santa Monica College
Founded in 1929, Santa Monica College is a California Community College accredited by the Accrediting Commission for Community and Junior Colleges (ACCJC) of the Western Association of Schools and Colleges (WASC). For 29 consecutive years, SMC has been California's leader in transfers to UCLA, UC Berkeley, and other University of California campuses. The college also tops in transfers to the University of Southern California and Loyola Marymount University. More than 110 career training degrees and certificates at SMC offer professional preparation for students interested in directly entering the job market, transferring to a four-year school, or upgrading specific skills. SMC provides news and cultural enrichment through its NPR radio station KCRW (89.9 FM) and The Broad Stage at the SMC Performing Arts Center as well as lifelong learning through distinctive programs such as its Emeritus Program for older adults.