September 24, 2020
Public Policy Institute Fall 2020 Virtual Forum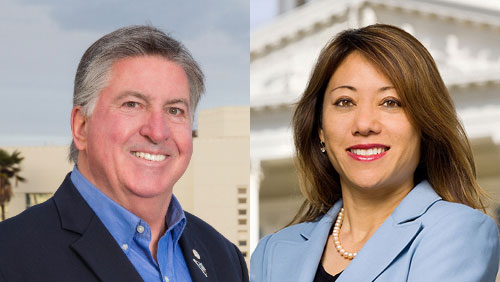 SMC Public Policy Institute and SMC Associated Students to Host
2020 Virtual Fall Arts and Cultural Affairs Forum Oct. 5-10
Keynote Panel Includes
California State Treasurer Fiona Ma and Santa Monica Mayor Kevin McKeown
SANTA MONICA, CA — The Santa Monica College Public Policy Institute (PPI) and the SMC Associated Students will present the 2020 Virtual Fall Arts and Cultural Affairs Forum October 5-8. The theme for this year's community forum is "2020's Crisitunity" [crisis + opportunity]: The Arts Igniting Common Purpose and Pandemic Recovery," with a keynote panel featuring California State Treasurer Fiona Ma and Santa Monica Mayor Kevin McKeown.
The Fall Arts and Cultural Affairs Forum will present virtual talks and panel discussions highlighting the importance of performing and visual arts in — and to — society, especially one striving to recover from the many effects of COVID-19 and the moment of social and racial reckoning it is experiencing. Forum events will explore how expression through the arts can influence ideas and change perceptions, and how community advocacy can make change happen. The forum will also present a drive-in film screening featuring dance performances and free popcorn.
All forum events are open to the public, and most events are free. Talks and panel discussions will be held live online using the Zoom platform. A link to each online event is available in the listings on the SMC Events calendar at smc.edu/calendar.
"As the pandemic continues to impact our lives in ways none of us had imagined, it's clearer and clearer to me that the arts and the people who make art need to be in close contact with those who are making public policy in these challenging times. This year's annual PPI Arts Forum is designed to do just that," said PPI co-director and SMC political science professor Dr. Richard Tahvildaran-Jesswein.
The 2020 Fall Arts and Cultural Affairs Forum events include:
Monday, October 5, 7 p.m.: "How Can the Arts Drive Economic Vitality and Recovery from the COVID-19 Pandemic?" In a panel discussion moderated by PPI Community Liaison and National Women's Political Caucus of California President Karriann Farrell Hinds, California State Treasurer Fiona Ma will explore how prioritization of investment in arts and cultural programs can become a driver for COVID-19 economic recovery, and describe the recent efforts at the state level to introduce a viable, comprehensive economic stimulus plan; and Santa Monica Mayor Kevin McKeown will talk about the local efforts to use arts and cultural investments to protect and drive economic recovery. The discussion will be followed by an audience Q&A. Free.
Tuesday, October 6, at 11:15 a.m.: "'Cranky COVID Syndrome' and How to Overcome It: How the Arts and Media Inspire Public Health Messaging and Cultivate Community." A panel discussion featuring The Broad Stage's Artistic and Executive Director Rob Bailis and experts from the worlds of theater and public presentation on the ways art creates change, inspires, and "instills social responsibility and community pride." Free.
Thursday, October 8, at 7 p.m.: "Aspiring Toward Social Justice and Reconciliation Through the Arts." A panel discussion featuring artists, activists, and cultural affairs experts — moderated by PPI Co-Director and SMC Professor of Government and Race and Ethnicity Dr. Richard Tahvildaran-Jesswein — will explore how the arts influence social justice movements and lead to change, beginning with an examination of the ongoing impact of the Los Angeles Chicano Moratorium 50 years ago, and looking to Santa Monica's Historic Belmar Park as a modern example of the arts driving change and leading to reconciliation. Free.
Friday, October 9, and Saturday, October 10, at 7:30 p.m. and 10 p.m.: Drive-In Film Screening: "Grace & Grit" – a film depicting the power of dance in difficult times. For two nights only, the parking lot at the SMC Bundy Campus (3171 S. Bundy Drive, Los Angeles) will be transformed into a drive-in movie theater. Each night will have two screenings of "Grace and Grit," a 50-minute compilation of Santa Monica's most celebrated dance companies, choreographers, and dancers, including SMC's diverse Global Motion World Dance Company and Synapse Contemporary Dance Theater, preeminent contemporary dance company Barak Ballet, and distinguished alumni and current dancers from Santa Monica's acclaimed Westside Ballet. Introduction by Supervisor Sheila Kuehl, LA Board of Supervisors. Free sealed bags of popcorn courtesy of the SMC Associates (smc.edu/associates), a private organization that funds speakers and special programs on campus. See westsideballet.com for ticket information and pandemic-related requirements.
The SMC Public Policy Institute provides nonpartisan community programs exploring key economic, social, and political issues. SMC offers an Associate in Arts Degree and Certificate of Achievement in public policy, and students can specialize in one of five public policy areas: arts and cultural affairs, education, environment and sustainability, public health, and urban/socioeconomic issues.
The SMC Public Policy Institute Fall Arts and Cultural Affairs Forum is cosponsored by a wide range of education, government, and community organizations and donors, including: Associated Students of Santa Monica College, SMC Associates, Santa Monica College Foundation, Westside School of Ballet, SMC Dance Department, and The Broad Stage.
More information is available at smc.edu/ppi or by calling 310-434-3541.
###