Nov. 6, 2020
"The Ongoing Moment" Exhibit Launches Online Nov. 19
SMC's Emeritus Art Gallery to Host Online Virtual Launch Event for The Ongoing Moment Nov. 19
Author Readings Celebrate Collaborative Art and Writing Exhibit
SANTA MONICA, CA — SMC's Emeritus Art Gallery is pleased to present The Ongoing Moment: Literature and Art from SMC Emeritus, a collaborative journal/exhibition of original writing and art created by Emeritus students in the memoir writing class led by author Monona Wali and the watercolor studio class taught by artist Catherine Tirr. The popular literature and art journal returns this fall with a new printed volume and accompanying exhibition that will be shown online at smc.edu/emeritusgallery.
A free, live Zoom Virtual Launch Event featuring readings by Emeritus authors — and hosted by Tirr and Wali with Emeritus Associate Dean Dr. Scott Silverman and Emeritus Gallery Curator Jesse Benson — will be held online from 5 p.m. to 6:30 p.m. Thursday, November 19. A link at smc.edu/emeritusgallery takes guests directly to the online event, where author readings will start at 5 p.m.
To see the artwork online at any time after 5 p.m. on November 19, viewers may go to smc.edu/emeritusgallery and click The Ongoing Moment 2020 Exhibition link, available 24 hours a day. The link takes viewers directly to the exhibition album on a Facebook page that is open to public viewing (Facebook account not necessary).
Copies of The Ongoing Moment will be available for purchase — while supplies last — through The Ongoing Moment 2020 Journal link at smc.edu/emeritusgallery. The cost is $10 per copy.
In an excerpt from the introduction to this year's edition, Wali and Tirr write:
The time at home alone has been a massive shift for each of us; a time for reflection. Many of us have drawn from inner reserves that we did not know we had. The commitment to create during this dreadful and stressful period has been cathartic, and the camaraderie and support of each of the classmates has been extraordinary.
It's with great pleasure that we present the sixth volume of The Ongoing Moment. We are grateful to Santa Monica College for its continuing support and to Dr. Scott Silverman, the Associate Dean, for his enthusiasm for the journal. As teachers we are well aware that we are privileged to both teach and learn from the strong community of students who attend our classes. We thank them all for sharing their words and paintings with us.
"The Ongoing Moment is an amazing collaboration of Emeritus artists and writers. Our students and faculty take great care in arranging work that complements each other for a feast for the eyes, ears and minds" said Dean of Noncredit and External Programs Dr. Scott Silverman. "Attending the virtual exhibition is a uniquely enjoyable experience."
This year's edition of The Ongoing Moment features written works by Eliyahu Abramson, Cynthia Allen, Peter Bergquist, Lois Bostwick, Sara Bragin, Dorothy Chin, Betty Cota, Carol Cox, Dorothy Curtis, Judy Davidson, Terry Dicks, Tina Feiger, Fran Feinman, Linda Fenster, Marjorie Friedlander, Rob Gilmer, Grace Godlin, Dinah Hatton, Barry Herzog, Feiga Herzog, Diane Katz, Marie Kennedy, Teri Kinne, Esther Lainer, Jeanne Lee, Tamar Levin, Rosa Martinez, Nancy McKeever, Rhoda Newman, Martin Pearlman, Ann Pellant, Diane Piskulic, Merry Greene Rose, Jerry Rosenstein, Alice Roy, Beth Rubin, Veena Sadana, Jeanne Shamji, Joe Shapiro, Marsha Straubing, Frima Telerant, and Sharon Valente.
Artwork in this year's edition was created by Marilyn Alquizola, Jill Benham, Charleen Case, Peggy Dunn, Cathy Fickes, Claudia Foster, Linda Freedman, Marjorie Grace-Sayers, Caroline Gray, Marcia Harris, Kathleen Higgins, Kate Kausch, Sun Lau, Gail Lonseth, Francine Lucey, Linda Macewen, Cathleen McMullen, Barbara Milliken, Judi Morse, Janice Nishida, Helene Poletti, Lori Pollack, Paula Ross, Lily Shams, Akemi Watanabe, and Adam Yu.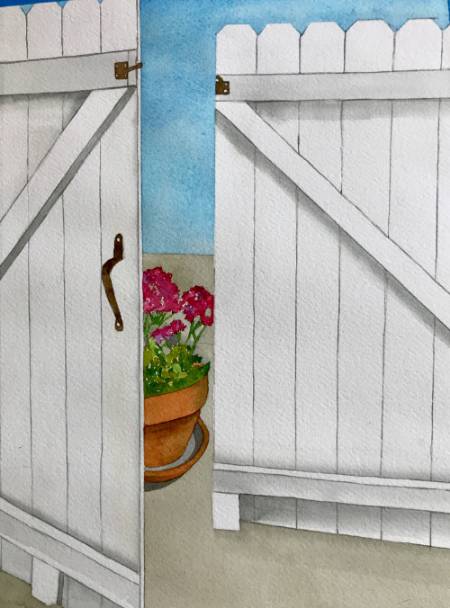 SMC's widely praised Emeritus program, founded by Santa Monica College in 1975 to serve the lifelong learning interests of older adults, offers more than 120 noncredit adult education classes and special programs that serve more than 3,000 students each year.
More information is available by visiting smc.edu/emeritusgallery or calling 310-434-4306.
# # #