Nov. 17, 2020
SMC No. 1 in Transfers for Three Decades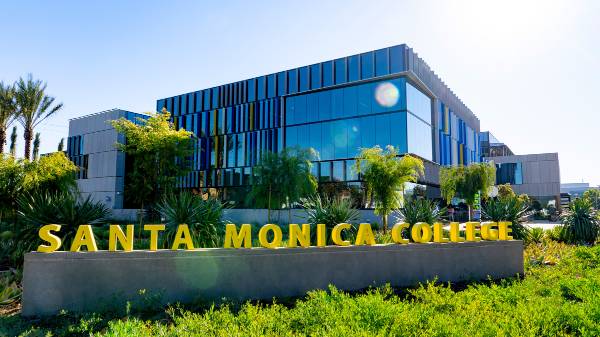 For Three Decades Running, Santa Monica College is No.1 in Transfers to University of California
College Also Continues to Lead in African American and Chicanx/Latinx UC Transfers, Maintains Top Spot for Transfers to USC & Loyola Marymount University
SANTA MONICA, CA—Santa Monica College (SMC) has maintained a record 30-year consecutive streak as the No.1 transfer college to the University of California (UC) system, according to 2019-2020 transfer data released recently by the UC Information Center. SMC sent 1,197 students to UC campuses in the prior academic year—371 more than the No.2 feeder college.
SMC also maintained the No. 1 spot for African American and Chicanx/Latinx transfers to the UC, and remains the leading transfer college to the University of Southern California (USC) and Loyola Marymount University (LMU). The college is also the top feeder west of the Mississippi to the Ivy League Columbia University.
A few highlights from SMC's 2019-2020 transfer numbers:
· Out of 1,197 Santa Monica College-to-UC transfers were 234 Chicanx/Latinx students and 58 African American students. UCLA continued to be the most popular destination for SMC students: 464 of them headed to the Westwood campus, followed by UC Irvine which welcomed 200 SMC transfers.
· SMC ranked second in total combined transfers to the UC and California State University (CSU) system, with 2,288 students combined heading to UC and CSU campuses.
· According to fall 2020 data, SMC had more students enrolled at Loyola Marymount University than any other community college: 75 transfers.
· Out of 1,447 students in USC's fall 2019 entering transfer class, Santa Monica College had 149 students—more than any other sending institution—while the second-highest feeder college sent 85.
"For three decades, Santa Monica College has upheld a record of the highest distinction—this points to the steadfast dedication of the college's educators and counselors, but most of all, to the resilience and potential of SMC transfer students," SMC Superintendent/President Dr. Kathryn E. Jeffery said. "This college has always strived to leave no stone unturned to create the most comprehensive student support system possible so that students can meet their personal transfer and career goals. We look forward to continuing and growing this culture of excellence!"
"The 2019-2020 academic year has been like no other," SMC's Interim Transfer Center Faculty Leader Sara Nieves-Lucas said. "Despite starting the year strong we were soon faced with a worldwide pandemic. The SMC Transfer Team—Dr. Janet Robinson, Maria Bonin, and Erika Knox—resolved to ensure that we provide the services SMC's students are used to. Since they couldn't come to campus for the many transfer workshops, we brought those workshops into their homes. We are so proud of our students, their resilience, and motivation! They did not let the pandemic stand in the way of their goals."
SMC's Transfer Center holds the largest college fair in California. In light of the social distancing conditions due to COVID-19, the college held a virtual fair on Oct. 15, 2020, one of a handful of colleges to organize one this fall. There were 217 college/university booths with 922 students in attendance.
The Transfer Admission Guarantees (TAGs) offered at SMC provide guaranteed admission for students who meet specific requirements to several universities including Loyola Marymount University, Arizona State University (ASU), and many Historically Black Colleges and Universities (HBCUs), among others.
The college's Scholars Program prepares enrolled and eligible students for rigorous upper-division coursework through smaller classes taught by highly recommended faculty, coupled with intensive counseling and support. Scholars students receive priority consideration for admissions through special transfer agreements with The UCLA College of Letters and Science (Transfer Alliance Program), UC Irvine, Loyola Marymount University, to name a few.
For more information about SMC's Transfer Center and its services, please visit smc.edu/transfer or email Nieves-Lucas_Sara@smc.edu.
# # # #
About Santa Monica College
Founded in 1929, Santa Monica College is a California Community College accredited by the Accrediting Commission for Community and Junior Colleges (ACCJC) of the Western Association of Schools and Colleges (WASC). In addition to being California's leader in transfers to the University of California system, the University of Southern California, and Loyola Marymount University, SMC also offers more than 110 career training degrees and certificates. SMC provides news and cultural enrichment through its NPR radio station KCRW (89.9 FM) and The Broad Stage at the SMC Performing Arts Center as well as lifelong learning through distinctive programs such as its Emeritus Program for older adults.