December 17, 2020
Debate Team Concludes Successful Fall 2020 Season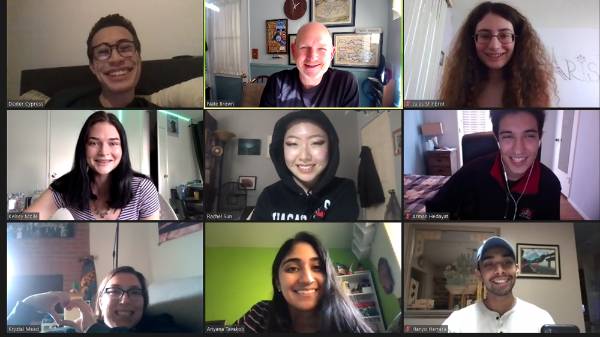 SMC Speech & Debate Team Wraps up Successful Fall Season
Team Competed in Four Online Tournaments, Won Multiple Awards
SANTA MONICA, CA—The Santa Monica College (SMC) student Speech and Debate Team has wrapped up a successful fall season, having competed in four online tournaments during the Fall 2020 semester. Due to COVID-19, the team's participation was limited to virtual platforms where they still excelled.
Here is a quick look at the Fall 2020 season in numbers, the team's wins and other accomplishments:
Participated in four online tournaments: The Warm Up held Oct. 3, hosted by the Pacific Southwest Collegiate Forensics Association (PSCFA); Crossman Invitational held Oct. 18, hosted by El Camino College; October Surprise, held Oct. 25 at San Antonio College; and Fall Champs on Dec. 5-6, hosted by PSCFA (Forty-two colleges and universities competed at the PSCFA Fall Champs from across the nation including CSU Northridge, UC Berkeley, and University of Utah).

Twelve SMC students competed in these four tournaments, in a total of 102 different debate rounds.

­­Eleven awards won by seven individual debaters: Arman Hedayat won Gold in IPDA debate at three tournaments: the Warm Up, the Crossman Invitational, and Fall Champs. Team Captains Dexter Cypress and Ariyana Tavakoli won Silver in team NPDA debate at the October Surprise, and also won Gold in NPDA debate at Fall Champs. Jules Shinbrot won Silver in IPDA debate at Fall Champs. Thomas Rhalter won Bronze in IPDA debate at the Crossman Invitational. Nate Alpern won Bronze in IPDA debate at the October Surprise. And Carter Francis won Bronze in IPDA debate at Fall Champs.
Beyond winning awards and competing this fall, many SMC students (not just Debate Team members) also gave back and helped nurture the next crop of college debaters: 35 students performed 156 hours of service volunteering to help judge at local online high school tournaments including the Los Angeles Metropolitan Debate League (LAMDL) Season Opener as well as two subsequent LAMDL tournaments; the National Speech and Debate Association (NSDA) Screaming Eagles, the NSDA Fall Varsity Debate, and the NSDA Fall Varsity Speech.
Some of the topics debated by SMC students included "California should allow all K-12 schools to re-open," "The United States should reform the Supreme Court," "Human Rights courses should be mandatory in K-12 education," "The USFG should adopt Senate Bill 66 (assault weapons ban)," and more.
SMC Communication and Media Studies Professor Nate Brown, who coaches the team said that the online format was "interesting, and ultimately, very successful and satisfying." "Great debaters continued to do well. New debaters continued to get good experience and helpful feedback. And the students on the Debate Team continued to socialize and form strong friendships," Brown added.
Team captain Dexter Cypress said that being on the Debate Team has been "the best decision I could have made. Nothing else has given me the sense of community and friendship - and the fact that this was able to continue with the same force into distance learning is something I am grateful for every day. . . having received Gold with my partner at Fall Champs two years in a row is something I am extremely proud of."
Cypress added that debate "really is the thing that has gotten me through the pandemic, and I am very excited to finish my last semester with SMC strong."
Nate Alpern added that "debating has given me insight on what it means to work under stress. I train to reduce my flaws and improve my speaking skills, and hopefully, I can engage in public speaking better and use these advantages beyond our debate team and be a better speaker in general."
The Associated Students of Santa Monica College sponsored the SMC Speech and Debate Team's presence at all four of these tournaments. For more information on the team, contact Nate Brown at brown_nate@smc.edu or 310-434-8781.
Santa Monica College is a California Community College accredited by the Accrediting Commission for Community and Junior Colleges (ACCJC) of the Western Association of Schools and Colleges (WASC).
# # #