May 6, 2021
SMC Alum Mickey Meyer on Oscar-Winning "Two Distant Strangers"
Mickey Meyer, Exec. Producer of 2021 Oscar-winning Short "Two Distant Strangers" on Empathy & His Formative Years at Santa Monica College
SMC Alum Says Academy Award-winning Film's Script was "Powerful", Offering the "Possibility of Building Empathy"
SANTA MONICA, CA—When "Two Distant Strangers" won an Oscar at the 93rd Academy Awards on Sunday, April 25, some at the Santa Monica College (SMC) Theatre Arts Department had a special reason to celebrate: Mickey Meyer, who served as executive producer on the film had taken theatre classes at the college, eventually transferring from SMC to USC.
Directed by Travon Free and Martin Desmond Roe—who received the Academy Award in the "Short Film (Live Action)" category—the film starring rapper Joey Bada$$ is about "a man trying to get home to his dog [who] becomes stuck in a time loop that forces him to relive a deadly run-in with a cop," according to its Netflix page. Meyer said that he'd been trying to find projects that "build empathy, through representation – both in front of and behind the camera."
"When Travon sent me the script, that's what stood out—the script [represented] his experience, and not what I was living," said Meyer. "It made me and others realize . . . the possibility of building empathy through this [film]." He added that the issue of social justice addressed by the film is "pressing" and that "Two Distant Strangers" gives him and others the opportunity "to gain a sense of empathy through putting yourself in someone's shoes for 30 minutes."
Free wore a black-and-gold blazer with the names of Eric Garner, Philando Castile, Tamir Rice, Daunte Wright and others written on its inside lining to the Oscars ceremony at Union Station in Los Angeles; he had a powerful message in his acceptance speech, speaking out against police brutality of individuals who happen disproportionately to be Black. "Please don't be indifferent to our pain," Free said.
It was a statement that resonated deeply with Meyer, whose driving goal has been "to use the tools at [his] disposal to help shape a better world."
Meyer is not exactly a newcomer to the entertainment industry—he is the President of Group Nine Studios (where he oversees the development and production of several acclaimed shows across platforms like Netflix, Amazon, Discovery +, and more) and a cofounder of JASH, a comedy studio with roots in both the digital and television world and featuring such clients as Adam Carolla, Norm Macdonald, Sarah Silverman, Reggie Watts, among others. He also served on the Entertainment Advisory Council to the Obama administration.
Mickey has been named to Forbes Magazine's "30 under 30" list as well as the Hollywood Reporter's "Next Gen executives under 35" list. He has won Sundance, multiple Cannes Lions in the advertising space, a Streamy for his work with the White House, a Gold Record, and earned an Emmy nomination for his work on Sarah Silverman's 'A Speck of Dust.'
But before the awards and accolades, he was a young man who'd grown up "loving movies always" in the Central New York village of Clinton. He came to California in the mid 2000s for an internship on The West Wing, and enrolled at Santa Monica College while he was working because "everyone I asked about transferring to USC pointed me to SMC as the Best Possible Place to Go."
"Of all the colleges I went to, I learnt the most at SMC," said Meyer, who'd previously also attended the University of Colorado Boulder. "There was a real dedication at the college, a commitment to learning. It was massive for me. I took my first theatre classes at SMC—that amazing first step 'behind the scenes.'" Meyer in particular remembers SMC Technical Theatre Director Doug Forsyth under whose guidance he built sets and Theatre Arts Professor Terrin Adair-Lynch who "really leaned into me and saw what I was capable of."
"Mickey was in the first year of our comedy class," said Adair-Lynch. "It was super challenging. I'd ask the students to stretch, to go beyond—and he was always willing. The first thing I remember about him was how hard-working he was. Everything that needed to be done—from turning an empty hangar into a stage to playing a clown in my class—he was willing to do. It makes me tear up . . . it's so nice to see that when you put the tools out there, students take the challenge and achieve beyond your wildest dreams."
Mickey Meyer finds inspiration in his family—his parents, wife Terra and in-laws, but also his children Logan, nine, and Knox, six whose "appreciation for small things and moments—the feeling that the world is at their disposal" strikes deep with him. Regardless of how busy he is, Meyer almost always finds time to coach Little League.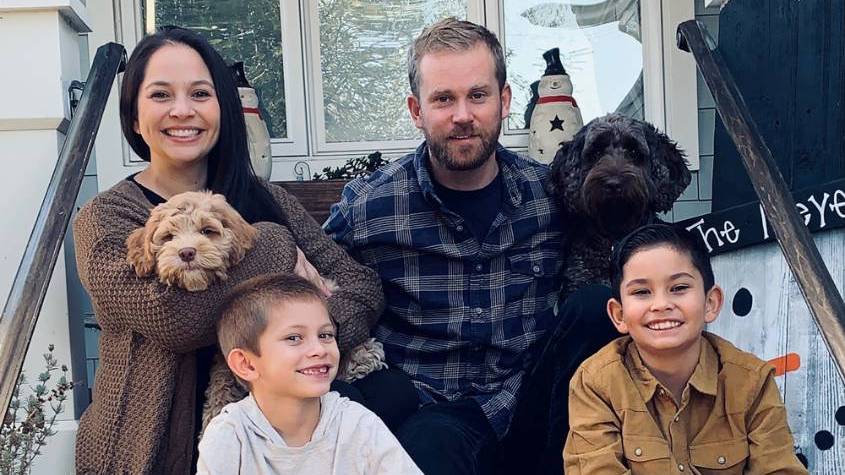 His words for SMC students—or really any young person who wants to follow in his footsteps—are unassuming, but profound: "You're never going to become what you're aspiring to do overnight. It's a collection of small actions. Do something every day with intention, do it by still maintaining your own belief system and morals . . . it's not a race. Over time you will build skills and relationships. Hone your craft. Focus on your foot, not the door."
# # # #