May 14, 2021
Corsair Photojournalists Win Top PPAGLA Honor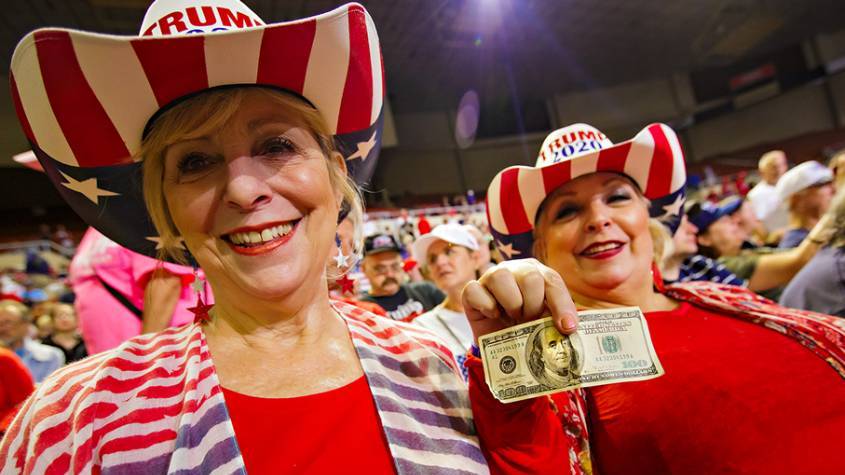 Santa Monica College Student Photojournalists Receive Top Honors from Press Photographers Association of Greater Los Angeles (PPAGLA)
SANTA MONICA, CA — Two Santa Monica College (SMC) student photojournalists received top honors from the Press Photographers Association of Greater Los Angeles (PPAGLA) for their work published in 2020 in The Corsair, SMC's student-produced print and online news media. Yasamin Jafari-Tehrani, The Corsair's senior staff photographer, was named Student Photojournalist of the Year. Her fellow Corsair photojournalist Marco Pallotti was named runner-up.
Jafari-Tehrani and Pallotti have both served as photo editors at The Corsair. Their photojournalistic work over the past year has reflected the tumultuous effects of the COVID-19 pandemic and the social justice movements in 2020. As part of their effort to document these activities, Jafari-Tehrani and Pallotti took a 24-hour road trip to a Donald Trump presidential campaign rally in Phoenix, Arizona. This action completed The Corsair's efforts to photograph every major 2020 presidential candidate, allowing the student publication to use self-produced art for all election-related articles.
This is the second time that Jafari-Tehrani has won the accolade, sponsored by Nikon and PPAGLA's Past Presidents and Retired Members Scholarship Fund. The Corsair's photojournalists have been dominating the PPAGLA Student competition since 2005.
"I am personally very honored to work with such talented and dedicated student photojournalists," said SMC Communication and Media Studies professor Gerard Burkhart, who is The Corsair's photo advisor. "What they bring to the table is impressive, both in their vision and how they present socially relevant stories during tumultuous times."
"I'm thrilled to have won this award for the second year in a row," said Jafari-Tehrani. "I'd like to thank all my colleagues at The Corsair, and in particular Professor Burkhart for his mentorship and continuing support of my photojournalism work."
"As a photojournalism student, I've learned so much from Professor Burkhart over the last two years," said Pallotti. "He's always encouraging his students to improve their craft, and is a constant source of encouragement, practical knowledge, and wisdom."
The Press Photographers Association of Greater Los Angeles (PPAGLA), founded in 1936, is an organization of still and video photojournalists, independent photographers, and photojournalism students who "work on newspapers, television stations, wire services, and national news and sports publications throughout Southern California." More information about PPAGLA is available online at ppagla.org.
The Corsair publishes news of interest to the SMC campus and community, with print editions available on campus every Wednesday during the fall and spring semesters, and electronic editions available 24 hours a day at thecorsaironline.com. All content for The Corsair is selected and produced by SMC students, with guidance from Burkhart and fellow instructor Ashanti Blaize-Hopkins.
SMC offers an Associate in Arts for Transfer degree in journalism and an Associate in Arts degree in journalism-multimedia storytelling. Details are available at smc.edu/journalism.
###