November 4, 2021
SMC's Adelante Program Receives $325,000 Gift from Private Donor to Create Greater Opportunities for Students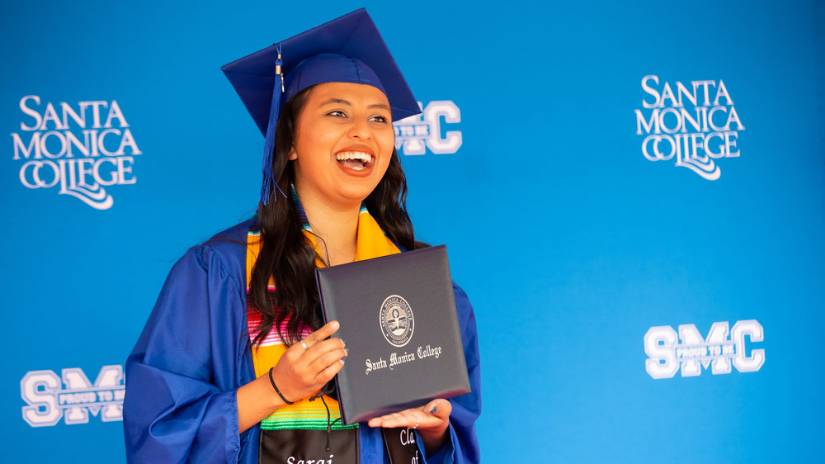 Donor Also Gifts $25,000 to establish a lending library at Santa Monica Early Childhood Lab School & $25,000 for SMC Foundation's Gift of Books Fund
SANTA MONICA, CA—The Santa Monica College (SMC) Latino Center & the Adelante Program—which, for 32 years, has provided a structured academic and counseling/support environment for SMC's Latinx/Chicanx students—has received a $325,000 donation from private donor Ann Wang. Wang's gift will go towards creating a program fund that will expand opportunities for Adelante students to persist and flourish in college, and to help prevent adverse life circumstances from setting them back.
Ms. Wang—who oversees the Wang Joint Living Trust established by her in-laws—also donated $25,000 to establish a lending library for the newly-opened Santa Monica Early Childhood Lab School (operated by Growing Place, and part of a collaboration between SMC, the City of Santa Monica, and RAND Corporation), and $25,000 towards the SMC Foundation's Gift of Books fund to provide textbook vouchers to students who need extra support.
"I am so appreciative to Ann Wang and the Wang Family for this tremendous and generous gift that will keep on giving to our deserving students for many years to come. Words will never be enough to express my thanks," SMC Adelante Program faculty lead Maria Martinez said. "The impact this gift will have for our Adelante students is enormous. Ann Wang, may God bless you always!"
Wang's donation will help provide mental health counseling, emergency funds, support food security programs, and more.
This is the third large gift from Ann Wang since her first gift made in January 2020 when she donated $325,000 to SMC's Black Collegians Program Umoja Community, also to establish a program fund to expand opportunities for Black Collegians, and a subsequent seed funding gift of $200,000 to launch SMC Foundation's Meal Project in March 2020, which provides nutritious, fresh meals delivered directly to the homes of SMC students who need the assistance. Recipients include foster youth, veterans, housing insecure individuals, and seniors.
"It has been almost two years since I first met Maria and learned about her program for Latinx students at SMC; I have been thinking about her ever since. I am delighted that I can now provide the Latino Group / Adelante with an endowment that will fund program initiatives, both large and small, for years to come," said Wang. "I have seen what an endowment has done for the Black Collegians, and I know that in Maria's capable hands, this money will change lives. I feel truly privileged to be a part of such a worthwhile effort."
"There are really no words to describe the immense kindness Ann Wang has demonstrated for our students; her generosity will have a profound, transformational effect on those who persist in their academic pursuits at Santa Monica College," said Dr. Kathryn E. Jeffery, SMC's superintendent/president. "The way in which she has extended service and opportunity to our students through this gift—it is simply tremendous and will have a ripple effect for years to come."
Established in 1989, the Adelante Program is an academic support program created by the SMC Latino Center to provide a structured counseling and academic experience to foster student achievement, cultural awareness, and personal growth. It is a support system designed to help Latinx/Chicanx students—who make up 37% of SMC's student body—successfully navigate college, and equip them for their academic/career journey beyond SMC. Adelante requires counseling and workshop participation, and counselors intentionally use relevant cultural knowledge to address students' needs, creating an environment that is supportive and inclusive. Specific Adelante courses with priority enrollment are also available, highlighting Latinx culture and the historically underrepresented student experience, wherever relevant.
SMC's Dean of Institutional Advancement Lizzy Moore remarked on another aspect of Ms. Wang's latest gift. "Ann's generosity and passion for books span the age groups served by SMC programming," Moore said. "This new gift includes support for students with textbook vouchers as well as establishing a series of classroom libraries at SMC's Early Childhood Lab School to serve the infants, toddlers, and preschoolers on the new campus."
For more information about SMC's Adelante Program and the Latino Center, please visit smc.edu/adelante. And for more information on the Santa Monica College Foundation and giving opportunities including the Meal Project and more, see foundation.smc.edu.
# # # #