November 18, 2021
Santa Monica College Foundation Receives Surprise $10,000 Grant from Gelson's Markets on NBC's TODAY Show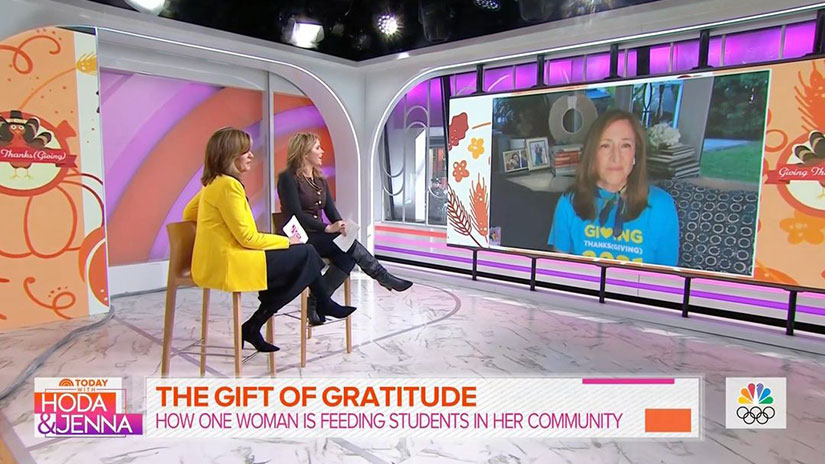 Funds Will Be Used to Support the 2nd Annual GIVING THANKS(giving) Holiday Grocery Drive-Thru Giveaway on Tuesday, November 23
SANTA MONICA, Calif. (Nov. 18, 2021) – On Thursday, November 18, 2021, Lizzy Moore, the president of the Santa Monica College Foundation and Santa Monica College's dean of institutional advancement, received the surprise of a lifetime when, while appearing on NBC's TODAY show, Gelson's Markets gave the foundation a $10,000 grant in the form of gift cards for deserving Santa Monica College (SMC) students. Santa Monica College Foundation works to eliminate barriers to ensure the academic success of SMC students, including through its Meal Project that works to reduce the escalating rates of food insecurity, now being exacerbated by the ongoing pandemic and high food costs.
An essential program of the Meal Project is the annual GIVING THANKS(giving) Holiday Grocery Drive-Thru Giveaway, now in its second year. On Tuesday, November 23, 2021, the foundation together with its legion of supporters and volunteers will provide fresh, holiday groceries to 1,500 food insecure students.
"I am truly humbled by this experience and am so grateful to the TODAY show for shining a spotlight on the startling rates of food insecurity among college students everywhere," said Lizzy Moore, president of the Santa Monica College Foundation and Santa Monica College's dean of institutional advancement "And we are so thankful for the generous $10,000 donation by Gelson's markets. Those monies will benefit so many students here at Santa Monica College."
The day-long, drive-up, contactless outdoor event will take place, rain or shine, from 10:00 a.m. to 5:00 p.m. on the main campus located at 1900 Pico Boulevard in Santa Monica. Each student will receive their choice of a turkey or vegetarian protein, fresh organic vegetables including green beans, potatoes, carrots, onions, plus dinner rolls, a pumpkin pie, and recipes and online tutorials to help prepare the meals at their homes. The only eligibility requirement is current enrollment.
Event sponsors this year include SMC's Associated Students, KCRW 89.9FM, Santa Monica College Foundation, Santa Monica College, and We Are Santa Monica. Partners include Everytable, Jacmar Foodservice Distribution, Not Impossible Labs, Suja Juice, The Coffee Spot, Vicente Foods, Violet Organic Foods, Vintage Grocers Malibu, Westside Food Bank, and Whole Foods Markets. Donations can be still be made online at: Giving Thanks(giving), or interested individuals, companies and organizations can contact Cheryl Ward at (310) 434-4293 or ward_cheryl@smc.edu.
"At Santa Monica College, an estimated 59% of students are experiencing food insecurity this year, and that rate is expected to increase as the pandemic continues and food costs rise at an alarming rate," said Dr. Kathryn E. Jeffery, Superintendent/President, Santa Monica College. "The annual GIVING THANKS(giving) event is part of a comprehensive food security program portfolio intentionally designed to address the basic needs of all SMC students. Coordinating with the Santa Monica College Foundation, the college strives to remove barriers and provide clear access to basic needs security, such as stable, safe housing and healthy food."
"In 2021, nearly three out of five college students across the country lacked access to food, housing and transportation," said Margaret Sohagi, Santa Monica College Foundation Board Chair. "We are so grateful for our supporters – generous individuals, businesses, and California's elected officials – who continue to prioritize these basic needs of our students. Students should not have to choose between food and an education, which can translate into degrees and careers that can change their lives forever."
New to the event this year, Santa Monica College's Office of Sustainability and Associated Student government will provide free, one-way Lyft ride vouchers to students, who do not have personal transportation. For students, who may not have the means to prepare a meal or are homeless, Santa Monica College Foundation will extend the event with a holiday hot meal distribution on Wednesday, November 24.
About Santa Monica College Foundation
Santa Monica College Foundation's mission is to eliminate barriers to ensure academic success for Santa Monica College students. The foundation connects donors with opportunities to effect change at a world-class educational institution where equity, access, and excellence intersect.
About Santa Monica College
Santa Monica College is a California Community College accredited by the Accrediting Commission for Community and Junior Colleges (ACCJC) of the Western Association of Schools and Colleges (WASC). For 30 consecutive years, SMC has been California's leading transfer college to UCLA, UC Berkeley, and other University of California campuses. The college also tops in transfers to the University of Southern California and Loyola Marymount University and is the top feeder west of the Mississippi to the Ivy League Columbia University. More than 110 career training degrees and certificates at SMC—in fields ranging from the traditional (Accounting, Early Childhood Education, Nursing) to the emerging (Sustainable Technologies, Technical Theatre, and a baccalaureate degree in Interaction Design)—offer professional preparation for students interested in directly entering the job market, transferring to a four-year school, or upgrading specific skills. In addition, SMC Foundation helps to eliminate barriers for students through scholarships and program support to ensure academic success. SMC provides news and cultural enrichment through its NPR radio station KCRW (89.9 FM), the Broad Stage at the SMC Performing Arts Center, and lifelong learning through distinctive programs such as its Emeritus Program for older adults.
# # #