June 6, 2022
Three Santa Monica College Graduates Embody Perseverance and Purpose, Among 5,200+ Graduating This Year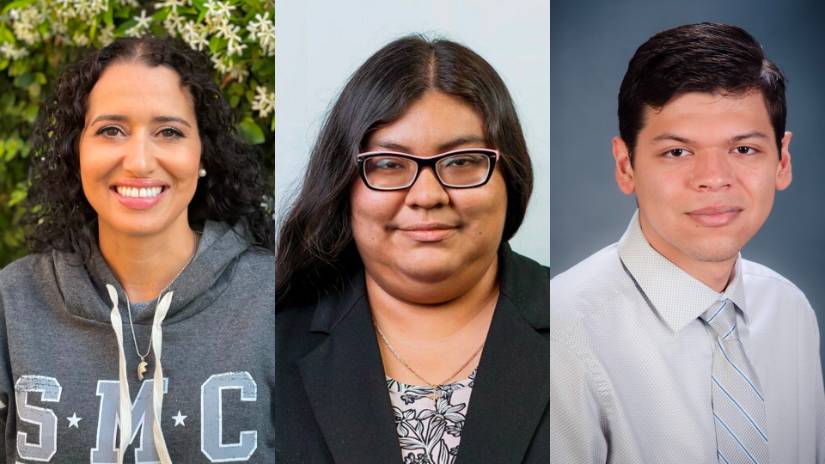 Three Santa Monica College Graduates Embody Perseverance and Purpose,
Among 5,200+ Graduating This Year
SMC is Awarding 7,952 degrees and certificates to 5,215 students this spring, 92nd Virtual Commencement on June 16
SANTA MONICA, CA — This year, Santa Monica College (SMC) will award 7,952 degrees and certificates to 5,215 students, the third cohort to have achieved their educational goals in spite of a global pandemic. Among these graduates are three—Khadija Backrien, Jacqueline Castellanos, and Victor Teran—who embody perseverance, purpose, and the power of the human will; their stories are representative of those who attend and graduate from community colleges like SMC.
Khadija Backrien overcame substance abuse, and a lifetime of heartbreak including losing a son to gun violence and surviving abusive relationships. Growing up, STEM major Jacqueline Castellanos did not know anyone who had attended college—she would go on to help other students as a mentor at Santa Monica College, and is graduating with four Associate degrees, in STEM disciplines. Victor Teran struggled with low confidence before college, but SMC would help catalyze the interest sparked by watching Bill Nye the Science Guy and National Geographic specials into an educational path that would take him to a NASA Community College Aerospace Scholars (NCAS) internship and, Teran hopes, someday to a full-time job with NASA.
SMC's 2022 Commencement Ceremony will be held online at smc.edu and festivities will begin promptly at 5 p.m., on Thursday, June 16. California Assemblymember Richard Bloom is this year's commencement speaker. A "grad walk" celebration where graduates can pick up their diplomas in a festive environment, red carpet and all, will be held on June 11—by invite only, due to college COVID-19 safety protocols. Among interesting statistics about this year's graduating class, the youngest graduate is 16 years old and graduates with an Associate in Arts for Transfer in Political Science; the oldest graduate is 98 and graduates with an Associate in Arts for Transfer in Business Administration. And 60.9% of the graduating class is female.
To read more inspirational stories like Backrien's, Castellanos's and Teran's, go to smc.edu/spotlight/graduation-stories.
Khadija Backrien: Reclaiming Her Future
Khadija Backrien is perseverance in the flesh. After attending six community colleges, the Washington native is earning an AS degree in business marketing.
Heartbreak has dogged Khadija. After a childhood in Libya, she returned to America at age seven—the oldest of a single mom's five children, a hairdresser living in poverty in Spokane. In high school, Khadija got mixed up in heavy drinking and party drugs. She survived multiple rapes and abusive relationships, resulting in four unplanned pregnancies. Her oldest daughter is now 22; her youngest, five. She gave up an infant for adoption in 2003. In 2020, her 14-year-old son William died of a gunshot wound in an unsolved crime.
Khadija persisted, with periodic lapses into substance abuse followed by rehab, as well as mental wellness struggles. It was a sober living program that brought her to California in 2016. A pharmacy tech certificate she'd previously earned at a Seattle community college sowed the seeds for Khadija's ambition: to be a sales rep with a major pharmaceutical brand. To earn her bachelor's degree, she is transferring to Cal State Dominguez Hills.
At SMC, Khadija has been a peer navigator, and active in Black Collegians Program Umoja Community. She juggled jobs at a CVS pharmacy and at Snug Harbor. Passionate about kundalini yoga, she recently earned a teaching certificate.
"God has lessened my burden," she says, "I'm close to my goal." She dreams of owning a small business and launching a gun-violence education nonprofit to honor her late son.
Jacqueline Castellanos: The Power to Change People's Lives
"Growing up, I did not know anyone who had attended college," said Jacqueline Castellanos. The first in her family to attend college, she joined the Adelante program for guidance and support, and helped others through the Sister to Sister Mentoring Program. "As a mentor,
I was able to make a difference in young girls' lives by helping them understand that a college education is within their grasp."
Jacqueline focused on Computer Science and Engineering, which excites her "because it has the power to change people's lives." She immersed herself in SMC's STEM program to help master STEM subjects: science, technology, engineering, and mathematics. She participated in the 2018 UCLA/SMC Summer Scholars Research Program and the Bruins‐in‐Genomics (B.I.G.) Summer Program, analyzing data to study the adaptive immune repertoire. In the 2019 NASA Jet Propulsion Laboratory Maximizing Student Potential in STEM (MSP) program, she helped develop a tool to study the relationship between mosquito abundance and remote sensing variables.
In Base 11's Aerospace Mentorship Program and Caltech's WAVE Fellows Program in summer 2020, she developed a Python‐based spacecraft swarm simulator to test Guidance, Navigation, and Control (GNC) algorithms. In 2021, Dr. Lior Pachter invited Jacqueline to Caltech's Visiting Undergraduate Research Program (VURP), where she evaluated a machine learning algorithm's ability to predict proteins.
Jacqueline graduates from Santa Monica College with four Associate degrees: Computer Science, Mathematics, Liberal Arts - Social and Behavioral Science, and General Science, as well as a Certificate of Achievement in Computer Science. She plans to transfer to earn a Bachelor's degree in Computer Science and Engineering, followed by a Master's and a Ph.D.
Victor Teran: Achieving Liftoff
When astronauts first set foot on distant planets, Victor Teran may be among those enabling that milestone. SMC introduced Victor to the NASA Community College Aerospace Scholars (NCAS) program, through which students develop potential solutions to the challenges of space travel.
Victor applied his skills as a materials engineering major to conceive a possible habitat and food supply for survival on Mars. He worked with students from across the country to design a rocket to reach Mars. "I felt like an actual NASA worker," Victor says of the experience, which involved everything from chemistry, biology and engineering to budgeting.
Victor says that SMC has helped make his own dreams come true. Although he struggled with low confidence before coming to college, watching Bill Nye the Science Guy and National Geographic specials formed his early interest in science. His SMC laboratory courses catalyzed that interest into a lasting passion. "I was involved in mixing metals and chemicals to see and understand the various reactions, and that's when I knew I loved chemistry and engineering," he recalls.
He shared that understanding with his fellow SMC students as a STEM tutor and mentor. Victor wanted to repay the support of SMC's faculty by aiding others. He is especially grateful to Chemistry Professor Muriel Walker-Waugh for her caring and infectious enthusiasm.
Victor will continue his studies by majoring in chemical engineering at California State University, Long Beach. After that, he hopes to build on his NCAS experience by working for NASA full time.
~
To read more about SMC's graduates and the commencement program, check out the "Commencement Program" at smc.edu/graduation.
# # # #