June 8, 2022
SMC Board Approves Career Training and Classroom Upgrade Measure for Nov. 8 Ballot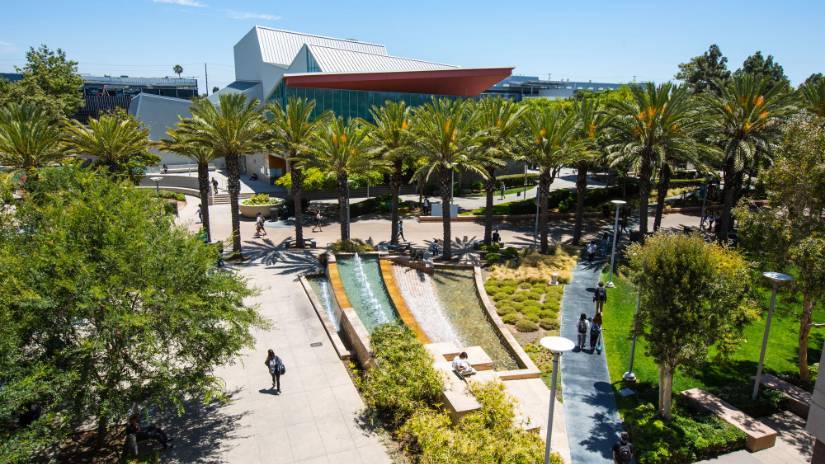 SMC Board Approves Career Training and Classroom Upgrade Measure for Nov. 8 Ballot
Initiative Will Support Equitable Student Outcomes, Improve Career Training Resources, and Address Necessary Building Replacements
SANTA MONICA, CA—At their meeting on June 7, 2022, the Santa Monica College (SMC) Board of Trustees unanimously approved the introduction of a $375 million bond measure that would help fund much-needed updates to existing SMC career training facilities, create new housing for eligible low-income students, and provide technology upgrades to meet emergent needs in the post-pandemic world.
The measure, to be submitted to Santa Monica and Malibu voters for the November 8 election, was spurred by the growing need to increase the college's capacity to support equitable outcomes for all students and prepare them for today's jobs. If approved by voters, the measure would raise funding to replace temporary classrooms and an aging shop-lab building; upgrade the Veterans Success Center; house SMC mental health and basic needs resource programs; and expand the college's overcrowded respiratory care program.
"The last few years have significantly altered the face of education at all levels," said SMC Superintendent/President Dr. Kathryn E. Jeffery, "In addition to longstanding inequities that can impede college access, an unpredictable pandemic and ongoing economic turmoil have added to the challenge of accessing affordable quality postsecondary education. We are committed to ensuring Santa Monica College has the capacity to meet the ever-changing educational needs of the communities we serve."
Facility inspections had previously identified a number of outdated campus buildings that needed to be replaced. However, after the sudden shift toward online learning during the COVID-19 pandemic, the College opted for a more streamlined, cost-effective plan to replace only a portion of the square footage slated for retirement.
"The most important work today—for Santa Monica College and the community college system at large—is to position ourselves to provide current and future students with the resources and opportunities they need to thrive," said SMC Board Chair Dr. Louise Jaffe. "The facilities and upgrades gained from this measure will help ensure that those who need an accessible, affordable, high-quality education the most—foremost, our communities' high school graduates and working adults—have every tool they need to transform their lives, in the complex post-pandemic landscape and labor market."
One major element of the approved plan focuses on building classrooms optimized for HyFlex learning. First developed in the mid-2000s, the HyFlex learning model combines flexible courses with hybrid learning, allowing students to shift between in-person and online, with the flexibility to attend either at the scheduled class time or to participate later.
A significant element of the plan addresses the growing shortage of affordable housing for college students. Bond financing would be used to supplement state and private financing to construct new student housing for full-time students who are homeless or at risk of homelessness.
"Students within the cities of Santa Monica and Malibu and surrounding localities are dealing with limited affordable housing stock and monthly rents that are higher than the state average," noted Chris Baca, chair of the Santa Monica College General Advisory Board and Executive Director of Meals on Wheels West. "In the last year alone, average rent prices in the Westside area have increased 13.7 percent. The passage of this measure would help SMC meet a crucial need within the community by providing on-campus housing specifically targeted for deserving, eligible, housing-insecure low-income students."
Additional outcomes of the bond measure would include assisting with Pearl Street streetscape enhancements including lighting, circulation, and landscaping and partnering with the Santa Monica-Malibu Unified School District and Malibu High School to assist with a new auditorium and media studies facility for educational and public use.
The redesigned classrooms envisioned in the replacement buildings will support teaching methodologies such as embedded tutors and configurable spaces for small group learning activities in keeping with strategies to improve student outcomes. Additionally, to maintain flexibility in how students participate, classrooms will also feature instructor-controlled video cameras and dual projectors.
The replacement buildings will serve primarily SMC's strong roster of career education programs. A partial list of program improvements includes:
Comprehensive green room, virtual reality, and sound stage facilities where faculty can record and stream high-quality, interactive learning content.
A health sciences "skills lab" featuring simulated hospital units for Respiratory Care majors.
A state-of-the-art language learning center for group study, tutoring, and cultural events.
A centralized area for the Photography program with a combined studio/classroom space for photo lab classes.
A centralized facility for housing and loaning equipment to students such as Chromebooks, laptops, cameras, art kits, and more.
A Fashion Design digital lab and fabrication space with industry-standard software tools.
Speaking at the June 7 meeting in support of the bond measure, SMC Respiratory Care Program Director Salvador Santana said that the college's nascent respiratory program was in dire need of training space and a teaching-learning environment that replicates the workplace. "During COVID-19, we saw first-hand the importance of respiratory care," stated Santana, "and to train the future generation of respiratory therapists and professionals, SMC needs a new building that would allow us to plan simulation rooms replicating a hospital setting—rooms with piped gas, high-fidelity simulators, and enough room for students who basically spend all day on campus!"
Santana explained that the respiratory care program—whose enrollment is doubling this coming fall—shares space with the college's in-demand Nursing program, which has 160 students.
Photography and Fashion Department Chair Josh Sanseri spoke about the crowded and outdated facilities in which the photography department is housed. "We are in the old automotive building—and to give you an idea of how outdated it is, there are six restrooms for men, and one for women. And often, due to a lack of space, we give lectures in the labs." He added: "In the Fashion department—they are bursting at the seams! And Santa Monica College does not have the space and capacity to accommodate output devices and fashion technology relevant to the jobs available in the industry for our students."
As part of the renovations, the plan also calls for the realignment of new and existing structures into "Areas of Interest" communities. These mini, embedded campuses-within-a-campus will focus on one of SMC's several specific study areas—such as Business; Arts, Media, and Entertainment; Health and Wellness; and more—with the goal of clustering events, instruction, counseling and other resources for students and faculty.
For the full Board resolution and other information on the measure, please visit smc.edu/bondmeasure.
In addition to Board Chair Dr. Louise Jaffe and Vice-Chair Barry Snell, the SMC Board of Trustees is composed of Dr. Susan Aminoff, Dr. Nancy Greenstein, Dr. Margaret Quiñones-Perez, Rob Rader, Dr. Sion Roy, and student trustee Catalina Fuentes Aguirre.
# # #