October 20, 2022
Santa Monica College's Synapse Contemporary Dance Theater to Showcase New Works November 5-6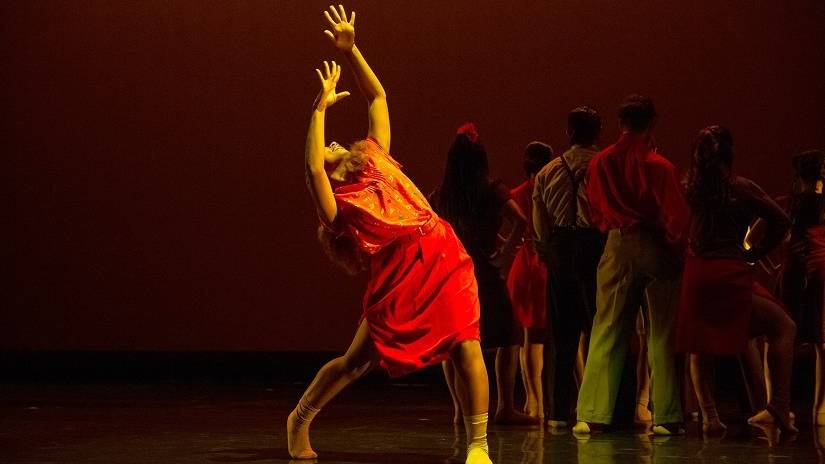 Santa Monica College's Synapse Contemporary Dance Theater to Showcase New Works November 5-6
Repertory Features Wide Range of Dance Styles
SANTA MONICA, CA — Santa Monica College's innovative and widely praised Synapse Contemporary Dance Theater will showcase new works on November 5 and 6 by award-winning faculty artists, professional guest artists, and alumni guest choreographers.
Performances are at 7:30 p.m. Saturday, November 5, and Sunday, November 6, in The Broad Stage at the SMC Performing Arts Center, located at 1310 11th Street (at Santa Monica Boulevard), Santa Monica. Guests should visit smc.edu/coronavirus before heading to the performance for up-to-date details on vaccine and mask requirements, as the requirements are subject to change.
The concert features Modern, Postmodern, Contemporary Ballet, and Jazz, as well as Hip Hop, Fusion, and more. Works will be presented by Synapse Artistic Director Jae Lee and Mark Tomasic, guest artist Tsiambwom "T" Akuchu, and faculty choreographers Seda Aybay, Angela Jordan, Sophie Monet, and Roberta Wolin-Tupas. Also creating new dance works for the performance are alumni guest choreographers Tamer Abdo and Katie McCulla.
Guest artist

Tsiambwom "T" Akuchu — an Assistant Professor of Dance at CSU Long Beach — will fuse multiple street dance styles with contemporary dance in "Schism."
Angela Jordan ‑— a member of the SMC dance faculty — will present a high-energy jazz-funk work, "Check My Technique," featuring four female dancers.
Alumni choreographer Tamer Abdo will present "Sabra," a piece about a Palestinian wedding celebration. The piece fuses Palestinian history and folklore with contemporary dance.
The concert also features three alumni guest dancers: Nick Albuja, Marii Kawabata, and Yurino Niyama, along with guest dancer Coco Williams.
Synapse Contemporary Dance Theater has a longstanding reputation for artistic excellence and innovation. Since it was founded more than 40 years ago, the student ensemble has performed throughout the nation, including the Electric Lodge in Venice; the Cast Theater in Hollywood; the Getty Center in Los Angeles; and the American College Dance Association Conference in Arizona, California, Georgia, New Jersey, New Mexico, and Utah.
Advance tickets are $20 for general admission (a modest service charge applies) and may be purchased online at smc.edu/tickets or by calling 310-434-3005 (Monday-Friday; limited hours). Tickets may also be purchased on the day of the performance for $23 (a modest service charge applies) at The Broad Stage Box Office at the SMC Performing Arts Center. Free parking on premises. Seating is strictly on a first-arrival basis.
More information is available by calling 310-434-3467.
###