November 1, 2022
The Russo Brothers Select SMC Film as Winner at NIAF Gala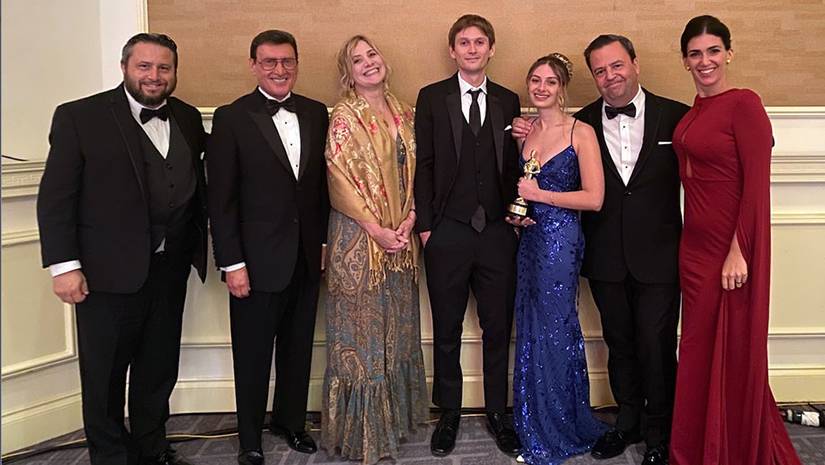 SMC Student Film "Leaving the Factory" Wins at Russo Brothers Italian American Film Forum Oct. 29
Selected out of Three Finalists by Russo Brothers, "a story that humanizes the historical tragedy of the Triangle Shirtwaist Factory Fire of 1911"
SANTA MONICA, CA—Santa Monica College student film "Leaving the Factory" has won the top distinction, selected by the Russo Brothers out of three finalists screened during the National Italian American Foundation's (NIAF) 47th Anniversary Gala Weekend at the NIAF Forum held Oct. 29 in Washington, D.C.
Written and directed by SMC Film Production student Alessia Crucitelli and produced by Andrew James Levay & Catharine Dada, "Leaving the Factory" focuses on the story of the mistreatment of Italian immigrant women factory workers, and their struggle to overcome oppression. The film stars Italian actress Roberta Sparta (who attended the gala) and co-stars Anne Bedian and Roberta De Santis.
Upon conferring the award to "Leaving the Factory," a videotaped message recorded by the Russo Brothers was played in front of the crowd of approximately 1,000, in which they said: "[The filmmakers have created] a story that humanizes the historical tragedy of the Triangle Shirtwaist Factory Fire of 1911, which caused the death of more than 120 women and girls who were trapped inside the facilities. A major focus of Alessia's film is to change how Americans view the early history of feminism and worker rights by examining the important contributions that Italian textile worker women made on behalf of the movement... our heartfelt congratulations, thank you for this incredible film!"
The Russo Brothers organized the competition for the Russo Brothers Italian American Film Forum, an initiative to fund films depicting and exploring the Italian American experience for the benefit of future generations.
"The film is a masterpiece in my opinion and tells a little known story that needed to be brought to light," said SMC Superintendent/President Dr. Kathryn E. Jeffery. "The writing, acting, set design, costumes, and music created a captivating sensory experience. So proud of our students, technical teams, faculty, and all associated with this beautiful, poignant storytelling vehicle!"
Writer/director Alessia Crucitelli stated that she was "beyond grateful to the Russo Brothers and the SMC Film Production Program for this incredible opportunity." "My goal is for this story to be seen by as many people as possible and having their support will help a lot to achieve this goal," she added. "I feel like I'm in a complete dream right now and I am so happy I got to have this experience with my producers, Andrew and Catharine, our SMC Professors Salvador Carrasco and Simone Bartesaghi, and lead actress Roberta Sparta by my side!"
Producers Andrew James Levay & Catharine Dada said that this film was "about a group of women who died protesting for equal rights. They deserve to have their story and legacy live on, and it's a blessing for their story to be recognized as the winner of The Russo Brothers Italian American Film Forum."
"We had the opportunity to directly put into practice all the technical elements of filmmaking that we learned in our film classes at SMC, adding in the real-life and necessary skills of persistence, patience and professionalism," they said in a joint statement. "We learned with top of the line equipment and under the guidance of our professors who are seasoned in the field and it shows in every aspect of the film. We are deeply proud of the work of our whole class!"
SMC film production faculty lead Salvador Carrasco reminisced that one of his main motivations when he was hired by SMC in 2010 to lead the college's efforts in creating a new Film Production Program, was "to help dispel the cultural skepticism—if not outright bias prevalent in our society in general and in the film industry in particular—towards the quality of cinema that can come out of a community college."
"I feel very strongly about our mission because education shapes individuals, and if someone cannot have access to a high level of education due to financial constraints, it is the responsibility of our democratically elected government and academic institutions to provide it at the lowest possible cost," said Carrasco. "The fact that 'Leaving the Factory' (in many ways the quintessential SMC film) has won this prestigious award at the Russo Brothers Film Forum competition in our country's capital proves my point. I am very grateful for this recognition, a testament to the work of our students, mentoring faculty, loyal staff, and all who believe in what we do at the SMC Film Program!"
Carrasco also gave a shout out to Keslow Camera and the Hollywood Foreign Press Association for their invaluable support. "May there be many more groundbreaking SMC films to come!" he added.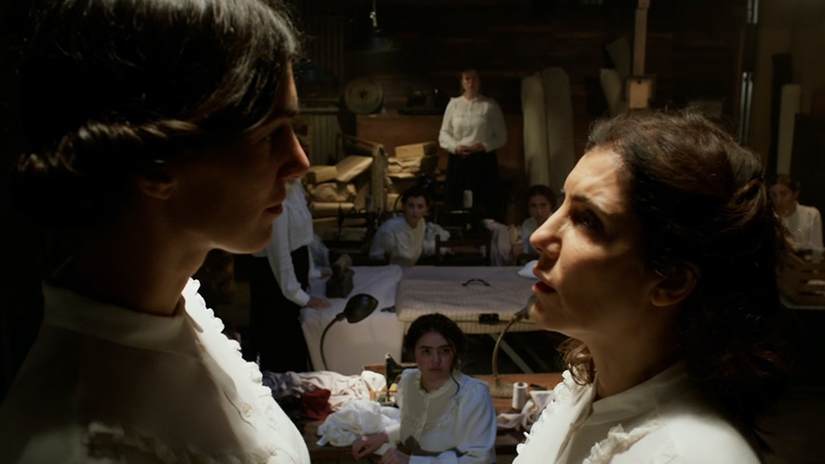 The two other finalists in competition were "Rossi & Company" by Agata De Santis, and "Defending the Peninsula" by Charles Vincent Sabba. The viewing was followed by a Q&A with the filmmakers after the showing, moderated by Taylor Taglianetti, founder and president of the National Organization of Italian Americans in Film and Television (NOIAFT).

The Russo Brothers, who organized the competition, are best known for directing four films in the Marvel Cinematic Universe (MCU). One of them, Avengers: Endgame (2019), grossed over $2.8 billion worldwide, becoming one of the highest-grossing films of all time. Thanks to their successes in the MCU, the Russo brothers are considered the second most commercially successful directors of all time, behind Steven Spielberg.

This year's NIAF Gala Honorees were Michael Pompeo, Giada De Laurentiis, Ornella Barra, Paolo Scaroni, Congressman Bill Pacrell, Jr., and Jason Castriota. Speaker Nancy Pelosi and Congressman Steve Scalise are Honorary Congressional Co-Chairs.

Santa Monica College was named one of MovieMaker's 40 Best Film Schools in the U.S. and Canada of 2022, and one of the top 12 in the U.S. West and Northwest alongside Stanford University, UCLA, USC, ArtCenter College of Design, and California Institute of the Arts, among others. And Hollywood Reporter flagged SMC as one of eight excellent low-cost alternatives to top-25 film schools based at private universities.
SMC's film production program has had seven student films selected for the Emerging Filmmaker Showcase at the American Pavilion during the Cannes Film Festival, including 2021's Best Student Film winner "Broken Layers." In addition, SMC student films have won numerous accolades—including production grants from the Hollywood Foreign Press Association (HFPA) and the Russo Brothers Italian American Film Forum, co-production sponsorships from Keslow Camera, Roundabout Entertainment, Enhanced Media, and the Next Generation Indie Film Awards Foundation; the Panavision Limelight Award at the Ojai Film Festival; Best Short at the Vienna Independent Film Festival, Palm Award at the Mexico International Film Festival, several Gold Remi Awards at WorldFest-Houston, Best Short at Port Blair International Film Festival in India, Best Short Drama at the San Diego International Film Festival; Best Short at the Prague Independent Film Festival; Prix Interculturel at the International Festival of Film Schools in Munich; and Winner at the Women's Independent Film Festival, among many other awards. In addition, SMC short films have been selected to screen in many other prestigious domestic and international film festivals.

For 47 years, the National Italian American Foundation has recognized Italian and Italian American achievements in business, art, science, finance, music and medicine. The National Italian American Foundation (NIAF) is a nationwide organization headquartered in Washington, D.C., and is the largest representative of the more than 20 million Italian American citizens living in the United States. NIAF was founded in 1975 and is a 501(c)(3) non-profit organization with no political affiliations. To learn more visit niaf.org.

SMC offers an Associate in Science degree and Certificate of Achievement in Film Production. To learn more, visit smc.edu/filmproduction or email Carrasco_Salvador@smc.edu. The film program—as well as the films that come out of it— is on YouTube as the "Santa Monica College Film Program" channel.
# # #
About Santa Monica College:
Santa Monica College is a California Community College accredited by the Accrediting Commission for Community and Junior Colleges (ACCJC) of the Western Association of Schools and Colleges (WASC). For 31 consecutive years, SMC has been California's leading transfer college to UCLA, UC Berkeley, and other University of California campuses. The college also tops in transfers to the University of Southern California and Loyola Marymount University and is the top feeder west of the Mississippi to the Ivy League Columbia University. In addition to the award-winning Film Production Program, more than 110 career training degrees and certificates at SMC—in fields ranging from the traditional (Accounting, Early Childhood Education, Nursing) to the emerging (Sustainable Technologies, Technical Theatre, and a baccalaureate degree in Interaction Design)—offer professional preparation for students interested in directly entering the job market, transferring to a four-year school, or upgrading specific skills. SMC provides news and cultural enrichment through its NPR radio station KCRW (89.9 FM), the Broad Stage at the SMC Performing Arts Center, and lifelong learning through distinctive programs such as its Emeritus Program for older adults.