December 15, 2022
IxD Seniors Celebrate Collab with CicLAvia 2022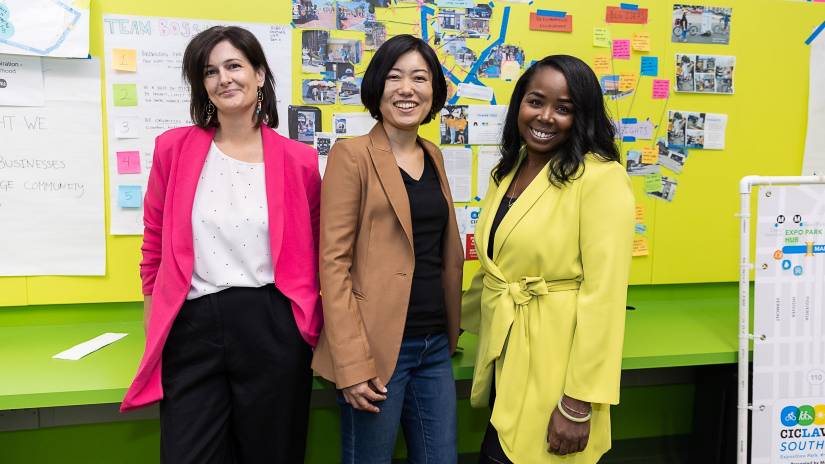 SMC Interaction Design Bachelor's Degree Students Lend Special Touch to CicLAvia 2022
Seniors Celebrate End of Semester-Long Project that Enhanced User Experience, Marketing, Fundraising, and More at Dec. 4 CicLAvia – South LA
SANTA MONICA, CA—Santa Monica College (SMC) seniors in the college's Bachelor of Science in Interaction Design (IxD) program showcased the culmination of a semester-long collaboration with CicLAvia at a final presentation attended by CicLAvia leadership on Wednesday, Dec. 14 at SMC's Center for Media and Design campus on Stewart Street in Santa Monica. Fun videos were shared at the heartwarming event covering each team's process and contributions to CicLAvia – South LA, as well as recommendations to make future iterations even more engaging. CicLAvia staff and leaders including chief program officer Rachel Burke, board member Sandra Kulli, and event producer Alissandra Valdez shared their kudos and appreciation firsthand for the SMC students' helping them envision the future of CicLAvia.
In 2015, SMC was selected to be among the first 15 California community colleges to be part of a pilot program where community colleges could offer baccalaureate degree programs to meet local workforce needs, and which do not duplicate degrees offered at California State University (CSU) or University of California (UC) campuses. The pilot program was made permanent last year when Gov. Gavin Newsom signed AB 927.
As part of a comprehensive, hands-on four-year curriculum that trains graduates to become interaction designers who "strive to create meaningful relationships between people and the products and services that they use, from computers to mobile devices to appliances and beyond," SMC IxD seniors must take part in an industry collaboration where the design innovations and approaches they learn in the classroom serve a real-world purpose.
This fall, students in SMC Interaction Design Professor Luke Johnson's Design for Community Change class and Psychology Professor Dr. Lea Hald's Cognitive Psychology class combined perspectives and leveraged skills learned in the classroom to lend a special touch to CicLAvia 2022, specifically CicLAvia - South LA held Dec. 4, 2022, from 9 a.m. to 3 p.m. The event presented by Metro featured 7.25 miles of car-free open streets for community members to enjoy and provided the opportunity to explore the neighborhoods of Exposition Park, Vermont Square, Historic South Central, Central Alameda, Florence-Graham, and Watts, passing landmarks such as Central Ave Jazz Park, Dunbar Hotel, and Ted Watkins Memorial Park.
"We loved engaging with students who are going to be designing the future, and using CicLAvia as a laboratory for discovery," said Rachel Burke, CicLAvia Chief Program Officer. "The SMC students' fresh eyes on all that we have been doing for over a decade made us proud of what CicLAvia means to the Los Angeles community. The IxD students are hardworking, imaginative, and endlessly thoughtful. We look forward to more of this kind of engagement with SMC!"
SMC IxD seniors' contributions to the Dec. 4 CicLAvia event encompassed creating content and enhancing touches to event marketing, the actual event, and more. Here are just a few examples of their contributions:
#CicLAviaStories – Created story stations where they collected content from attendees themselves. These more personable interactions helped create a greater sense of connection with the community.
Collectible Puzzle:  Conceived of a collectible item for CicLAvia attendees—in collaboration with Samohi Project-Based Learning (PBL) students and faculty—to keep as a memento. At different booths, attendees participated in a short game or riddle. Once the activity was complete, they received a piece of a puzzle. As they went on to more activities at various booths, they acquired more pieces until they received a finished CicLAvia-branded puzzle.
CicLAvia Online Map (Beta-Test):  With the help of mapping tool Proxi, students beta-tested a new digital map that makes the CicLAvia map more discoverable, usable, and accessible by nesting local businesses into the field guide, QR code links, and more.
Traveling Physical Event Map: This large-scale, physical map gave participants a visual understanding of their locations and options for businesses to check out. Also helped participants locate hot spots and local gems and allowed volunteers to spread the word about areas along the route that are not highlighted on the CicLAvia website.
CicLAvia Promo Video: Provided video documentation promoting LA culture and art, in partnership with local artists groups.
Previous collaboration examples—and ways in which industry partners can participate—can be found on the SMC Interaction Design industry partners page and include work with Hulu, Red Bull, Activision, and Grand Park.
In a joint statement, Luke Johnson and Lea Hald said the following: "Design challenges provide a platform for students and faculty to explore questions, themes, or problems specific to—and defined with—an external partner. These collaborations require more than a nominal investment on behalf of both parties, and are often the highlight of an IxD student's time in the program, while helping them build up an impressive portfolio!"
Past industry collaboration opportunities for SMC IxD students included those with MaCher and Meow Wolf in Product Design classes taught by Maxim Safioulline and Richard Schuler and Luke Johnson's Project Management class, as well as with IDEO, Beyond 12, and Children's Hospital through Nicole Chan's Service Design class.
The opportunity of working with CicLAvia was "life-changing" for SMC senior Miranda White. "I have learned how to be more intentional in my work as an interaction designer and become aware of my own mind, body, and soul," she said.
Samantha Heinrich said the collaboration between SMC's IxD Program and CicLAvia project made her feel she and her classmates were "making a positive impact." In addition, "This project opened my eyes to the possibilities my SMC degree has opened for me!"
Natsumi Takagi was candid about the process. "This experience was like learning to surf in rough seas. There were many times things didn't go as expected, but we kept tackling the challenges and turned them into something better than we planned initially!"
SMC IxD graduates have gone on to work at big tech firms (Google, Meta, and Rivian), interactive entertainment companies (Playstation and Activision), started their own companies (Playground vision and Reeplayer), and matriculated into graduate schools including Carnegie Mellon and CSU Long Beach.
For more information about SMC's Interaction Design program please contact IxD faculty lead Nicole Chan at Chan_Nicole@smc.edu or visit ixd.smc.edu.
# # #
About Santa Monica College and SMC's Interaction Design Program:
The Santa Monica College Bachelor of Science degree in Interaction Design (IxD) focuses on preparing students for careers as Interaction designers. SMC IxD program consists of methodologies, best practices, project-based processes, real-world contexts, and making for Interaction Design. Students are taught fundamental skills and methods that provide them with the tools that blend the fields of design, user experience (UX), and emerging technology. For more information visit: ixd.smc.edu
Santa Monica College is a California Community College accredited by the Accrediting Commission for Community and Junior Colleges (ACCJC) of the Western Association of Schools and Colleges (WASC). For 32 consecutive years, SMC has been California's leading transfer college to UCLA, UC Berkeley, and other University of California campuses. The college also tops in transfers to the University of Southern California and Loyola Marymount University and is the top feeder west of the Mississippi to the Ivy League Columbia University. In addition to the baccalaureate interaction design degree, more than 110 career training degrees and certificates at SMC—in fields ranging from the traditional (Accounting, Early Childhood Education, Nursing) to the emerging (Sustainable Technologies, Technical Theatre, Cloud Computing)—offer professional preparation for students interested in directly entering the job market, transferring to a four-year school, or upgrading specific skills. 
About CicLAvia:
The first CicLAvia event took place on October 10, 2010, with a stretch of open streets from East Hollywood through downtown L.A. into Boyle Heights. More than 100,000 Angelenos turned out with people-powered transportation (bicycles, walking, skateboarding, scooters, running, pedicabs, etc.), exceeding expectations. Through CicLAvia open streets events, people feel joy and belonging through safe, people centered and community-oriented streets. Inspired by the Bogotá, Colombia's Ciclovía events that started 45 years ago, CicLAvia began as a grassroots initiative by individuals who recognized that Open Streets events could address active transportation, urban land use, and public health needs in L.A. Twelve years and 41 CicLAvia Sundays later, 2 million people (averaging 53,000 participants at each event) have explored more than 259 miles of open streets in L.A. County. Each CicLAvia route is 6-8 times larger than the median size of L.A.'s existing public parks.