April 21, 2023
SMC'S Global Motion World Dance Company to Perform May 6-7 at BroadStage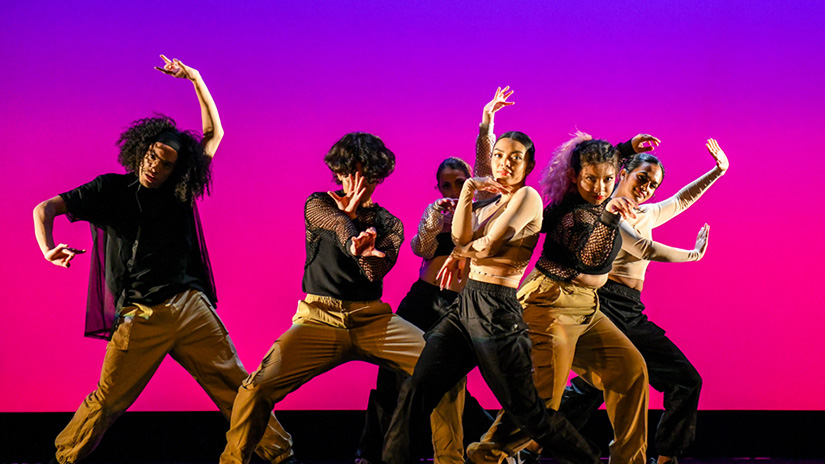 SMC'S Global Motion World Dance Company to Perform May 6-7 at BroadStage
Performance Features a Work Choreographed by Bharatanatyam Artist Ashwini Ramaswamy
SANTA MONICA, CA — The Santa Monica College Global Motion World Dance Company is proud to present its spring 2023 performance of dances from around the world. The performance will include a dance work created for Global Motion by renowned Bharatanatyam dancer Ashwini Ramaswamy.
Performances are on Saturday, May 6, and Sunday, May 7, at 7:30 p.m. in BroadStage at the SMC Performing Arts Center, 1310 11th Street (at Santa Monica Boulevard), Santa Monica.
SMC students will present the excitement and diverse beauty of other cultures through showcasing traditional and contemporary World Dance styles — including West African, Flamenco, Ballet, Asian, Hawaiian, Mexican Folklórico, Salsa, and more.
The spring performance features a dance work choreographed by Ashwini Ramaswamy for Global Motion students as part of a one-week residency as a guest artist at the SMC Dance Department. The project is a collaboration between the department and the BroadStage Education and Community Program. Ramaswamy has spent more than 30 years studying Bharatanatyam, one of the most popular and widely practiced classical dance styles of India. She is a founding member — along with her mother, Ranee Ramaswamy, and her sister, Aparna Ramaswamy, both award-winning choreographers — of the Ragamala Dance Company, where she is the Choreographic Associate.
Global Motion was founded over 40 years ago by Judith Douglas, former chair of the SMC Dance Department, to bring knowledge, understanding, and appreciation of the diverse beauty of dance throughout the world, and to give SMC students the essential experience of working with choreographers and performing as a professional company, on a professional stage.
The SMC Dance Department uses BroadStage — including the stage and lighting crew and support staff — for performances. Costumes are handmade each season by professional costumer Patricia Oliva.
Global Motion is under the artistic direction of Raquel Ramirez and Sri Susilowati. Ramirez is a dance professor at SMC and the founder and director of a folklórico performance group dedicated to supporting the traditions and cultures of Mexico. Susilowati, originally from Indonesia, creates and performs traditional and contemporary works that focus on community, gender, and ethnicity.
Faculty choreographers are Laura Canellias (Salsa), Keali'i Ceballos (Hawaiian/Swing), Angela Jordan (West African), Raquel Ramirez (Mexican Folklórico), and Sri Susilowati (Contemporary Javanese).
Guest artist Emiko Saraswati Susilo introduces the fundamental techniques and philosophy of Balinese dance, including its relationship to music and culture in Bali. A dancer/choreographer, voice actor, and musician who revels in the meeting of movement, voice, and music, Susilohas dedicated her life to nurturing intercultural communication. She is the associate director of Çudamani and served as director and board chair for Gamelan Sekar Jaya for over 10 years.
Alumni choreographer is Keith Morris (Flamenco)
SMC dance students audition to choreograph pieces each semester for Global Motion. This spring, the student choreographers are Liam Gifkins, Melisha Mahakumara, and Koa Viecco.
Global Motion World Dance Company has toured extensively and performed at schools, festivals, and special events throughout Californiaand Mexico, as well as performances in Beijing, China; Bracciano, Italy; Santiago, Chile; Lloret de Mar, Spain; and Paris, France. In October 2019, the ensemble traveled to Asia for performances in Beijing, China.
Advance tickets are $20 for general admission (a modest service charge applies) and may be purchased online at smc.edu/tickets or by calling 310-434-3005 (Monday-Friday; limited hours). Tickets may also be purchased on the day of the performance for $23 (a modest service charge applies) at BroadStage Box Office at the SMC Performing Arts Center. Free parking on premises. Seating is strictly on a first-arrival basis.
More information is available at smc.edu/dance or by calling the SMC Dance Department at 310-434-3467.
# # #