April 27, 2023
SMC Barrett Hosts Matika Wilbur Book Signing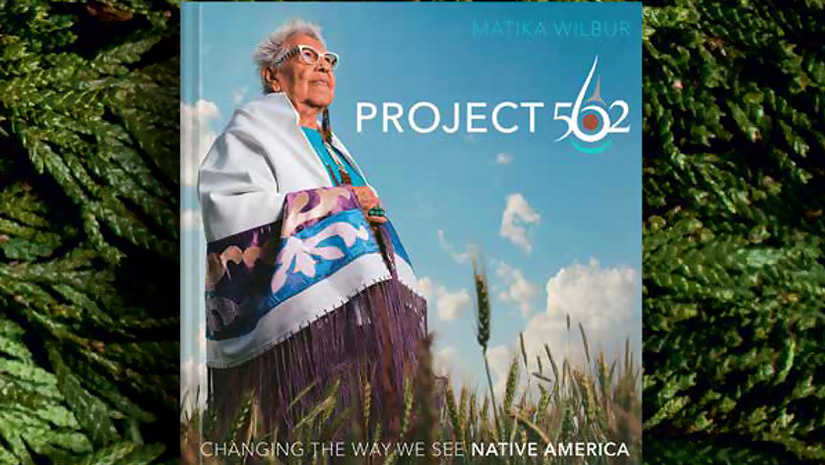 SMC Barrett Art Gallery to Host Reception and Book Signing May 8 for Native American Artist Matika Wilbur's Project 562: Changing the Way We See Native America
Events Include Artist in Residence's Closing Remarks in The Broad Stage
SANTA MONICA, CA—The Santa Monica College (SMC) Pete and Susan Barrett Art Gallery will host two events May 8 to celebrate the Project 562: Changing the Way We See Native America book release and exhibition by SMC artist in residence, photographer, writer, and podcaster Matika Wilbur from the Tulalip and Swinomish Tribes.
As Wilbur nears the conclusion of her yearlong role as artist in residence at Santa Monica College, she will deliver highly informative closing remarks about her book, the accompanying gallery exhibition, and the student-focused workshops and activities she has led over the past months. Doors open at 5 p.m. for the talk from 5:30 p.m. to 7 p.m. in The Broad Stage at the SMC Performing Arts Center, 1310 11th Street (at Santa Monica Boulevard), Santa Monica.
Following Wilbur's presentation, a free reception and book release with book signings will be held in the Barrett Gallery from 7 p.m. to 9 p.m. to celebrate the exhibition and the publication of Wilbur's book. The exhibition will remain on view through May 15, 2023. The SMC Pete & Susan Barrett Gallery is located at the SMC Performing Arts Center, 1310 11th Street (at Santa Monica Boulevard), Santa Monica.
Wilbur's consciousness-shifting exhibition and book counteract the clichéd representation in media of Indigenous peoples with a comprehensive repository of imagery and oral histories accurately portraying the diversity and richness of contemporary Native America. The exhibition and related activities have been made possible with generous support from Mark and Freya Ivener, as well as from SMC Associated Students; SMC's Division of Equity, Pathways, and Inclusion; SMC Associates; SMC Art Department, SMC Photography Department, SMC Global Council; SMC Public Policy Institute; and SMC Foundation.
The Project 562 book, published by Ten Speed Press and Penguin Random House, is Wilbur's fourth major creative project elevating Native American identity and culture. Her first project captured portraits of Coast Salish elders for We Are One People (2004, Seattle Art Museum). Her next project, We Emerge, featured Native people in contemporary urban and traditional settings (2008, Burke Museum of Natural History and Culture), and was followed by Save the Indian and Kill the Man (2012, Tacoma Art Museum), which addressed the forced cultural assimilation of Native peoples.
Since 2015, Wilbur has delivered more than 300 keynote speeches at institutions such as Harvard University, Stanford University, Google, the National Education Association, and TED. She is a National Geographic Explorer and recipient of the distinguished Leica Photo Award. She co-hosts the popular Native issues podcast All My Relations, which invites guests to explore the connections between land, creatural relatives, and one another.
In her role as SMC artist-in-residence, Wilbur collaborated with Barrett Gallery Director Emily Silver and SMC students to build her exhibition from the ground up. Students were involved in building walls, printing and framing imagery, conducting deep dive research, and art handling. Together, Wilbur and the students curated images centered around authentic, poignant narratives, and crafted this groundbreaking show.
Dispatches from Project 562 can be found @project_562, and on matikawilbur.com, project562.com, and allmyrelationspodcast.com. More information about the Santa Monica College activities is available by emailing silver_emily@smc.edu or visiting smcbarrettgallery.com (the gallery is also on Instagram as @smcbarrettgallery).
# # #