May 4, 2023
Three SMC Interaction Design Students Win Top Awards in Annual Snap, Inc. Lens Challenge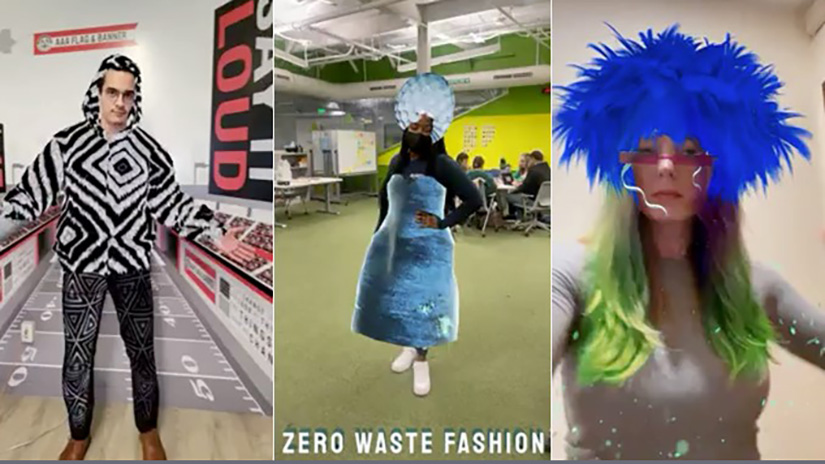 Three SMC Interaction Design Students Win Top Awards in Annual Snap Lens Challenge Held by Snap Inc.
SANTA MONICA, CA—Three Santa Monica College (SMC) seniors of the Bachelor of Science in Interaction Design (IxD) program have won the top awards in a nationwide Snap Lens Challenge—a Snapchat lens design competition annually held by Snap Inc., sponsored by Snap Philanthropy and its curriculum partner Next Shift Learning. The participants were asked to design and present augmented reality experiences adhering to the theme: "Make a Fashion Statement." Out of 150 participations nationwide, SMC students Devin Anderson won first place while Miranda White and Chrissy Stevens took second and third place, respectively.

The Snap Lens Challenge competition winners receive high consideration if they choose to apply to the Snap Lens Academy, a nine-week educational learning experience for BIPOC community college students (or recent transfers) and those from groups underrepresented in the tech sector—four separate ones in design, engineering, storytelling and Augmented Reality (AR) are offered—as well as cash prizes or the opportunity to design a lens for a Snap Inc. partner. The challenge took place over March 13-31, 2023 with the winners announced on April 27, 2023.

"We continue to be inspired by the Santa Monica College student's ability to creatively push the boundaries of augmented reality and design engaging Snap lenses," said Lindsey Heisser, Manager, Global Philanthropy, Snap Inc. "Furthermore, we are grateful for the multi-year partnership with the SMC IxD program and their eagerness to embrace new technologies like Lens Studio and prepare their students for careers in the tech industry."

An independent panel of Snap team members took into consideration quality, originality, and creativity of the lenses submitted, and were also working to identify prospective scholars "who have a deep desire to continue learning."

Chrissy Stevens, who won third place, said she gained "new skills in 3D design and more experience working in the medium of augmented reality. The brief also pushed me to explore concepts using VFX effects in Lens Studio."

The three winners of this design challenge are enrolled in the IxD 480: Design for the Future class taught by SMC Interaction Design professor Maxim Safioulline. The class aims to prepare designers to work with the technologies that are just emerging on the horizon of the mainstream digital media—augmented and virtual reality, and artificial intelligence. Submission to the challenge was an option for the midterm project focused on imagining the impact of augmented reality on digital design and marketing.

To learn more about SMC's Bachelor of Science in Interaction Design Program—whose alum have gone on to work for JPMorgan Chase & Co, Google, Snap Inc., Sony PlayStation, Lyft, Amazon Prime Video, and more—visit ixd.smc.edu.

Santa Monica College is a California Community College accredited by the Accrediting Commission for Community and Junior Colleges (ACCJC) of the Western Association of Schools and Colleges (WASC).
# # #