May 11, 2023
SMC Dance Hosts Dance Day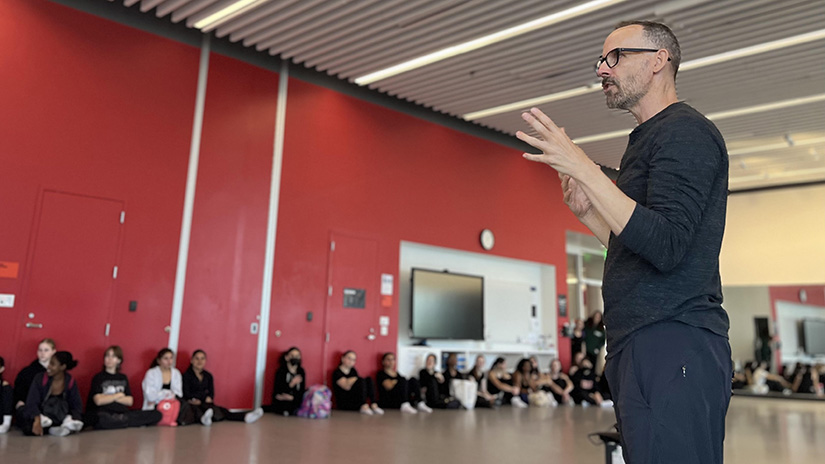 SMC Dance Hosts Hamilton High School & Beverly Hills HS Students for Dance Day
A Day of Immersion in College-Level Dance & Introduction to New World Dance Styles
SANTA MONICA, CA—The Santa Monica College (SMC) Department of Dance hosted approximately 70 students from Hamilton High School (HHS) and Beverly Hills High School (BHHS) on Wednesday, May 10 for an immersive "Dance Day" experience designed to provide high school students a taste of college-level dance classes and introduce them to dance education advancement opportunities available at SMC.
This is the first time since the COVID-19 pandemic that the Dance Department has offered this experience in-person—last week, SMC hosted Culver City High School and New West Charter School. Previously, Santa Monica High School students have also participated in SMC's "Dance Day".
The Hamilton and Beverly Hills HS students took classes from SMC dance professors in the sun-dappled dance studios in SMC's Core Performance Center, where the college's dance program is housed on its main campus at 1900 Pico Blvd. Classes were offered in ballet, contemporary dance, hip hop, flamenco, and Indonesian/Tahitian dance. In addition, SMC students from the Global Motion World Dance Company and Synapse Contemporary Dance Theater performed pieces for their high school counterparts/guests.
SMC Dance Department Chair Mark Tomasic—who also held a Q&A for the high school students alongside SMC students—stated that the dance program's outreach efforts start in second grade. "We have student interns who teach creative dance to children (as part of a certificate of that same name) at SMASH Elementary School," Tomasic said. "Our SMC Dance Academy teaches all the fourth and fifth graders in the Santa Monica-Malibu Unified School District (SMMUSD). And then we have High School Dance Day. Our idea is to catch them when they're young, infuse a love of the arts and dance, and then keep having these touchpoints throughout their whole educational career as a way literally to guide them to this amazing program!"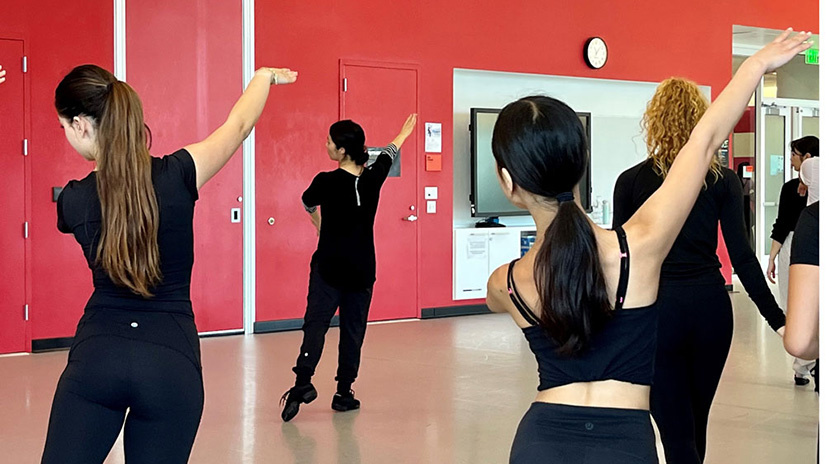 It was a first trip to Santa Monica College for Edden Mizrahi, an 11th-grade student at BHHS and member of the BHHS Dance Company. Dancing is "literally therapy" for Mizrahi. "My sister went to CSUN to study dance," she said. "But I never got to see what was really inside . . . this is so eye-opening. You get to see so many different people doing different things—and the fact that they have Hawaiian, which was really cool, [also] flamenco. Learning all those different styles is so fun!"
Her friend Bradyn Prisand, a 10th grader at BHHS and also a member of the BHHS Dance Company, has been dancing since she was two. Prisand describes dance as a way of expressing herself. "I feel the most free when I'm dancing. I'll go to dance class and be so stressed, and right when I walk into the studio, all of that's gone!" she said.
Prisand stated SMC's Dance Day was "a really nice glimpse into the college lifestyle." "Being in tenth grade, I definitely have started thinking about college and what I want to do. I love how in all of these classes, I was just able to be free and learn from all these different teachers and all these different styles."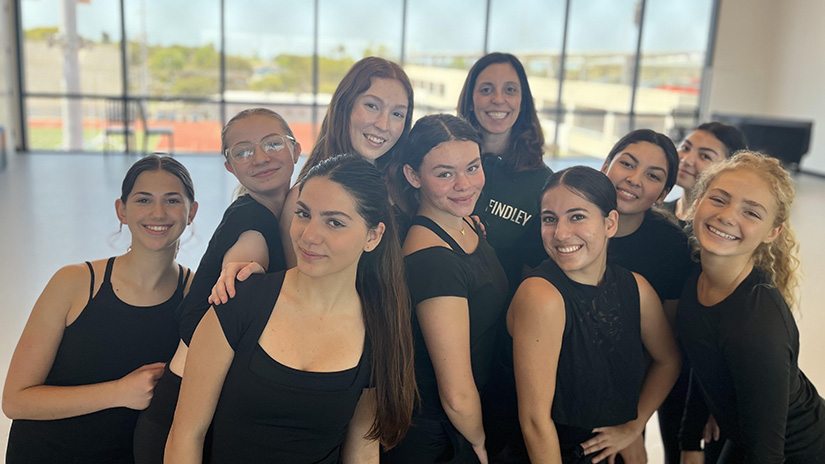 The Tahitian and Indonesian dance class was "a definite highlight" for Prisand.
Hamilton High School dance teacher Latrece Douglas—who teaches jazz, ballet, and modern dance—said it was also the first time her dance students have been on SMC's campus. "We're very excited to be here. They wanted an opportunity to see what dance is like on the college level," she said. "[What is] most valuable [is] that they're able to see they're capable of dancing in college, making connections with their peers. . . that they're able to see themselves in this space."
Dana Findley who teaches dance at BHHS and is also artistic director of the school's dance company, brought her high school students as well as some eighth graders from Beverly Vista Middle School to experience "not only the styles we're familiar with but other styles as well. And that's what's so amazing about SMC—the variety of dance styles offered."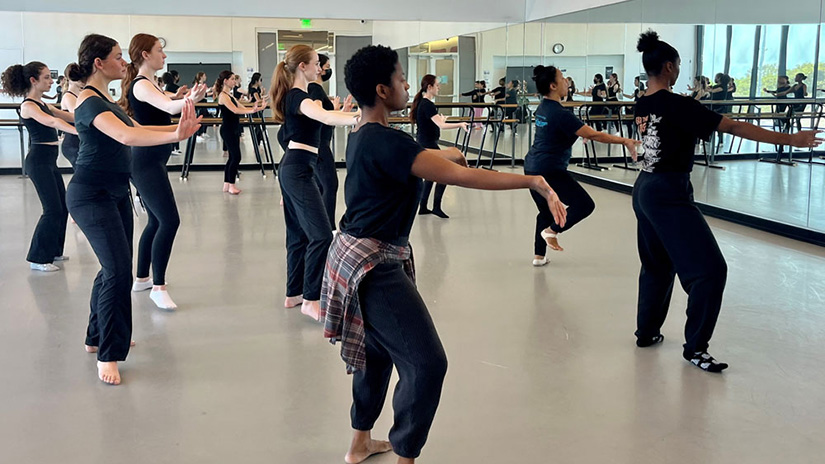 "I think it just shows them that dance is a universal language," Findley added about the various classes students were able to take at SMC. "We can all dance, and every culture has a piece of dance in it, so I think it just shows them what's out in the world around them."
SMC offers a comprehensive Associate's Degree in Dance that prepares students for BFA and BA transfer and dance-related careers while serving the general student population through a breadth of dance experiences. This coming fall semester, the department unveils its Commercial Dance Certificate of Achievement, designed for the student seeking employment in the diverse commercial dance industry. Dance Department outreach programming also includes the instruction of all fourth and fifth graders in the SMMUSD in World Dance and Jazz/Musical theater dance as well as teaching creative dance to second graders at SMASH Elementary.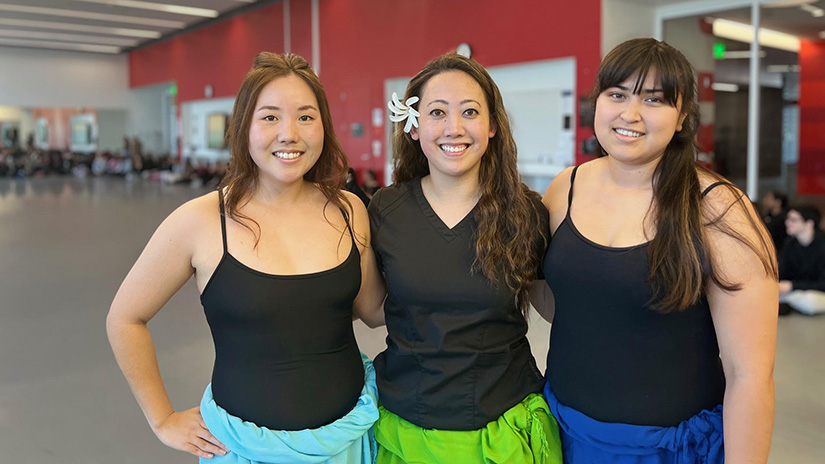 The Dance Department is dedicated to nurturing versatile dance artists through a combination of rigorous technical training in contemporary modern, ballet, commercial, and world dance forms with performance opportunities, theoretical study, and creative exploration. SMC's dance program is considered a unique gem in two-year training programs. In the Spring of 2017, SMC unveiled the new Core Performance Center, a state-of-the-art facility with four spacious sunlit studios dedicated to the Dance Department. The dance program also features a relationship with the Eli and Edythe Broad Stage at the Santa Monica College Performing Arts Center, where SMC students perform in four full-length dance performances per year and have the opportunity to study with BroadStage guest artists. See smc.edu/dance for more information.
Santa Monica College is a California Community College accredited by the Accrediting Commission for Community and Junior Colleges (ACCJC) of the Western Association of Schools and Colleges (WASC).
# # #