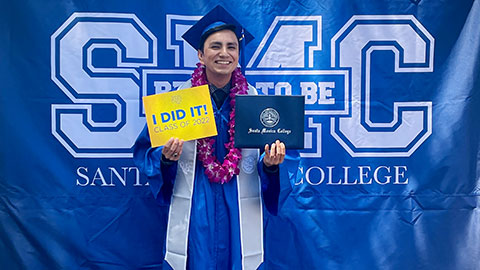 Communication Studies

I grew up in a family of Mexican immigrants that came to America in 1986. My parents did not have the opportunities that I had growing up. Being able to succeed and become a first-generation college graduate in my family is an extremely proud accomplishment. There have been plenty of ups and downs, but I always remembered that by succeeding in college life, I am also carrying my family's legacy wherever I go. America is built by immigrants and it's important for me to always remember that as I continue my education journey to Cal State Long Beach.
SMC influenced my life and career choice because of the diverse classes that they offered. When I first came to SMC, I chose to be a filmmaker. After taking a film class and finding out that public relations was a better fit for me, I was able to focus on that major and aspect of my life with the guidance of my peers and professors.
SMC helped me get to where I wanted to be with the help of the Adelante Program. They had an amazing group of counselors who guided me through the classes I needed for my specific major. Santa Monica College was very easy to navigate, before and after the pandemic.
Never forget the legacy and impact you leave on those around you. They will thank you in the future.