Santa Monica College provides a great environment for you to develop your physical fitness and resilience, and to train, enjoy, and even compete at a high level in a chosen sport. Our athletic and fitness facilities include the Core Performance Center (CPC), Corsair Gym, Corsair Field, and Santa Monica Swim Center. The facilities support aquatics, combatives, and fitness activities, individual and team sports, and varsity intercollegiate competitions. Go Corsairs!
Core Performance Center
SMC's Core Performance Center (CPC), located next to Corsair Field near Parking Structure 3, has dance and exercise studios, a fully equipped fitness center with a weight room and rooms for workouts and yoga, indoor rock climbing wall, and showers and dressing rooms. Fitness equipment includes stationary bikes and ellipticals.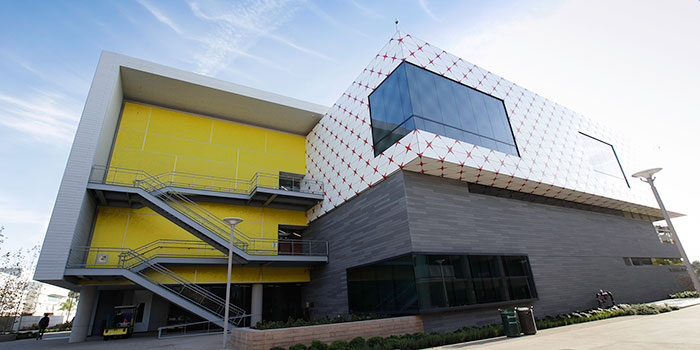 Corsair Field & Morrison Track
Corsair Field, located near 16th St. and Pearl St., is SMC's sports stadium. The synthetic turf playing field and its Archie M. Morrison Track are used for a variety of kinesiology classes, and to host football, soccer, track and field, and other intercollegiate competitions and community events. The track, originally built for the 1984 Olympics and updated over the years, features a synthetic surface that is durable and resilient in all weather conditions.
Temporary Public Use Hours
Monday - Friday: 7:15 - 10 p.m.
Saturday & Sunday: 8 a.m. - 10 p.m.
The field may be closed at any time due to scheduled events, such as athletic competitions. SMC may close the field based on recommendations of the L.A. County Department of Public Health. Please continue to follow safety guidelines.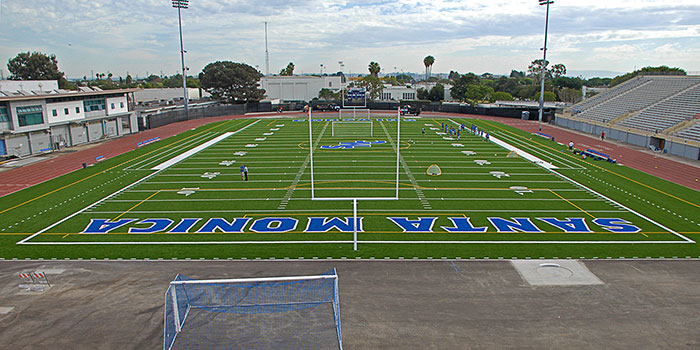 Swim Center
The Santa Monica Swim Center, located at 2225 16th St. (between Pico Blvd. and Pearl St.), has two heated outdoor pools, one with diving boards. In addition to classes for SMC students, the facility offers low-cost public swim sessions and aquatics classes and programs through the City of Santa Monica Community Aquatics.
The Splash Pool is a 10-lane, 25 meters x 25 yards shallow pool with depths ranging from 2½ to 4½ feet, and an average water temperature of 85 degrees.
The Fitness Pool is an Olympic-size 50-meters x 25 yards competition pool with depths ranging from 6½ to 13 feet, 1-meter and 3-meter diving boards, and an average water temperature of 79 degrees.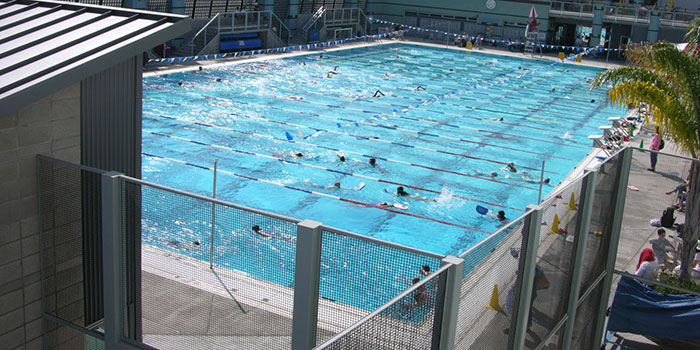 Corsair Gym
Corsair Gym, located between the SMC Library and Corsair Field, is home to classes and competitions in badminton, basketball, table tennis, volleyball, and other indoor sports. The gym has a weight room for student-athletes, a yoga room, athletic team locker rooms. The Sky Box on the second floor is a conference and meeting room.