Recent Commencement Speakers
Hon.
Richard Bloom
California Assemblymember, District 50
Richard Bloom was first elected to the 50th District of the California State Assembly in 2012 where he proudly represents the communities of Agoura Hills, Bel Air, Beverly Hills, Brentwood, Hollywood, Malibu, Pacific Palisades, Santa Monica, Topanga, West Hollywood, and West Los Angeles.
As a steward of the environment, Assemblymember Bloom helped establish the most stringent protections in the country against the dangers of hydraulic fracking and pushed for improved rail safety and oil spill response preparedness in light of the exponential growth of oil imports by rail. Assemblymember Bloom also introduced the strongest protections in the country against the use of rodenticides, which are harming wildlife at alarming levels, and against the use of plastic microbeads in personal care products that are contaminating our rivers, streams, and oceans.
Assemblymember Bloom has also been involved in legislative efforts to combat the prescription drug overdose epidemic, address homelessness and housing, improve services for our veterans, expand and protect the rights of the LGBTQ+ community, foster local redevelopment, addressing the rise in hate crimes, and create jobs.
Prior to being elected to the California State Assembly in 2012, Assemblymember Bloom served on the Santa Monica City Council for 13 years where he served as Mayor three times and Mayor Pro Tempore twice. He also served as Chair of the Santa Monica Bay Restoration Commission, Chair of the Westside Cities Council of Governments, and as a special California State Senate appointment to the California Coastal Commission.
Born in Philadelphia, Assemblymember Bloom grew up in Altadena and West Los Angeles. He attended Fairfax High School, the University of California (Los Angeles and Berkeley) and Loyola School of Law and holds a B.A. in Communication and Public Policy as well as a Juris Doctor degree. After law school, he practiced family law for nearly 30 years and worked as the executive director for a non-profit that assisted low-income and homeless clients. He also served as a volunteer Judge Pro Tem and mediator for the Los Angeles Superior Courts and on the Executive Committee of the Los Angeles County Bar Association Family Law Section.
Assemblymember Bloom lives in Santa Monica with his wife of 40 years, a healthcare professional and administrator in Los Angeles. The Bloom family includes two adult sons and two chickens.
2021 Commencement Speaker
Hon.
Fiona Ma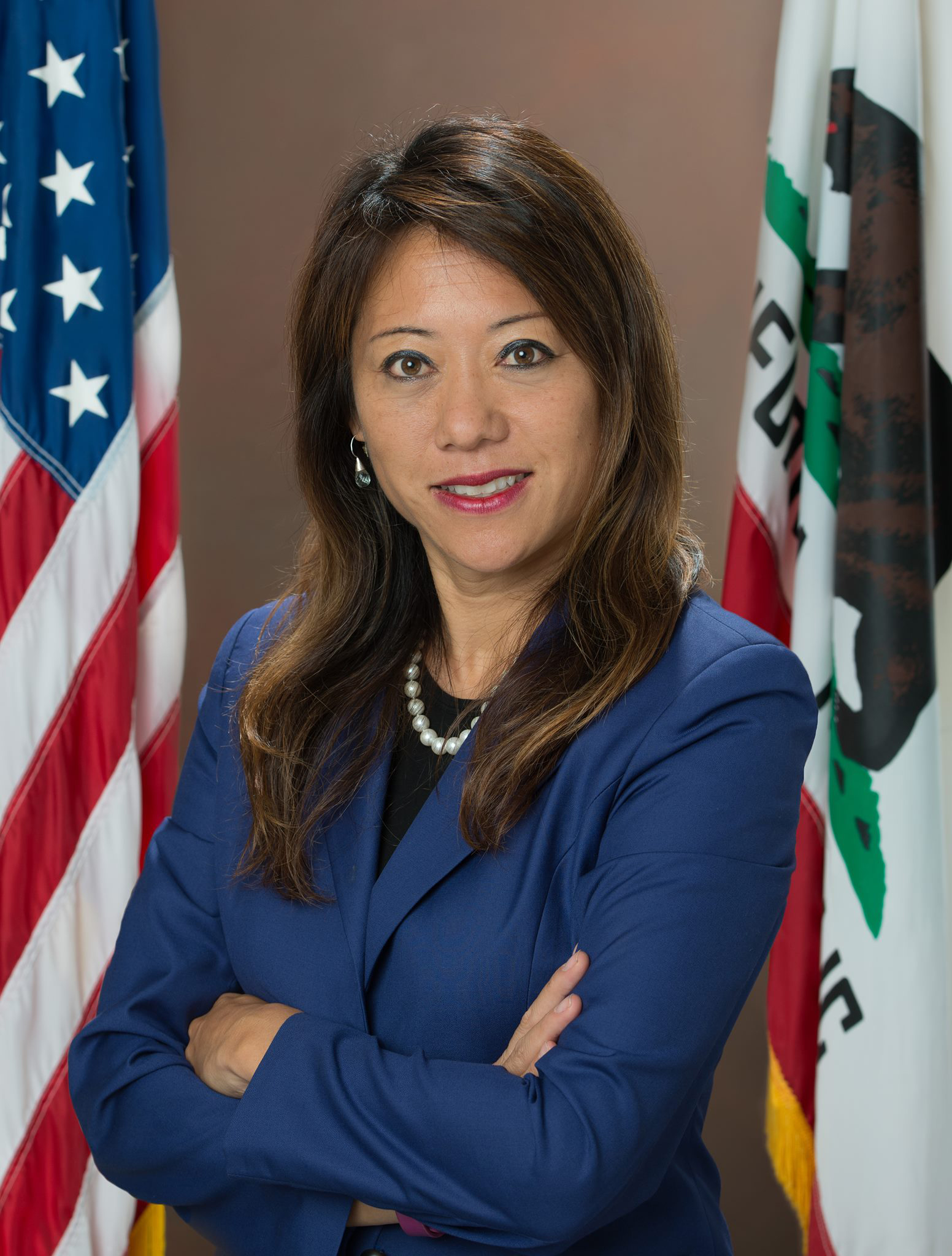 California State Treasurer
Fiona Ma is California's 34th State Treasurer. She was elected on November 6, 2018 with more votes (7,825,587) than any other candidate for treasurer in the state's history. She is the first woman of color and the first woman Certified Public Accountant (CPA) elected to the position.
Treasurer Ma is the state's primary banker for California, the world's fifth largest economy. Her office processes more than $2 trillion in payments a year, oversees an investment portfolio of more than $124 billion, about $34.8 billion of which are local government funds. She serves as agent of sale for State bonds, and is trustee on debt of $93 billion.
In 2020 her office refinanced $6.2 billion of debt, creating a savings of $1.8 billion for California taxpayers.
Before being elected Treasurer, she was an elected member of the California Board of Equalization from 2015 until January 2019 and worked to protect the rights of taxpayers while ensuring California collected its fair share of tax revenues.
Treasurer Ma served in the State Assembly from 2006-2012, serving as Speaker pro Tempore from 2010 to 2012. During the budget crisis, she passed legislation to expand access to health care, protect education and the environment.
From 2002-2006, she served on the San Francisco Board of Supervisors and worked on many issues, including ending human trafficking in massage parlors.
Treasurer Ma became involved in public service in 1994 when she was elected president of the Asian Business Association. From 1989 to 1993 she worked for Ernst & Whinney, before starting her own accounting practice in San Francisco.
Treasurer Ma has been a licensed CPA in California since 1992 and holds a Bachelor's Degree in Accounting from the Rochester Institute of Technology (NY), a Master's Degree in Taxation from Golden Gate University (SF), and an MBA from Pepperdine University.
She is a Member of the Vatican's Council for Inclusive Capitalism, Member of the California Society of Certified Public Accountants, serves on the Board of California Women Lead, is an Honorary Chair and Spokesperson for the San Francisco Hepatitis B Free Campaign, and is a member of the Screen Actors Guild. She is married to Jason Hodge, a full-time firefighter and Oxnard Harbor Commissioner.
2020 Commencement Speaker
Sandra Evers-Manly
Vice President, Global Corporate Responsibility
Northrop Grumman Corporation
Sandra Evers-Manly was a junior in college when she took a summer internship position with Northrop Grumman more than two decades ago. She rose through the ranks to become the company's Vice President of Ethics and Diversity, and then advanced to her current position as Vice President, Global Corporate Responsibility. Evers-Manly is also president of the Northrop Grumman Foundation, which she was instrumental in founding. The Foundation is committed to promoting STEM-related initiatives. A strong advocate for STEM education, she has received the National Society of Black Engineers (NSBE) Gene Washington Champion Award for promoting diversity in STEM as well as the prestigious Chairman's Award from Hispanic Engineers National Achievement Awards Conference (HENAAC).
Evers-Manly comes from a civil rights family and is a cousin of slain civil-rights activist Medgar Evers and is a longtime advocate of diversity and inclusion in education, the workplace, and everyday life. Evers-Manly is a past president of the Beverly Hills/Hollywood chapter of the NAACP and a member of the Defense Industry Initiative on Business Ethics and Conduct Working Group.
In 1991, she founded the Black Hollywood Education and Resource Center (BHERC), a nonprofit dedicated to advocating, educating, researching, developing, and preserving the history and future of black images in film and TV, while also supporting the early work of student filmmakers who have gone on to become blockbuster directors. The organization has helped to supply more than $4 million in film equipment and scholarships to date.
Evers-Manly has been executive producer of several films, including Last Breeze of Summer, nominated for an Academy Award for Best Live Action Short. She has also been honored for her
leadership by organizations, including the March of Dimes, the Anti-Defamation League, the City of Los Angeles, and the Los Angeles Brotherhood Crusade to name a few. In October 2018, she
released her first children's book, Raised Up by Mrs. Manly and Her L's, from which all proceeds go to charitable organizations.
Evers-Manly is a graduate of the University of Southern California with a bachelor's degree in public administration and, in 2019, received the USC Alumni Association's Outstanding Alumni
2019 Commencement Speaker
California Secretary of State Alex Padilla
Alex Padilla was sworn in as California Secretary of State on January 5, 2015. He is committed to modernizing the office, increasing voter registration and participation, and strengthening voting rights.
Padilla previously served in the California State Senate (2006-2014) where he chaired the Committee on Energy, Utilities, and Communications. As chair, he shepherded legislation to combat climate change and create a greener and more sustainable economy. He pursued an ambitious agenda in the areas of renewable energy, energy efficiency, smart grid, and broadband deployment.
Padilla's parents emigrated from Mexico and raised their family in the working class community of Pacoima, California. His father worked as a short order cook and his mother cleaned houses. Padilla attended local public schools and went on to graduate from the Massachusetts Institute of Technology with a bachelor's degree in Mechanical Engineering. He recently completed a five-year term as a member of the MIT Corporation (Board of Trustees). Padilla is often asked how he moved from engineering to public service. He explains that in many ways they are similar; the goal of each is solving problems.
After working for Hughes Aircraft in Southern California, Padilla participated in the Coro Fellows Program where he received leadership and public affairs training. He would later work for U.S. Senator Dianne Feinstein and then-Assemblymember Tony Cardenas.
In 1999, at the age of 26, Padilla was elected to the Los Angeles City Council to represent the same east San Fernando Valley community where he grew up. In 2001, his colleagues elected him to the first of three terms as Council President, becoming the youngest member and the first Latino to serve in this capacity.
As Council President, Padilla provided citywide leadership at critical times. He was Acting Mayor during the tragedy of September 11, 2001. He assisted in the interview and selection of William Bratton as Chief of Police and helped negotiate the approval of LA Live and the modernization of Los Angeles International Airport.
In 2005, Padilla was elected President of the League of California Cities. He advocated on behalf of California cities in the State Capitol and fought to protect their budgets and advance their legislative priorities.
In 2006, Padilla was elected to the California State Senate. He was reelected in 2010. Over the course of eight years, Padilla established a diverse and groundbreaking legislative record.
To address the growing rates of obesity and diabetes, Padilla authored the law that made California the first state in the nation to require chain restaurants to post calorie information directly on menus and menu boards. "Menu labeling" was later included in the Affordable Care Act and is now national policy.
Padilla also authored California's first smoke-free housing law and fought to increase enforcement and penalties for the illegal sale of tobacco to minors. He also established a sustainable funding source for pediatric trauma care throughout the state.
When he learned that thousands of cell phones were being smuggled into state prisons and used to direct criminal gang activity in our communities, Padilla led efforts to stop it. He wrote the law that criminalized the transfer, sale, or possession of illicit cell phones in prison. He also authored the law that prohibits violent felons from possessing, buying, or transferring body armor such as bulletproof vests.
There are approximately 1.5 million English Learners in California public schools. One in four k-12 students and about forty percent of all kindergarten students are English Learners. Sadly, only about eleven percent of English Learners achieve English proficiency and earn reclassification each year. Padilla authored a series of legislative measures to identify and implement best practices in English Learner curriculum and instruction statewide. He also advocated for funding reform and accountability for schools and school districts with high concentrations of English Learner students.
Through research and legislative hearings, Padilla exposed a bottleneck in the college transfer process. He wrote the law that streamlined the transfer process and created a clear and consistent pathway for community college students working to transfer to the California State University system. Padilla also authored the law that requires California's elite university athletic programs to provide alternative scholarships to student-athletes who lose their athletic scholarships due to injury.
With the potential to create 20,000 jobs, Padilla authored key legislation to facilitate the construction of a new convention center and carbon-neutral sports stadium in downtown Los Angeles. With the goal of modernizing and better managing freight and passenger rail between San Diego, Los Angeles, and San Luis Obispo, he wrote the law to establish a joint powers authority to better govern the nation's second busiest rail corridor.
As an engineer, Padilla is committed to the promise of science and advanced technology. To address concerns about the misuse of genetic information, Padilla authored the California Genetic Information Non-discrimination Act. To reduce the number of injuries and fatalities on our roads, he authored the law requiring safety and performance standards for autonomous ("driverless") vehicles. And, working with seismologists at CalTech, U.C. Berkeley, and the U.S. Geological Survey, Padilla authored a bill requiring the state to create a statewide Earthquake Early Warning System.
Padilla previously served as President of the National Association of Latino Elected and Appointed Officials (NALEO), a non-partisan organization made up of more than 6,000 federal, state, and local officials dedicated to all aspects of civic engagement.
Padilla lives with his wife Angela and their three sons in the San Fernando Valley.
2018 Commencement Speaker
Nely Galán
Media Entrepreneur, Emmy-Award Winning Producer, Founder of The Adelante Movement, and Author
Nely Galán is a self-made media mogul. Dubbed the "Tropical Tycoon" by the New York Times Magazine, she was the first Latina President of Entertainment for a U.S. television network (Telemundo). She is an Emmy Award-winning producer of over 700 episodes of television in Spanish and English, which she produced through her multi-media company Galán Entertainment. Galán is the founder of The Adelante Movement, which seeks to empower and train Latinas economically and entrepreneurially. She is the author of the New York Times bestseller SELF MADE, Becoming Empowered, Self-Reliant, and Rich in Every Way (2016, Random House), about the revolution in women's entrepreneurship led by multicultural women in the U.S. and emerging women around the world.
For more information, visit Nely Galán's website.
2017 Commencement Speaker
Frank Stiefel
Director/Producer
Frank Stiefel was born in New York City. He is a product of the New York Public School system and attended the evening division of The City College of New York.
At the age of 19, he established the New York-based Stiefel & Company Inc. to represent commercial photographers. The company shifted its focus to represent commercial directors in the 1970s. By the 1980s, the company opened an office in Los Angeles and moved into the production of television commercials. During his years as an executive producer, Stiefel served on both the east and west coast boards of the Association of Independent Commercial Producers. He is the only person to be elected twice to serve as the national president. Stiefel is also a two-time past chairman of the AICP Show at the Museum of Modern Art.
In 2002, he merged Stiefel & Company with the international production company RadicalMedia. Stiefel continued as executive producer and also produced a number of advertising-sponsored television programs.
Over the years, Stiefel produced short subject documentaries. Several have been honored at the Toronto Film Festival, Edinburgh Film Festival, Berlin Film Festival, Sundance Film Festival, and others.
In 2009, he left RadicalMedia to direct a documentary based on his mother's life. Ingelore was honored by the International Documentary Association and the Museum Of Modern Art. The film also appeared in 30 international film festivals and was acquired by HBO.
In 2016, Stiefel completed Heaven Is A Traffic Jam on the 405, a documentary based on the life of artist Mindy Alper. The documentary film premiered at The Broad Stage at the Santa Monica College Performing Arts Center and has gone on to a very successful festival run. In April, Heaven Is A Traffic Jam on the 405 became the only film ever to win both the Audience and Critics prize at the prestigious Full Frame Documentary Festival.
Stiefel served on the Santa Monica College Foundation Board from 1998-2016; he was President for six years.
He lives in Santa Monica with his wife BJ. His daughters Hannah and Sofie live nearby.