Global Citizenship Symposium Spring 2024
Risk, Refuge & Resilience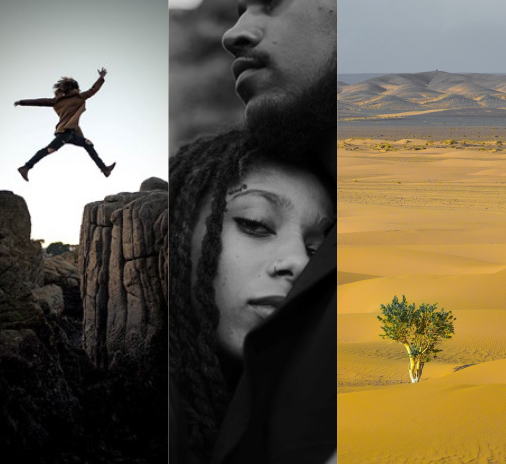 What's a symposium you ask?
In ancient Greece, a symposium was a party with music and conversation. Today, a symposium is a formal gathering in which individuals present and exchange ideas regarding a topic - in SMC's case - about global citizenship and the theme of Risk, Refuge & Resilience.
For the fourteenth consecutive year, Santa Monica College is proud to present our students' finest work investigating and celebrating the ideas and practices of global citizenship and its annual theme: Risk, Refuge & Resilience.
All SMC students are invited to submit their course work from Spring 2023 through Spring 2024 that best exemplifies Global Citizenship and the theme of Risk, Refuge & Resilience for campus-wide recognition.
The symposium is an opportunity to be recognized for your outstanding work outside of the classroom and win a scholarship.
Top 3 submissions will earn a scholarship of $1,500, $1,000 and $500 depending on their placement.
Application for Symposium 2024 is forthcoming.
GC Symposium 2023 Program Download
Symposium Finalists 2023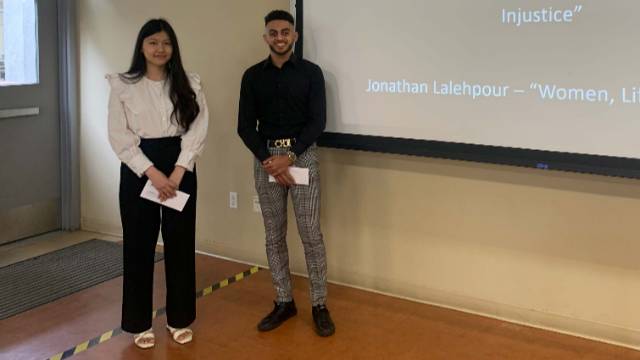 Su Lae Wati Nwe and Jonathan Lalehpour
Sacha Aschkynazo
Grace Choi
Ella Cho
Zoe Medina
Greg Fried and David Rodriguez
From left to right: Luis Ramos, Anna Ten, Jonathan Lalehpour and Su Lae Wati Nwe.
Sacha Aschkynazo
---
What is Global Citizenship?
To be a global citizen, one is knowledgeable of peoples, customs and cultures in regions of the world beyond one's own; understands the interdependence that holds both promise and peril for the future of the global community; and is committed to combining one's learning with a dedication to foster a livable, sustainable world.
Global Citizenship Committee, 2018
Who Can Apply to Enter this Competition?
Any student enrolled in classes at Santa Monica College during the 2023-2024 academic year is eligible to enter work derived from those classes, or from a project completed in this academic year that was under the direct supervision of an SMC faculty member. In addition, students must have completed or be expected to have completed 6-semester units by the end of spring semester 2024. Students are welcome to submit revised or expanded versions of their course work, but the project must be rooted in something they produced at SMC during the 2023-2024 academic year while under the supervision of a faculty member.
You must be available to present on the day of the Symposium, Thursday, May 2, 2024, to qualify.
Projects that Qualify for Submission
Submitted projects must be related to Global Citizenship physically, literally and/or figuratively.
Any class project that relates to Global Citizenship from Spring semester 2023 through Spring semester 2024.
Any non-class assigned project that relates to Global Citizenship that was completed for the competition while enrolled in the 2023-2024 school year while under the guidance of an SMC instructor.
Projects can be of any type including but not limited to research papers, speeches, films, artwork, dance, theater, essays, computer design, etc.
Questions to consider in developing your project: What does global citizenship look like in your major? How does your project address/relate to the theme: Risk, Refuge & Resilience?