August 26, 2019
15th VIP Welcome Day 2019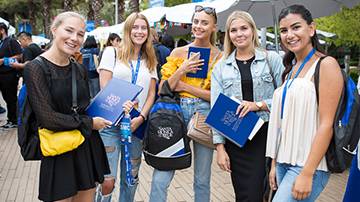 Santa Monica College Welcomes 2,000 Incoming Freshmen with "VIP Welcome Day"
SANTA MONICA, CA—Santa Monica College (SMC) held an all-day orientation for roughly 2,000 incoming freshmen—the 15th year for the popular event dubbed "VIP Welcome Day"—on Friday, August 23. Families and friends also attended the day's activities which included workshops, open houses, special receptions, a resource fair on the SMC main campus's sun-dappled quad, and more.
Typically held the Friday before fall semester begins, VIP Welcome Day provides incoming freshmen an opportunity to get to know Santa Monica College and to be equipped with resources and knowledge to succeed in achieving their academic and career goals at SMC. Students also received SMC-branded backpacks filled with items like student handbooks and planners, and essential school supplies. Free lunch was provided, from an In-N-Out lunch truck and The Green Truck.
New this year were "Areas of Interests" open houses: five on the SMC main campus at 1900 Pico Blvd., two at the SMC Bundy Campus (which houses the rigorous Health Sciences and Nursing program), and one at the new Center for Media and Design on Stewart Street.
A brand-new reimagining and redesign of the student experience unveiled by SMC this fall, "Areas of Interests" groups the college's wide range of study options—approximately 180 Associate Degrees, Certificates of Achievement, short-term Department Certificates, and a Bachelor of Science in Interaction Design—under the following areas: Arts, Media & Entertainment; Business; Culture, History & Languages; Education; Health & Wellness; People & Society; and STEM (Science, Technology, Engineering, and Math). Students can now select an area of interest, receive guidance from a counselor in picking one of the many majors under each area, and get tailored academic and counseling assistance that will ensure their success to the fullest extent possible. Those undecided will get proactive counseling to find the best fit.
Workshops held throughout the day covered such topics as financial aid, student life, time management, "SMC to UCLA" (Scholars Program), and more. There were also workshops designed for the roughly 3,000 parents and guests who attended, on topics like "Transfer Basics for Parents," "Building Your Student's Advocacy," and more. A "mini club row" was also held featuring student clubs on the quad. Special receptions included those for DREAMers, student veterans, and out-of-state students.
The SMC Foundation; T-Mobile (Third Street Promenade Store); Apartments.com; Bird; Chase Bank; and Bank of America sponsored SMC's 15th VIP Welcome Day. A video entitled "Who are you becoming?" was made especially for SMC freshmen by media production students from Communication Studies Professor Redelia Shaw's class.
Five SMC freshmen who attended talked about what brought them to SMC, and then some:
Hannah Andemicael, from San Bernardino County, said she chose SMC especially for its nursing program. She aims to eventually earn a pediatric nurse practitioner degree, and plans on completing her general education requirements at the college.

Clark Miyamoto—who attended Mid-Pacific Institute in Honolulu, Hawaii—chose SMC for its Scholars Program, which provides priority consideration for transfer admission to universities like UCLA, UC Irvine, Loyola Marymount University, and more. "I didn't do too well in [my] senior year . . . so I'm looking [for] a second chance," he said. Miyamoto hopes to focus on studying Physics.

Mia Hultgren from Sweden came to SMC in a slightly unconventional way: she ran in the LA Marathon, and that made her want to be in Los Angeles. Enter SMC. She hopes to "get experience in life" at the college and said that VIP Welcome Day provided "[everything] you can ask for."

Melissa Leon from Delaware chose SMC because it is "the number one transfer [school] to UCLA, and that's my ultimate goal: to transfer to UCLA." She plans on working in the media/entertainment industry and hopes to study either Broadcasting, Digital Media, or Film and Media at SMC.

Jesus Cruz—who graduated from University High School—also chose SMC for its "really good" transfer rate." "I feel like this is a great place to find connections, get the resources, [meet' people coming from different corners . . . as well as flexible and fun classes, where you can learn something new every day," said Cruz. He added: "I feel like this place is a very good start for what the world should be like and will be like."
To see the full range of what SMC's 15th VIP Welcome Day offered, see smc.edu/VIP. Founded in 1929, Santa Monica College is a California Community College accredited by the Accrediting Commission for Community and Junior Colleges (ACCJC) of the Western Association of Schools and Colleges (WASC). In addition to being California's leader in transfers to the University of California system, the University of Southern California, and Loyola Marymount University, SMC also offers more than 110 career training degrees and certificates. SMC provides news and cultural enrichment through its NPR radio station KCRW (89.9 FM) and The Broad Stage at the SMC Performing Arts Center as well as lifelong learning through distinctive programs such as its Emeritus Program for older adults.