February 26, 2020
Black Collegians Gets $325,000 Gift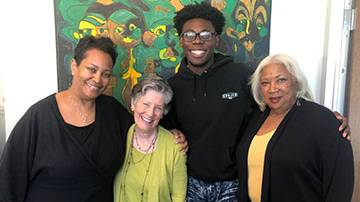 SMC Black Collegians Receives $325,000 from Private Donor to Expand Opportunities for Students
SANTA MONICA, CA—The Santa Monica College (SMC) Black Collegians Program Umoja Community has received a $325,000 donation from private donor Ann Wang. Wang's gift will make possible an annual program fund to provide greater opportunities for SMC's African American students, and also establishes an endowment. In fall 2019, the college's Black Collegians program celebrated 30 years of championing the success of African American students, who make up about nine percent of the student body.
Ms. Wang—who oversees the Wang Joint Living Trust established by her in-laws—heard about the exciting, transformative work taking place at SMC through her long-time RAND colleague, Iao Katagiri, who recently retired from RAND as its community relations director. Eventually, Wang made her way to the college's main campus on 1900 Pico Blvd. for a tour. She dropped by several classrooms and programs—including Black Collegians. Several students talked to her about their life experiences; Funmi Adeleye was one of them.
"I was just blown away by the passion and commitment—not just of the grown-ups in the room but also of the students themselves. I learned about some of the heartbreaking things these students have had to overcome, and what they have to fight every single day of their lives to get an education," said Wang. "I thought 'This is what I want to do.'"
And so, on a day that happened to be her birthday, Ann Wang came back to the SMC Black Collegians Umoja Community office on the second floor of the new SMC Student Services Center. It was the best birthday present to "give people what they need," she said, adding: "We all cried."


SMC student Funmi Adeleye—who wants to transfer eventually, and is working towards a degree in computer science—was present for Ann Wang's birthday gesture: "Her kindness and generosity means a lot to me. It was a blessing to the Black Collegians Program and to me personally."
"I want everyone to be as confident and stand as straight and tall as Funmi does" said Wang. "[He] made the difference. If [SMC] could do this for this one kid, they can do it for a lot of kids!" Talking to Adeleye and "hearing him describe how he felt about himself when he first came to the school and who he is today told me that these people are doing important work and are changing lives."
Wang's $25,000 donation will support the Black Collegians Program Fund, as well as establish a new endowed fund with a gift of $300,000 to support the Black Collegians Program. Among other things, her gift will support food security programs for SMC Black Collegians, emergency funds, textbooks, and more. It will also make possible professional development and bring guest speakers to campus, university visits with chartered transportation for Black Collegians, and will support mental health counseling.
Sherri Bradford, Black Collegians faculty leader, said that Wang's gift can "provide the access that our students deserve." She went on to expand on the opportunities that will be made available: "We can afford to have Black Collegians students attend conferences that focus on black college student development and allow them to network with other students from similar programs. We can also organize visits to four-year universities, to open up the possibilities of where they can envision attending once they leave SMC, and visit spaces that celebrate African American culture which connects them to their history and grounds them in a sense of purpose."
In addition, Bradford added: "We will have the ability to provide direct aid to students who find themselves in a temporary financial crisis that could make the difference between them staying in school or leaving. A gift like this creates opportunities that can be life-changing in the lives of our Black Collegians students. It allows our program the opportunity to do things that we have only dreamed about!"
When asked what she hoped her gift would accomplish, Ann Wang said: "First and foremost, I hope this gift will help Sherri Bradford sleep a little better at night. She seems like a person who is just totally committed. I hope the gift can make a big difference – I am just going to watch [all the great work], and hold her hand."
The Black Collegians Program—which recently added "Umoja Community" to its name to codify its support from the nonprofit, that also represents a statewide network of similar programs—was established in 1989 when then-SMC President Dr. Richard Moore challenged now retired counselor Deyna Hearn to find a way to boost lackluster transfer rates among SMC's African American students. Hearn responded by creating Black Collegians.
"Today, it's so much more than just academic counseling," said Bradford, "We are a family. We are nurturing and addressing, holistically, what each student needs to succeed." Many African American students, she noted, arrive at Santa Monica College where they can receive support through Black Collegians in reframing how to be successful in higher education. "This is a different experience than what many of our students face, coming from a K-12 system that was not historically designed to enhance academic excellence in our African American students," she added.
Enrolling in Black Collegians comes with perks—but members must make a commitment: they need to attend two counseling sessions and at least three program activities each semester. Benefits include access to scholarships, priority enrollment, textbook vouchers, special Black Collegians-themed sections of 15 high-demand courses and a robust schedule of skill-building workshops. Working in tandem with this intensive support program is the student-run Black Collegians Club (BCC), which creates a lively Corsairs community around club meetings, special events, and social gatherings.
For several years running, SMC has transferred more African American students to the University of California than any other community college. In 2018-2019, African American transfers numbered 71 out of 1,272 SMC to UC transfers—an improvement from 54 in the past academic year. Efforts are underway through college-wide equity work encompassing support services, redesign of curriculum, and more to close the achievement gap between racially minoritized student groups and others.
Meanwhile—and not surprisingly—the Black Collegians Umoja Community has seen exponential growth. In the past academic year, the program saw 32 percent growth: in 2018, the number of SMC students enrolled in Black Collegians was 477; in 2019 that number rose to 632.
"We are enormously grateful and humbled by Ann's generosity," said SMC Dean of Institutional Advancement Lizzy Moore. "The fact that she recognizes the value and need to support Santa Monica College's Black Collegians Program as a means of addressing equity and opportunity is outstanding. Ann is truly a champion of SMC students in the most authentic way."
Wang said that she thought a lot about their—the SMC Black Collegians'—bravery. "Many of them use multiple forms of public transportation to come to Santa Monica," she said, "and while they are traveling they pass other schools they could go to with more ease. But . . . they wouldn't get what they do here."
For more information about SMC's Black Collegians Umoja Community, check out smc.edu/BlackCollegians. And to learn more about the Santa Monica College Foundation, visit foundation.smc.edu/.