September 1, 2020
Santa Monica College Begins Fall 2020 Semester with Over 2,800 Online Classes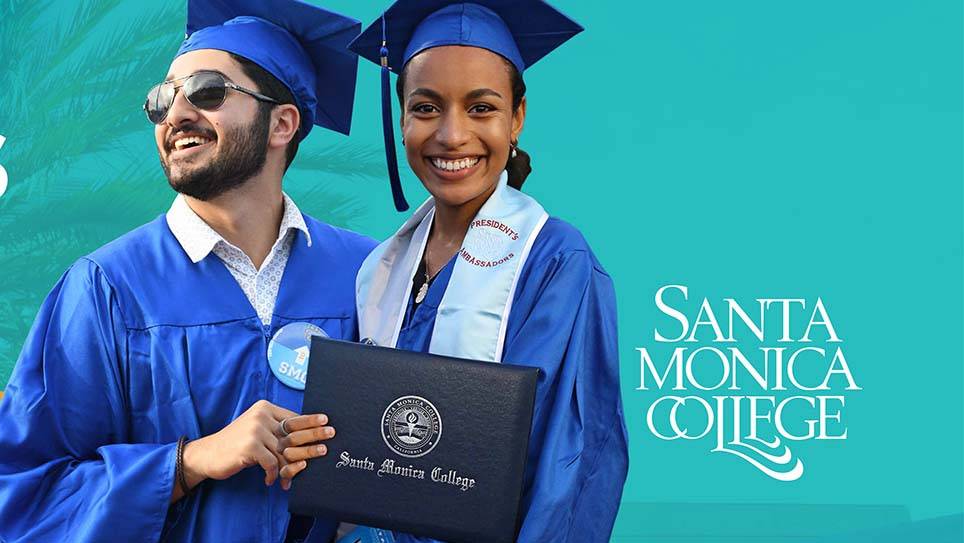 With Most Classes in a Flexible Format, SMC Also Offers Intensive Counseling, Mental Health & Basic Needs Support
SANTA MONICA, CA—Santa Monica College (SMC) began its Fall 2020 semester Aug. 31 with 2,868 online classes, out of which 2,042 are 'asynchronous' – students can choose the time that works best for their schedules. The college provides an intensive counseling and student support network including over 170 career and academic counselors, plus psychologists; remote telehealth services; a free Chromebook loaner program; a designated Wi-Fi area for enrolled students; and basic needs assistance including a weekly pop-up drive-thru food pantry.
SMC offers 175 degree and certificate options including a new short-term certificate in cloud computing, a new Associate Degree in Architecture, a new Certificate of Achievement in Architecture and Interior Design Digital Production, and a new Associate Degree for Transfer in Administration of Justice. The college is also offering 40 noncredit career development and college preparation classes all leading to a certificate of completion. These classes require no prerequisites and are free of charge to the student, covering such topics and career areas as computer basics, receptionist, bicycle maintenance, sustainability, child development, and education.
With the exception of nursing and respiratory therapy practicum courses—which take place on-ground in full compliance with current public health, safety, and social distancing requirements—the college's classes are all online due to COVID-19. SMC's main campus at 1900 Pico Blvd. in Santa Monica and five satellite campuses remain closed to the public until further notice.
SMC received $6.1 million through the federal CARES (Coronavirus Aid, Relief and Economic Security) Act and the HEERF (Higher Education Emergency Relief Fund) to ease the hardship of students who have been disproportionately impacted by COVID-19. To date, the college has distributed $2.6 million in one-time checks to nearly 5,000 students and the remainder of the funds will be distributed throughout the fall semester to those with verifiable needs. The college was also awarded an equal amount of $6.1 million to cover costs related to the transition to an online environment.
"We begin the Fall 2020 semester online, due to the coronavirus pandemic that necessitated a swift transition earlier this year and continues to affect all our lives," said Dr. Kathryn E. Jeffery, Superintendent/President. "I am very proud to note that the innovation and dedication of the Santa Monica College community has been demonstrated to the fullest in how professors, counselors, and all SMC colleagues have adapted, thanks to a massive professional development effort. Recognizing the challenges and hardships many students face, SMC continues to ensure as much assistance as possible outside the [for now, virtual] classroom to help them get to the finish line."
Streamlined Career/Academic Paths, STEM Peer Coaches & More

Santa Monica College has engaged in a comprehensive redesign of the student experience, resulting in the wide array of academic options being arranged into "Areas of Interest." The college's career counselors work alongside academic counselors to prepare tailored plans of study based on a student's career of choice.
This fall, SMC's STEM Science & Research Initiative—which assists students, especially those who are traditionally underrepresented, in pursuing a STEM major or entering the STEM workforce—is also launching a Peer Navigator Program. Peer navigators will provide mentoring, guidance, and peer coaching to incoming students interested in majoring in STEM.
The SMC Science & Research Initiative works closely with UCLA, specifically the Center for Community College Partnerships and the Undergraduate Research Center. Funded by two successive five-year $6 million U.S. Department of Education grants, the college's STEM Program has developed an engineering program and physics-preparation courses; expanded curriculum to facilitate articulation to four-year STEM programs; and is establishing articulation agreements with four-year engineering programs. In recent years, SMC students have interned at NASA's Jet Propulsion Laboratory; NASA's Community College Aerospace Scholars; USC Viterbi School of Engineering; The Henry Samueli School of Engineering at UC Irvine; Caltech; and many more.
A Complete Support Network, Free Food, Serving the Community
Santa Monica College has the most comprehensive student support and counseling network in California, encompassing career and academic counseling to ensure that a student can reach their self-chosen goal as well as services that support their wellbeing outside the classroom. There are 20 specific counseling areas that provide individual, tailored support including the Black Collegians Umoja Community, a Career Services Center, the Adelante Program, SMC Dream Program, Veterans Success Center, Guardian Scholars, and dozens more.
Nearly all the workshops & events that would normally take place on-campus have also been moved to an online format. In addition to attending classes at their convenience, students will have access to a full calendar of extra-curricular events online—everything from transfer, financial aid, and career preparation workshops to sessions on mindfulness, mental health for students of color, safe zone group sessions for LGBTQ+ students, and many more.
Through its Center for Wellness & Wellbeing, SMC provides robust telehealth services for students including one-on-one meetings with a nurse or nurse practitioner. SMC nurses assist in the containment of COVID-19 in the community by providing contact tracing, information on isolation and quarantining, and nutritional support to those impacted by the virus. Students also have access to a free 24/7 emotional support hotline and short-term, free, confidential therapy.
A drive-thru pop-up pantry takes place on a weekly basis for enrolled students, who receive bags of groceries and food items thanks to sponsors including Westside Food Bank, Vicente Foods, Sunrise Produce, and Suja Juice. Initiated during the Spring 2020 semester, the weekly food pantry has now been in operation for 24 weeks, and has served over 6,100 students. In addition, the SMC Foundation's Meal Project has delivered well over 86,000 meals—free of charge—via social enterprise Everytable to the homes of more than 12,180 students who need the assistance, including seniors, housing insecure students, veterans, and former foster youth.
Santa Monica College's Nursing and Respiratory Therapy programs have donated ventilators and respirators to hospitals fighting COVID-19, through the California Governor's Office of Emergency Services (Cal OES). In coordination with the Los Angeles County Department of Health Services, the State of California, and OptumServe, the SMC Airport Arts Campus serves as a walk-up, by appointment only COVID-19 testing location. For more information on the college's response to COVID-19, visit smc.edu/coronavirus.
# # # #
About Santa Monica College
Founded in 1929, Santa Monica College is a California Community College accredited by the Accrediting Commission for Community and Junior Colleges (ACCJC) of the Western Association of Schools and Colleges (WASC). For 29 consecutive years, SMC has been California's leader in transfers to UCLA, UC Berkeley, and other University of California campuses. The college also tops in transfers to the University of Southern California and Loyola Marymount University. SMC offers 175 degree and certificate options that offer professional preparation for students interested in directly entering the job market, transferring to a four-year school, or upgrading specific skills. SMC provides news and cultural enrichment through its NPR radio station KCRW (89.9 FM) and The Broad Stage at the SMC Performing Arts Center as well as lifelong learning through distinctive programs such as its Emeritus Program for older adults.