October 6, 2020
Catherine Tirr at SMC Emeritus Art Gallery, Oct. 2020
SMC Emeritus Gallery to Host Online Opening Reception for Catherine Tirr Exhibition October 22
SANTA MONICA, CA—The Santa Monica College (SMC) Emeritus Art Gallery will present "Watercolors, Spring 2020," a new body of work created during the pandemic by renowned artist Catherine Tirr. The exhibition — offering a healing response with deep and peaceful watercolors — will be shown online at smc.edu/emeritusgallery.
A free, live Zoom Virtual Launch Event will be held online from 5 p.m. to 6:30 p.m. Thursday, October 22. A link at smc.edu/emeritusgallery takes guests directly to the exhibition's opening reception.
The opening reception will be hosted by Emeritus Associate Dean Dr. Scott Silverman and Emeritus Art Gallery Curator Jesse Benson. The event includes a live scroll through the exhibition, a discussion between Benson and Tirr about selected paintings, and a Q&A offering guests the chance to ask the artist questions about her work.
To see the artwork online at any time after 5 p.m. on October 22, viewers may go to smc.edu/emeritusgallery and click the Catherine Tirr: Watercolors, Spring 2020 link, available 24 hours a day. The link takes viewers directly to the exhibition album on a Facebook page that is open to public viewing (Facebook account not necessary).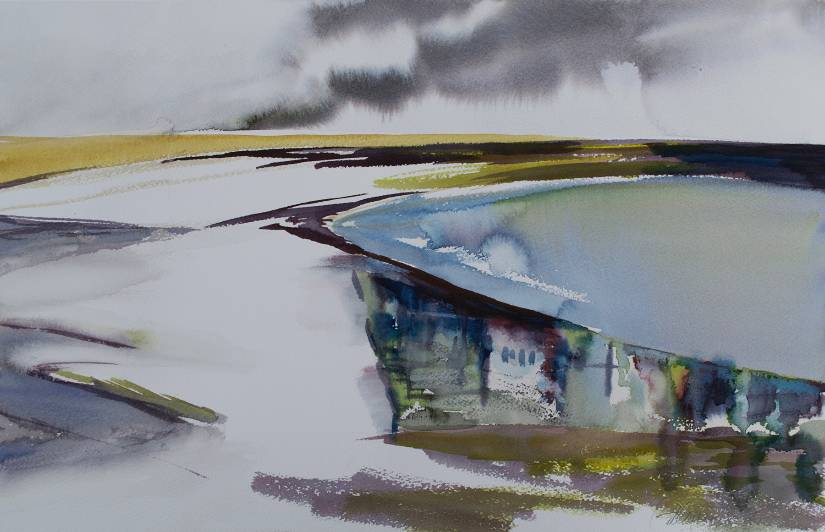 "We're excited to be expanding programming within our Online Viewing Platform after a highly successful launch in our previous exhibition," said Benson. "This exhibition contains the kind of deep, calming, healing, inspirational energy that we desperately need in this moment."
"This online exhibition offers us a chance to appreciate the positive inspirational message of artist and beloved Emeritus faculty member Catherine Tirr," said Silverman. "The virtual reception expands the range of 'places' from which viewers can enjoy the art, and gives guests the chance to talk to the artist and ask questions about her work."
England-born artist Tirr studied fine art at Chelsea School of Art and Design in London, was awarded the Stowells Trophy at London's Royal Academy of Art, and relocated to the U.S. on a scholarship to Cranbrook Art Academy, Michigan. Her work has been shown in England, Iceland, Japan and the United States, and has been included in exhibitions at the Los Angeles County Museum of Art and The Armand Hammer Museum.
In her artist's statement about the exhibition, Tirr says:
Spring 2020, the world was in chaos. I was driven by a need to spend time in nature. The great outdoors provided solace, fresh air, and some kind of normalcy. The ritual of painting the landscape marked time within a sea of days that seemed to blend together. Oblivious of the mayhem and untold misery that was unfolding throughout the planet, spring flourished as it usually does, presenting extraordinary beauty, for anyone who was out there to see it.
Watercolor is a very immediate medium. This exhibition represents work from weekly outings, which date from late February until the present. The works echo the eerie quiet and loneliness of landscapes largely devoid of people.
This body of work was created in the field, en plein air in the Santa Monica Mountains and at various beach locations throughout the area.
SMC's widely praised Emeritus program — founded by Santa Monica College in 1975 as a noncredit program to serve the lifelong learning interests of older adults — offers more than 120 noncredit adult education classes and special programs that serve more than 3,000 students each year.
More information is available by visiting smc.edu/emeritusgallery or calling 310-434-4306.
# # #