SMC Emeritus has its own art gallery on the first floor at 1227 Second Street, Santa Monica. The Gallery is temporarily closed, but plans to host free exhibitions and live opening receptions online. ​See SMC Events for a calendar of events.
Click the links below to take a look at the beautiful artwork created by our students, faculty, and community members!
Emeritus Student Art Exhibition 2020 Online

Artworks (L to R): Cynthia Cottam, One More Monarch (detail), Rose Dosti, ​Blue Cat, Rebel Clair, Water is Life (detail).
Celebrate our new online viewing platform and the first-ever Emeritus art exhibition online. 150+ artworks on view by Emeritus students.
A live Zoom Launch Event — hosted by Emeritus Associate Dean Dr. Scott Silverman and Emeritus Gallery Curator Jesse Benson — was recorded when it was held June 25.
2019 Emeritus Student Photo Exhibition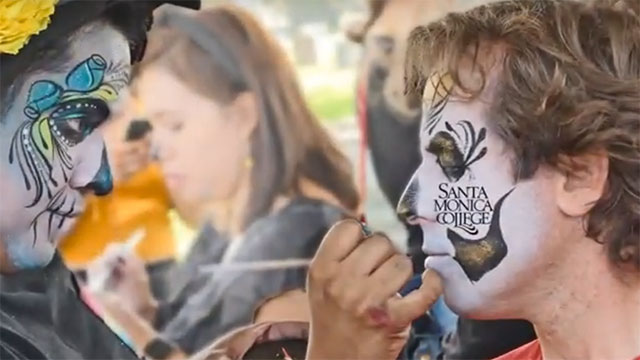 2019 Annual Emeritus Student Art Exhibition
Chris Hero
July 26 - September 19, 2018
​Earleen Ahrens and Jonathan Tillman + Emeritus Students' Crafts
September 27 - November 7, 2018
The Ongoing Moment
November 15, 2018 - January 16, 2019