December 22, 2020
SMC Joins 1,500+ Orgs. To Tackle Climate Change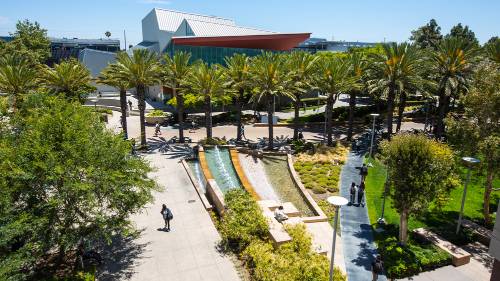 Santa Monica College Joins Over 1,500 Leaders & Organizations in Keeping America's Promise to Tackle Climate Change
Through "We Are Still In", U.S. Communities, Businesses & Institutions Advocate to Reaffirm Commitment to Paris Agreement, Partner with Incoming Presidential Administration
SANTA MONICA, CA—Santa Monica College (SMC) has joined 1,500 U.S. communities, businesses, and institutions—including 123 colleges and universities— in reaffirming the nation's commitment to the Paris Agreement on climate change and pledging to partner with the Biden-Harris Administration, which has made commitments to tackle the climate crisis.

Through the "We Are Still In" campaign, launched in 2017 to maintain America's promise to tackle climate change, leaders across many sectors are calling on the incoming administration to launch a national mobilization on climate and clean recovery, and to partner with local governments, businesses and community institutions to achieve net zero emissions by 2050.

"At Santa Monica College, we have continued to uphold our commitment to combat climate change in the face of a progressively dismal scientific outlook," said SMC Superintendent/President Dr. Kathryn E. Jeffery. "In 2018, and again now in 2020, I have reaffirmed the college's commitment to doing everything possible to work towards the goals of the Paris Climate Agreement. We look forward to safeguarding the future of our planet while creating jobs and helping address systemic inequities."

SMC Sustainability Manager Ferris Kawar added: "I'm proud to be part of an institution that sees big challenges not as an excuse to stop, but as an opportunity to push us to leap higher."
Over the last four years, thousands of government, civic, religious, and business leaders in the U.S. have doubled down on reducing dangerous carbon pollution, and have done so in the face of federal inaction. Today, one in three Americans live in a jurisdiction committed to clean electricity. Sixteen states have passed or committed to pass regulations and legislation that would phase down the use of hydrofluorocarbons, a potent greenhouse gas. And in three years, the U.S. electric vehicle market has doubled. Despite these advances, more action is needed to protect vulnerable populations and rebuild the U.S. economy.

Through the "We Are All In" campaign, the signees call on the incoming administration and other federal policymakers to collaborate in a national response by taking immediate action to drive economic growth across every sector of the economy through job-creating sustainable investments; expand U.S. leadership at home and abroad by rejoining the Paris Agreement with a science-based target for 2030 and committing the U.S. to a trajectory of net zero emissions by 2050 or sooner; and reimagine community partnership to advance just and equitable climate solutions and build resilience to climate change.
On October 6, 2020, SMC's Board of Trustees unanimously passed a resolution at that urges Congress to approve HR 763: Energy Innovation and Carbon Dividend Act. HR 763 is projected to reduce the nation's carbon emissions by at least 40 percent in the first 12 years and to create 2.1 million new jobs by driving economic growth.

In January 2020, the SMC Board also passed a resolution to pursue the 2025 and 2030 climate change and sustainability goals as adopted by California Community Colleges Board of Governors.

Santa Monica College has a long tradition of championing the environment and sustainability. SMC's Center for Environmental and Urban Studies (CEUS) serves as a hub for all things sustainability, housing (in non-COVID times) eco-focused student clubs, the SMC Environmental Affairs Committee, the Transportation Task Force, a Student Greening Workshop program, and a library. The college is also the only California community college to be recognized as a Bicycle Friendly University (BFU) by the League of American Bicyclists, which honored SMC with a Silver-level BFU award in 2018.

Associates Degrees in Environmental Science and Environmental Studies; Certificates in Solar, Energy Efficiency, Recycling, and Sustainability are among dozens of environmentally focused courses across a wide range of fields. In addition, students and employees—again, in non-pandemic circumstances—learn how to grow food at the SMC Organic Learning Garden. More information about sustainability at SMC is available at smc.edu/community/sustainability.

To learn more about "We Are Still In", visit the website at AmericaIsStillIn.com
# # #