Sustainability at SMC
SMC is known for its innovative environmental programs and wide offerings of high-quality environmental classes. In fact, the institution is a leader in campus sustainability in the CA Community College system. Sustainability can be found in everything we do from campus facilities and buildings to student life including classes and degrees. In January, 2020, the SMC Board of Trustees passed a Climate Change and Sustainability resolution stating that we will strive to achieve the following goals:
Goals for 2025
Reduce greenhouse gas (GHG) emission to 30 percent below 1990 levels.
Increase renewable energy consumption to 25 percent.
25 percent of fleet vehicles are zero-emission vehicles.
50 percent of all new buildings and major renovations will be constructed as Zero Net Energy.
50 percent of all new buildings and major renovations will achieve at least a Leadership in Energy and Environmental Design (LEED) "Silver" or equivalent rating.
Increase procurement of sustainable products and services by 20 percent compared to current levels.
Reduce municipal solid waste by 25 percent compared to current levels.
Goals for 2030
Doubled in all areas except GHG reductions (which fall to 40%) and procurement (increase by 5%).
Campus sustainability provides students who want to experience the challenge of solving real-world problems with opportunities to apply their learning in ways that prepare them for future careers. Leaders in campus sustainability challenge our higher education institutions to "educate students for character and citizenship as much for commerce and career."
Our mission to prepare students for global citizenship necessitates educating them in principles of sustainability and engaging them in a step-by-step process of implementing such principles on a daily basis.
Environmental Certificates and Degrees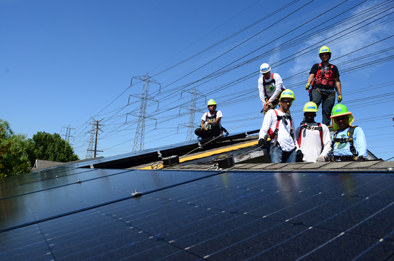 Associates Degrees in:
Certificates in:
SMC Sustainability in the News
Buildings and Facilities
All new buildings will be built to LEED Gold or higher.
Sustainability Jobs for SMC Students
If you qualify for Federal Work-Study and are interested in a job at the Center of Environmental and Urban Studies, please check the College Central Network for details.
---
Contact us: 310-434-3909 | ceus@smc.edu
1744 Pearl Street, Santa Monica, CA 90405