February 8, 2023
$1 Million Keck Grant for New Biotech Program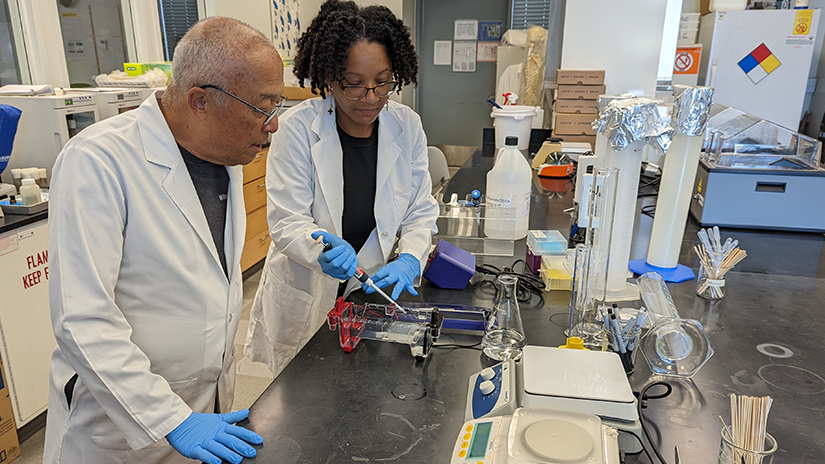 Santa Monica College Receives $1 Million Grant from W. M. Keck Foundation for New Equity-Centered Biotech Program
Career Education Program, Launching Fall 2023, will Fill Growing Industry Demand for Cancer-Fighting Scientists in Santa Monica & Greater Los Angeles

SANTA MONICA, CA—Santa Monica College (SMC) has received a $1 million grant from the W. M. Keck Foundation for a new equity-centered biotechnology career education program launching later this year. The brand-new program, expected to launch in Fall 2023, consists of two stackable certificates and an associate degree designed to meet the growing industry demand for cancer-fighting scientists in Santa Monica and the Greater Los Angeles area while offering students from diverse and marginalized backgrounds a direct pathway into a dynamic industry.
The $1 million Keck Foundation grant will enable SMC to expand training capacity, improve recruitment and outreach efforts, acquire industry-specific training equipment, and enhance teaching-learning spaces to align with biotech industry standards. SMC's biotech program has been endorsed by the Los Angeles Regional Consortium of Community Colleges and previously received seed funding from the National Science Foundation and federal Perkins V. The curriculum has been vetted and approved by industry experts from Kite, A Gilead Company, Amgen, and BioRad, to name a few.
"The biotech industry is seeing massive growth in the very regions where some of the most socio-economically disadvantaged SMC students reside," said SMC Superintendent/President Dr. Kathryn E. Jeffery. "This new program will create a direct industry pipeline for our deserving students who will be trained in cutting-edge cell science and immunoassay technologies. We are tremendously grateful to the Keck Foundation for this generous gift!"
Jeffery extended "major thanks" to those responsible for the program's development: "Life Science Professors Dr. Andria Denmon and Dr. Tom Chen, and Dean of Academic Affairs Dr. Patricia Ramos, a tireless advocate and facilitator." "And special thanks to Professor Dr. Sandra Hutchinson and retired SMC professor Dr. Kay Azuma who helped bring SMC's biotech program to the notice of the Keck Foundation!" she added.
Dr. Tom Chen also went on to thank several others who were crucial in the development of this new program: "The efforts of retired Life Sciences department chair/professor Dr. Mary Colavito, and Professor of Life Sciences Dr. Mary Bober in building a strong cell and molecular biology program helped lay the solid foundation which made it possible two decades on to build up this new biotechnology program."
"The W.M. Keck Foundation's generosity will allow us to prepare the next generation of diverse scientists, highlighting that everyone belongs and is welcomed in science," said Dr. Andria Denmon. "This program is unique because we are designing it to be inclusive of as many students' unique backgrounds and experiences as possible. Diversity and inclusion also means thinking about our students that live with a disability."
Denmon went on to state: "We are excited to partner with the SMC Center for Students with Disabilities and with organizations like CAST (Center for Applied Special Technology). Our program will also provide work-based learning and research opportunities as well as scientific exploration and engagement for system impacted/justice involved individuals. Science has the power to open multiple doors, and we want to make sure our students are first in line when those doors open."
Drs. Denmon and Chen designed two stackable certificate programs: five basic courses (23-units) leading to immediate entry-level lab tech employment opportunities; and four more advanced courses (16 units) covering cell culture and immunoassay methods, microbiology fundamentals and nanobiotechnology. For the Associate in Science degree, biotech majors will take additional coursework in quality control and quality assurance, regulations and insurance issues, plus the standard general education courses required for college transfer.
The SMC biotech major will articulate seamlessly with two established biomanufacturing bachelor's degree programs at Solano College in the North Bay area, and MiraCosta College, in Oceanside, Calif. Both are feeder schools with guaranteed admission to a master's/doctoral degree program in biomanufacturing at Jefferson University in Philadelphia. Other niche graduate programs exist at Azusa Pacific University and the Keck Graduate Institute of the Claremont Colleges consortium.
Regionally, the LA area hosts more than 1,000 life science innovation companies, according to the 2021 California Economic Impact Report, generating $60 billion in economic activity. Some 16,000 technical jobs will be added to this rapidly growing sector over the next three years. Nationally, the U.S. Bureau of Labor Statistics predicts employment demand for lab techs will grow 11 percent by 2028, much faster than average.
For more information on the biotech program, please email biotech@smc.edu.
# # #
About the W. M. Keck Foundation
The W. M. Keck Foundation was established in 1954 in Los Angeles by William Myron Keck, founder of The Superior Oil Company. One of the nation's largest philanthropic organizations, the W. M. Keck Foundation supports outstanding science, engineering and medical research. The Foundation also supports undergraduate education and maintains a program within Southern California to support arts and culture, education, health and community service projects.
About Santa Monica College
Santa Monica College is a California Community College accredited by the Accrediting Commission for Community and Junior Colleges (ACCJC) of the Western Association of Schools and Colleges (WASC). For 32 consecutive years, SMC has been California's leading transfer college to UCLA, UC Berkeley, and other University of California campuses. The college also tops in transfers to the University of Southern California and Loyola Marymount University and is the top feeder west of the Mississippi to the Ivy League Columbia University. More than 110 career training degrees and certificates at SMC—in fields ranging from the traditional (Accounting, Early Childhood Education, Nursing) to the emerging (Sustainable Technologies, Technical Theatre, and a baccalaureate degree in Interaction Design)—offer professional preparation for students interested in directly entering the job market, transferring to a four-year school, or upgrading specific skills. SMC provides news and cultural enrichment through its NPR radio station KCRW (89.9 FM), the Broad Stage at the SMC Performing Arts Center, and lifelong learning through distinctive programs such as its Emeritus Program for older adults.