June 9, 2020
Black Lives Matter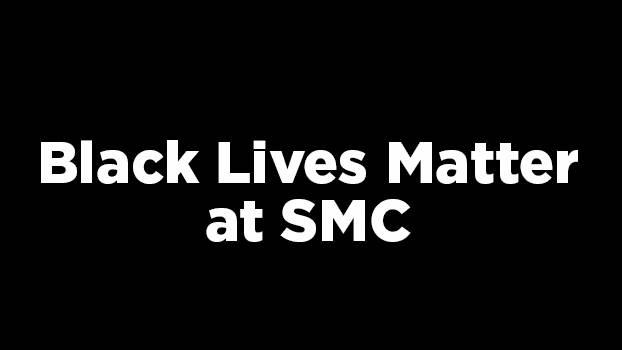 Dear SMC Colleagues:
"Black Lives Matter" is not just a catch phrase. It is a rallying cry, a plea for help, a personal statement from a community in America that is "tired of being sick and tired." Fannie Lou Hamer—voting rights activist, civil rights leader, and humanitarian—captured the nation's attention during the 1964 Democratic National Convention, when she described the injustices she and others in her community had endured in their fight for the right to vote. She had been jailed, beaten, and threatened for her advocacy. But she didn't back down. "Black Lives Matter" is a call to action from African Americans and their allies, asking America to stop supporting and enabling the systemic harassment and the killing of African Americans.
This nation has, throughout its history, left African Americans behind—in every field, whether it be education, healthcare, or socio-economic security—and it is our responsibility to ask: What is Santa Monica College going to do about this disparity?
There are many factors that contribute to racism, the most significant being systemic oppression. We know that working together to fight injustice is a way to call out discriminatory behavior, a way to demand and advocate for substantive change. Recent protests against racial injustice targeting African Americans have brought individuals, groups, and families into the streets in cities and towns of all 50 U.S. states and even around the globe. Today many allies across races, ethnicities and cultural groups are joining to actively protest the historic hatred that people of color have endured. They are stepping forward to lift their voices in unison as one clarion call. And protestors have put their lives in harm's way for something much bigger than themselves, knowing armed, sometimes heavily armed, police officers and/or the National Guard might surround them. Protestors have literally stepped into the line of fire. They have stepped up to walk alongside African Americans as a show of support, and to affirm that it is time for America to stop killing a vital part of itself.
Protestors are marching to say that they watched the video recording of the white police officer in Minneapolis cut off the breath of George Floyd, an African American man. Mr. Floyd called out, "I can't breathe!" The officer held his position on Mr. Floyd's neck for almost nine minutes and when he released the pressure, Mr. Floyd was likely dead, although he would not be pronounced dead until after being taken to a hospital.
Last week,I sent a message to the SMC community in support of African American students who are feeling a wide range of emotions right now. Many of you have expressed that you are feeling these emotions, too—outrage, anger, hurt, pain, frustration, disgust, fear, hopelessness, depression, despair, and more. I am feeling these emotions, too. The message I sent was intended to acknowledge and voice support for the urgency expressed by protesters, demanding that America stop murdering Black people, to stop the violence against Black people. The protests are sending a powerful message to police officers, law enforcement professionals, lawmakers, and national leaders that all too frequently there is use of excessive force when the person being pursued by a police officer is African American. This is also often the case when the person being pursued is Latinx.
The abuse of authority granted to law enforcement must stop. America must start to change right now while the image of the brutality of Mr. Floyd's death is still a present and clear image in our minds, and while the pain and hopelessness he felt under the police officer's knee weigh heavy on our hearts.
I want SMC students to know that we are proud of their engagement and the energy they are demonstrating by protesting for civil rights and liberties that have historically not been equitably applied to people of color. The Spring 2020 semester has been highly unusual—fear of COVID-19 has moved students and college employees into isolation caused by social distancing restrictions as we have tried to maintain "normal" college operations. The deaths of George Floyd in Minnesota, Ahmaud Arbery in Georgia, Breonna Taylor in Kentucky and the circumstances of their deaths have caused even more fear and anxiety for our African American students and for our African American colleagues. Too many lives have been lost to police brutality in many communities.
Santa Monica College's Vision states the college community "is committed to open dialog and the free exchange of ideas." The SMC Mission states the college "provides a safe, inclusive and dynamic learning environment that encourages personal and intellectual exploration—one that challenges and supports students in achieving their educational goals. Santa Monica College's academic programs and support services are intended to serve diverse individuals from local, national, and global communities."
At Santa Monica College, we can and should be leading the way toward overcoming the hate, fear, cowardice, and ambivalence that breeds racism. We can use our energy, intelligence, education, and our humanity to act with the conscious awareness and intention it takes to write new pages of history for our college and our country. It is way beyond time to leave racism, and the injustice that comes with it, in the dust of history as the pathetic relic of a past, one that should never have been.
Black Lives Matter,
Kathryn E. Jeffery, Ph.D.
Superintendent/President