Seyedeh Yassi Badri
Hello! I am a Neuroscience major in my final year at Santa Monica College, with plans of continuing to medical school and becoming a brain surgeon. Upon entering SMC I planned to be a ceramics major, but soon discovered my passion for medicine. I am currently a part of the UCLA Care Extender Internship Program, the Scholar's Program, and now I am a President's Ambassador I also previously co-founded the American Red Cross Club at Santa Monica College and served as Vice President for 1 year. When I am not on campus, I love volunteering, feeding the homeless, making art, hiking, listening to music, and meeting new people. I am proud to be SMC, because Santa Monica College provides a wide variety of opportunities for students including UCLA research opportunities through the STEM program, interaction with a diverse student body, state of the art athletic facilities, and the chance to interact with representatives in Washington D.C. through the Dale Ride Internship program. As an SMC student, I want to give back to the community through my role as a President's Ambassador where I hope to convey the message to all students that their presence matters.
---
Omar Bishr
I was born and raised in Giza, Egypt. In 2015, I came to SMC and am majoring in economics with the intention to transfer to UC Berkeley next year. While I was in Egypt, I was passionate about sports from a very young age and I had joined my local sporting club's swimming and water polo teams. When I came to the U.S. and started at SMC, I was able to join both teams. Sports have contributed greatly to the development of my personality, discipline, and teamwork as well as individual skills. During my high school years, I was elected President of the Student Life Organization (SLO), and my passion and dedication to extracurricular work continues until today. I am also a peer mentor at the International counseling office. This experience enabled me to work efficiently with students from different backgrounds and cultures as well as professors and the administration. As a President's Ambassador, I believe I can inspire, motivate, and pave the way for all of the SMC community using my experiences as the President of the SLO and my history in sports and counseling. My time at SMC as well as living independently and away from my home country and family gave me a new perspective, provided me with the tools to become a better student and individual, and opened my mind to new possibilities and priceless opportunities. SMC is truly my home away from home.
---
Jennifer Chen
I was born in Los Angeles but raised in a beautiful island in Asia called Taiwan. As I was growing up, I was always the most outgoing kid that loved to get involved, meet new friends, and try new things in the community. Therefore it has built up an adventurous spirit in me. At the age of 15, I decided to move to United States by myself to get a better education and experience a new adventure. I always wanted to be part of a big community. Therefore I moved to L.A. after graduating high school and joined the SMC big family. This is my second year at SMC. I am majoring in business with the hopes of transferring to USC or UC Berkeley in the fall 2017. I joined the AGS volunteering club last semester and enjoyed putting myself out into the community. I am absolutely in love and thankful for everything that SMC offers. It is my honor to be part of the President's Ambassadors program this year. I am excited to represent SMC and spend my time supporting individuals to have the best experience at SMC.
---
Emily Cole
After high school, I spent most of my time working. By 2013, I was lucky enough to find myself in a secure management position with a well-established company. I soon realized there was only so much farther I could go in the business world without a degree. When I decided to leave work in fall 2015, SMC was my first choice. Given SMC's commitment to providing quality staff and facility, I knew I would be proud to include SMC on my resume. It was an obvious choice. With such a wide variety of courses offered, I couldn't limit myself to just one study path. I recently completed the required courses for my AA's in Public Policy and Business Administration, and am now focusing on coursework for an AA in Social and Behavioral Science. One day I hope to serve as a United States Ambassador. I set that goal for myself for many of the same reasons I sought to become a President's Ambassador at SMC. I enjoy fostering communication, helping communities become stronger through collaboration, and striving to achieve new standards of excellence. I am forever grateful to SMC for preparing me to take on whatever opportunities are ahead.
---
Aboubacar Conde
I was born in New York and raised in Guinea (Conakry). I am an electrical engineering/computer science major at Santa Monica College. I am currently a third year student at the college. My academic goal is to transfer to UC Berkley or Cal Poly Pomona/ San Luis Obispo. Before joining SMC, I had no idea what I would like to be in the future. However, with its great programs like STEM and many others, SMC has helped me select a major that falls into my interests and skills. I am having a great experience at SMC and I encourage every student to get involved on campus.
---
Vanina Conkle
I grew up in Bulgaria, where school is nothing but studying and going home afterwards. I would come home and watch American shows on television where colleges were portrayed as beautiful placed where you cannot only learn, but initiate change and grow! I knew I needed to find my way to the U.S. after graduation. However, my family could not afford to support me, so I had to work very hard for it. About 6 jobs later I found myself in the city of angels, enrolled in the best college in California, SMC! It didn't take long to feel at home on campus. Aside from developing academically and being in the scholars program, I was active with the Associated Students, SI program and Phi Theta Kappa honor society. I learned a lot and now I hope to utilize my knowledge and through my role as a President's Ambassador to serve and empower my fellow students and support them achieving their own goals through college and beyond.
---
Andrea Conte
I am originally from Lakewood, Colorado, which is about 20 minutes from Denver. I moved to Santa Monica because of my family and am so glad we made that decision. I am a Political Science major and wish to pursue a career in law. Before pursuing my career, I am going to take a year off to travel. I am hoping to transfer to UCLA or USC with the guidance and support of our amazing SMC staff. You can usually find me in the library because it is one of my favorite places on campus. I never really found a niche until I came to SMC, more specifically the President's Ambassadors program. Being a President's Ambassador has taught me so many things such as: teamwork, communication, volunteerism, and most importantly compassion. I have never been a part of a program that is so supportive, caring, and knowledgeable. I am very lucky to be a part of this community.
---
Dario Gentiletti
Growing up in Naples, Italy, I always had a rebellious and undisciplined attitude. During high school, I usually found myself in the wrong places with the wrong people. In this environment, I got labeled as "the most superficial person" or someone who "will never succeed in life". I'm grateful for all the effort that teachers and friends put into pushing me down. Thanks to them, I developed an intense passion to prove them wrong, and more importantly, I've grown a passion to become an example for all the people of the my city, who usually, when I explained my dream to come to the USA, answered, "It's impossible." I would like to use my life in order to let the next generation answer, "Dario did it, it's possible".
After I traveled in Germany, Egypt, the United Kingdom, the Dominican Republic, Bulgaria, Tunisia, Belgium, Greece, Croatia, the United Arab Emirates, the Czech Republic, and living in London and Thailand, I experienced many adventures. On the first day of June 2015, I made the decision to leave everything and move to USA with the mission to develop a sustainable human species in order to resolve the environmental issue.
I'm currently studying Business Administration in order to transfer to the Haas School of Business at UC Berkeley, while also focusing on the environment and sustainability. I believe a true attitude reflects in all the aspects of your life. If you are a game-changer, you are always that - not only while studying your major. That's why from the first day of the college, I became commissioner for Phi Theta Kappa (PTK) and Associated Student's President and I found my own club. When I lost both elections of PTK and Associated Student, I applied for the President's Ambassadors Program and I got accepted. I like to believe that nothing is random in life, and in the moment I received the call that I became a President's Ambassador, I knew that I made the right decision on that first day of June 2015.
---
Maria Lopez Zamudio
I am about to start my second year at SMC, and I hope to transfer to either LMU or UCLA. I am really happy I came to SMC because although I was admitted to other schools straight out of high school, SMC was the better financial choice. While being here I have become involved in various clubs and organizations on campus. For example, I am part of the Adelante, Scholars, and EOPS programs, am an active member of Phi Theta Kappa, and one of the Co-Chairs for I.D.E.A.S (Improving Dream Equality and Success). My involvement on campus is what led me to change my major from Business Management and Psychology to a double major in both Sociology and Chicano Studies. I am not sure what my future holds or what my career path will be. However I do know that I want to continue giving back to my community and advocating for the underrepresented communities. Being chosen as a President's Ambassador is a great honor. I look forward to helping my peers find their own path at SMC. This is because I know that SMC has so many programs, and resources, and one is bound to be perfect for you.
---
Stacey Manoharan
I am an international student from Singapore. This is my first year as a Psychology major in Santa Monica College. I love all things Japanese. One day I hope to spend a year at the Waseda Business School, Tokyo. I intend to transfer to UCLA next fall and minor in entrepreneurship as I intend to venture into the field of Industrial and Organizational Psychology. When I'm not in classes or working on campus, I spend most of my time getting involved in various clubs on campus like Phi Theta Kappa, where I am the Vice President of Service, the Psychology Club and Alpha Gamma Sigma. Also, I spend most of my weekends volunteering and serving the community. I wanted to join the President's Ambassadors Program, as it is a wonderful opportunity to meet new and current students and share my experiences with them. SMC is a college with many opportunities. I'd love to encourage everyone to take advantage of them and make the most out of their college experience!
---
Caleb Misener
I am an English Literature major, and am hoping to transfer to either UCLA or UC Santa Barbara next fall. After university, I plan on teaching high school English. When I first moved to LA, I wasn't sure how life in the big city would treat me, and having to work to put myself through school was definitely a bit overwhelming. After getting involved in programs such as student government, UNICEF, and the German Club on campus, I feel like I have found a home within Santa Monica College, and have met so many great friends and such amazing professors that have helped me get to where I am today. As a President's Ambassador, I am hoping that I will be able to give back to the college that has given me so much these past couple of years.
---
Zavanna Negron
I moved to Los Angles from San Francisco about a year ago, so I guess you can say I am a city girl. I am entering my second year and hope to transfer to UCLA as a Communications major to purse sports broadcasting. However, before I pursue that career, I have dreams of teaching abroad for a year. Santa Monica has given me the opportunity to make an abundance of international friends and experience a taste of different cultures. I plan to teach Basic English or basic Math in South Africa or Spain. Besides being a President's Ambassador, I am the Vice President of the Black Collegians Program. I am also in various programs like the Bong Oversight Committee, Scholars, and FYE. As a President's Ambassador I have the privilege to constantly meet new individuals and gain experiences that I would not anywhere else. I can talk sports and music for hours, (no joke), and enjoy visiting art museums. I plan to show my peers all of the lovely things SMC offers and to give them motivation and resources to help them reach their goals. If this is your first year at SMC, do not be afraid to step out of your comfort zone and be fabulous!
---
Carlos Penuelas Lopez
I'm a business major wanting to specialize in finance. This is my third year at Santa Monica College as an international student from Mexico. I moved to U.S. to pursue my career and find better opportunities. Santa Monica College gave me the sense of a multi-cultural environment that I was looking for. I am passionate about new languages and learning about other cultures. At Santa Monica College I have found that missing piece that I couldn't find in other universities. Also, as the president of the honor society Phi Theta Kappa and as a President's Ambassador, I want to help other students by giving them advice and showing them the tools they need to excel in their SMC career. In addition to the Honor Society and the President's Ambassadors Program, I work as a business and computer applications tutor at the business department and as a Peer Mentor at the International Education Counseling Center. I love SMC professors, enjoy the way they teach and get you involved with the class. When I'm not studying, you can find me in the movie theaters watching movies or reading a book at a coffee shop. Now I'm sure I can call Santa Monica College my second home.
---
Karla Salvador-Fernandez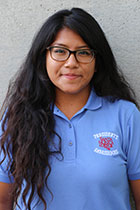 I am a second year student at Santa Monica College, pursuing Political Science. I hope to transfer to UCLA next fall semester with an emphasis in immigration, and go on to law school. Santa Monica College has not only been a significant factor in helping me understand what it means to be an undocumented/AB-540 student, but it's a place that has allowed me to continue to grow as a person. There are many resources that make pursuing higher education more affordable. The people at Santa Monica College are also very friendly and more than happy to help. In addition to being a full time student at Santa Monica College, I am on the swim team, the water polo team, the scholars program, Co-Chair of Improving Dreams, Equality, Access, and Success, and a President's Ambassador. Although attending Santa Monica College was never my plan, I am thankful I am attending. I have been presented with many great opportunities and have met amazing, inspiring individuals. I am honored to be a part of the President's Ambassadors program and I hope to be able to help students reach their goals and as well as help make a positive change in the Santa Monica College community.
---
Stephanie Sanchez
Yo! I was born here in Los Angeles, California. Outside of school I enjoy playing volleyball, listening to rap music, tanning on the beach, and spending time with my autistic brother. My major is Anthropology and I aspire to become a future attorney. I am in my final year at SMC *cries*, and hoping to transfer to UCLA. I am grateful for all the support and opportunities that SMC has provided me. I have participated in various programs at school such as: the scholars program, EOPS, the SMC study abroad program, SMC internship program, and Phi Theta Kappa Honor Society. As a President's Ambassador, I hope to encourage other students to get involved on campus and help them realize how far they can go with the opportunities that SMC has to offer students!
---
Cassandra Santiago-Amzallag
I am beginning my second year at Santa Monica College this fall as an English major. In my junior year of high school I fell ill and was diagnosed with Celiac Sprue. I was unable to continue my studies. After living for sixteen years in Arizona, I moved to Texas for four years and received my GED. The fire was lit again and I desired to continue my education. I moved to California, waited one year to become a resident, and immediately applied and enrolled at Santa Monica College—I was ecstatic! Attending the top classes that SMC offers with such amazing professors really got my gears turning and the school-obsessed student had returned. Before I became ill my dream was to become a writer, and that is still true today. However, I've added an addition to my dream—I will go to Japan and teach English. Ever since I was young, I adored watching Japanese Animation and playing video games. As I got older I started to connect with Japan on more of a cultural level. I love the respect they have towards each other—especially at school—the festivals, the arts, and simply the beauty of Northern Japan. This is what draws me there. By joining the President's Ambassadors Program as well as the Scholars Program, I have become closer to reaching my goal. The President's Ambassadors program has motivated me to become more involved in supporting SMC. I will join more clubs and programs and give back to the College that has given me so much opportunity and happiness. I am definitely proud to be SMC!
---
Joash Sigamoney
As an international student from Johannesburg, South Africa, I initially entered SMC as a very jaded and lonely young man with little to no understanding of the American education system. I came to SMC. On a desperate whim after reluctantly giving up my dream of becoming an actor. At first, the campus appeared vast and I struggled to acclimate to the culture and the variety of classes I had to take as a first-generation college student. However, the family I found in the SMC student body and faculty led me to become a Sustainable Works Student Leader, a member of the Scholars program and a member of the S.T.E.M. program's third cohort. During my time here I have grown immensely and learned the value of self-efficacy and the importance of giving back to the community. By meeting students and faculty along my academic journey, I found out about the countless opportunities on campus such as one of our campus' honor societies Phi Theta Kappa (P.T.K). I later became the Vice President of Scholarship for P.T.K., which enabled me to spearhead academic excellence within the chapter. My time at Santa Monica College stretched and shaped me to confront my childhood fear of Mathematics and Science, which resulted in pursuing Civil Engineering as my major. With every calculus, chemistry and physics class, my goal to develop sustainable, green infrastructure for third world nations becomes more tangible. This year marks my third and final year at SMC. As a President's Ambassador, I aim to exude to my fellow students and future alumni that there is no dream too big, no obstacle too difficult and no journey too long to prevent you from becoming the person you want to be, so strive to be the best you can possibly be.
---
Zhen Ren Teo
I was born and raised in Singapore, a tiny country some 8,000 miles away from LA. I always had dreams of studying in the states since young and thus I am so thankful to be living here in this vibrant city of Santa Monica. Currently, I am majoring in Business and I am planning to transfer to either UC Berkeley or UCLA next fall. Besides my position as a President's Ambassador, I have also been representing SMC in the swimming team. I aim to compete in the NCAA Division I level when I transfer, and SMC has definitely provided me with a fantastic platform to do so. As a President's Ambassador, I aspire to represent SMC with the highest professionalism and character, while also assisting the school with important public relations. It is a massive privilege to be serving you all!
---
Sheri-Anne Vaughans
I am a Business Major who was born and raised in a tropical island called St. Vincent and the Grenadines located in the Caribbean. This is my second year and I absolutely love SMC! It's rich diversity and active on-campus life is molding me into the individual I am today, and who I will become tomorrow. SMC made it possible for me to develop my interpersonal relationship skills, while working with an array of individuals through the various clubs available. From day one I was also able to meet staff and counselors who were already interested in my path to success. I moved to the USA a year ago to pursue the dream of returning to the Caribbean equipped with a holistic learning experience that would bring about a tsunami of change in our economy. Ultimately, my goal is to help those who are underprivileged to gain access to an elite education and finances that will charter their academic development and success. Too often I hear stories of "I wanted to be… but could not afford a higher level education " These stories break my heart. I knew I wanted to be an Economic/Financial Analyst since I was in High School. Although there were no career or guidance counselors present to offer help, my family and I researched the steps necessary to pursue such a career. Once I got to SMC, I had innumerable guidance from counselors who took it upon themselves to make my dream their concern. These counselors went as far as connecting me with the right people. Now I am on my journey, armed with the tools needed for success, with the aim to give back in every possible way, so that others can pursue their dreams. I would like to transfer to USC and major in Economics with a minor in Film/Marketing. I am Proud to be SMC because here I am discovering me. At SMC I have access to quality service and I'm able to give back quality service.
---
Angela Vo
I am an English major hoping to transfer to a four-year University in the fall of 2017. Even though my course load focuses on a variety of humanities courses, I hope to one day attend medical school and become a physician focused on pediatrics. When I am not at school, I work at an orthopedic office in Manhattan Beach that provides free athletic training and sports medicine care to high school athletes around Los Angeles. In my down time I am an avid hot yoga enthusiast and I'm currently a practicing vegan because of the environmental impact of a meat-based diet. Growing up, I lost both my parents to lung cancer so I understand the difficulties that students may face throughout their life. Without SMC's welcoming campus, I wouldn't have realized that there are opportunities for everyone and anyone. Because of the amazing and inspiring professors on campus, this past spring I spent eleven days in Vietnam to give clothes, food, and educational supplies to children in overcrowded hospitals, as well as temples and churches that provided shelter to nearby neighborhoods. As a President's Ambassador, I hope to inspire others to make the changes they want to see in the world!
---
Junqi Wang
I am an international student from China. When I was a little boy, my dream was to study in America. Thus, after I finished high school, I moved here and started my new life. Honestly, my life has changed a lot since I came here. I used to be a shy guy and afraid to talk to people. I found everyone super nice and friendly so I started opening my mind and telling others my stories. Santa Monica College gives me great chances to study and meet people from different cultures. Right now, I am studying math and hoping that I can transfer to UC Berkeley or UCLA next fall. It's my pleasure to be selected as a President's Ambassador at SMC so that I can help more people, especially the international students who suffer the culture differences, and try to make their American Dreams come true.
---
Kristin Wannemo
I am a second year student majoring in Biology planning to transfer in two years. As an international student from Sweden, I struggled my first months few at SMC. Thanks to amazing counselors and professors, I was able to find the right academic path. Before I moved to LA one year ago, I spent one year in Chicago and one year in Atlanta working as an Au Pair. Going to college in America is a dream come true and I couldn't have ended up in a better place. SMC has not only helped me figure out what area of study I want to pursue but it is also where I've met the most amazing people that I'm now happy to call my friends. I know this is a great place for me and the many opportunities presented to me are going to help me succeed after I graduate, such as the Scholars Program and now the President's Ambassadors Program. As a President's Ambassador I hope to help other students follow their dreams and take advantage of the many resources that our school has to offers. We're all in this together and we can all help each other reach our goals. I am excited to take on this role as a leader and give back to the school and this community.
---
Bar Yakir
Hello everyone! I am a Business major and this is my second year at Santa Monica College. I was born in Israel and came to Los Angeles at the age of two and a half. Since then I attended public schools as a child and pre-teen and recently graduated from Taft Charter High School in 2015. Throughout high school I always felt that I wanted to be more involved with my school than just being a student. I decided to become a part of the Associated Student Body and Class Steering society. As part of my school's ASB, I proudly held the position of Leader of School Spirit where I hosted all pep rallies, fundraisers, and sporting events. As President and Vice President of the Class Steering society, I worked together with team members to organize all our memorable senior year events. Coming out of high school I had the ambitions of attending a four year university in California. Unfortunately, this dream did not come true and eventually I realized that it was time to move on. Although SMC was not my first choice, I'm happy that it's the one I made in the end. In my first year at Santa Monica College, I became a proud member of various special programs such as FYE, the Scholar's Program, and the Phi Theta Kappa Honor Society. These programs helped me meet a lot of amazing faculty, staff, and students that made my first year transition into college very enjoyable and successful. I hope that as a President's Ambassador at SMC I can inspire students to also take advantage of these amazing opportunities this school has to offer. I want to show students that attending a community college can be a different experience than what most people think and that there is more to do here than just attend class. I take a lot of pride in representing my school and community in the best way possible. This is the reason why I am excited to take on the position as a President's Ambassador. I am proud to be SMC!