Get Started With Online Winter Session
Open Online Classes Available!
Winter session is just a 6-week session from January 4 to February 11, 2021.
View the Class Schedule in Print
Multiple Ways SMC is Offering Classes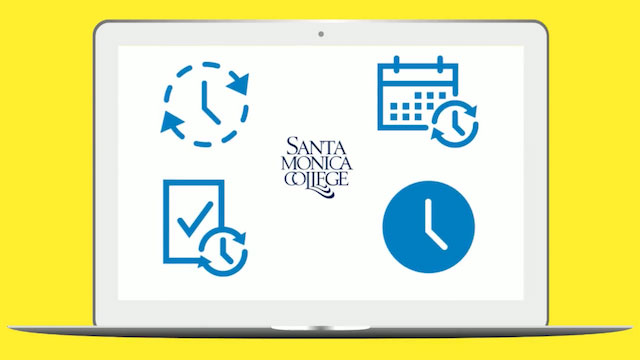 Helpful Resources
Steps to Become an SMC Student
If you don't currently attend Santa Monica College, fill out an application online at smc.edu/apply for admission. Then sign up for classes online at your appointed date and time. SMC is filled with dedicated people who want you to succeed, so if you need help, please ask!
Take a shortcut to becoming an SMC student!
Our Welcome Center offers new students assistance with enrollment, orientation, financial aid, and more. The Welcome Center, located in Student Services Center S110, is currently providing all services online. See smc.edu/newstudents for details.
Free Parking, Shuttle Service, and WiFi
Free WiFi is available at the Bundy Campus. You can park for free (with a free virtual parking permit) in the shuttle lot at the Bundy Campus and when campuses are once again open, ride the free shuttle to other campuses. Visit smc.edu/transportation for the most current parking and transit information.
Statement of Equal Opportunity
Santa Monica College is committed to equal opportunity in all of its programs and is in compliance with Equal Opportunity standards as required by Federal and State laws and District policy. Unless specifically exempted by statute or regulation, all smc courses are open to enrollment and participation by any person who has been admitted to the college and meets the course prerequisites.
Alcohol, Smoking, & Drugs
California state law prohibits the use, sale, possession, or being on campus under the influence of alcohol or of any controlled substance. (Cal. Ed. Code §§ 76032-76033). Smoking — including the use of e-cigarettes or vaporizers — is also not permitted at Santa Monica College, except in outdoor areas temporarily designated as smoking areas.

Santa Monica College provides a variety of support services to individuals with disabilities.
If you require a disability accommodation to attend or participate in a class or event at SMC, contact Nathalie Laille at laille_nathalie@smc.edu or 310-434-4299 at least 5 business days in advance.