Bring SMC with you, wherever you are, wherever you go!
Stay connected with SMC GO, the official app of Santa Monica College. SMC GO is more than a resource, it's a journey, full of tips, videos, and ways to keep achieving. Begin with Start, then Manage your day, Connect to enrich your college experience, and GO towards your goals.
Ready, Set, SMC GO!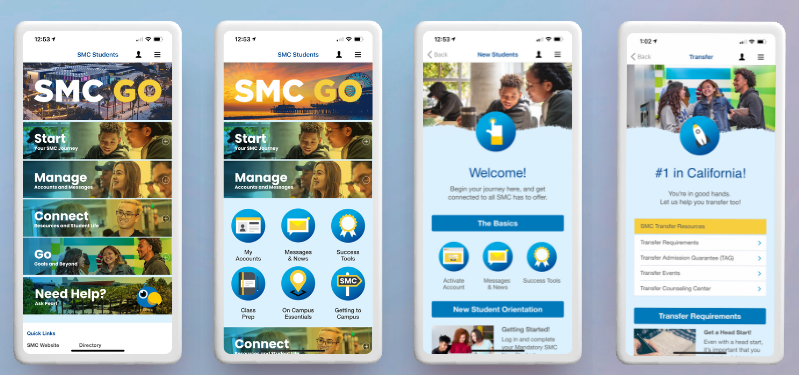 Download for FREE:
(standard carrier download rates apply)
Download the app to get the most out of your experience at SMC.

Favorite Features:
Ask Pearl

Quick Links

Finding Classes

Message Channels

Events & Workshops

Pearl's Marketplace

Programs & Services

Student Life
What's New
Released on May 21, 2021, along with new features, 2.0 brings with it a whole new way to navigate and explore. This engaging new interface takes away the assumptions of college and lets students uniquely discover their own interests, as well as endless resources, to help enrich their everyday as they journey towards their goals.
New features:
Sign in
Login for better access
Your Program Channel
Get messages from the programs you belong to
Sticker Pack
Share your SMC pride on social media
Pearl's Marketplace
SMC students can buy, sell, and more
Better Links
Quicker access and improved experience
Guided Sections
Tips and steps to help you get, and stay, ahead
Photo Upload and Sharing
Share photos and images with anyone using SMC GO
Return to Campus
Information and resources for safely returning to campus