Oct. 10th, 2018
Santa Monica College Holds Largest College Fair in California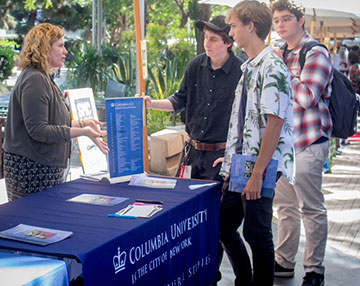 Over 170 California, U.S., and International Colleges and Universities Participated
SANTA MONICA, CA—Santa Monica College (SMC) held its Fall 2018 College Fair from 10:30 a.m. to 1 p.m. on Tuesday, October 9 at its main campus on 1900 Pico Blvd. in Santa Monica. A total of 173 four-year U.S. and international four-year institutions, as well as two SMC programs, registered to participate. Approximately 4,000 SMC students attended the fair. SMC is California's leading transfer college to the University of California (UC) campuses, the University of Southern California, and Loyola Marymount University. The college is also the top "feeder college" west of the Mississippi—and the second highest nationwide—to the Ivy League Columbia University in New York.
"I was floating on cloud nine yesterday—I am always so proud of these fairs," said Janet Robinson, SMC Transfer Center faculty leader. "It was a beautiful day, and wonderful energy filled the quad. I heard nothing but good feedback from the representatives about SMC students." Robinson added that the bi-annual college fair (held each fall and spring semesters) is an occasion that brings together SMC students, college/university representatives, SMC faculty and staff in a forum where "the best possibilities for the students' futures are right here on campus, in one place".
College fair participants included those from popular destinations for SMC students in the UC system: UCLA, UC Berkeley, and UC Irvine, to name only a few. Several California State University (CSU) campuses—including CSU, Long Beach; CSU, Los Angeles; and CSU, Northridge—also had a presence at the SMC Fall 2018 College Fair.
Out-of-state participants included Arizona State University, Cornell University, Syracuse University, and University of Michigan. In addition, 18 international universities—including the American University of Paris, France; Temple University, Japan; and the University of Manchester in the U.K.—sent representatives.
The SMC Transfer Center also collaborated with groups including the SMC Associated Students, Black Collegians, and Alpha Kappa Alpha Sorority Inc., Tau Tau Omega Chapter to register over 70 student voters at the event. To learn more about the transfer process, and to see a list of all the colleges and universities at the fair (see "College Fair"): visit the Transfer Counseling and Services website. The SMC Transfer/Counseling Center can be reached at (310) 434-4210, and counselors on staff assist in helping students plan their pathway to the best possible four-year college/university for them.
# # #
About Santa Monica College
Founded in 1929, Santa Monica College is a California Community College accredited by the Accrediting Commission for Community and Junior Colleges (ACCJC) of the Western Association of Schools and Colleges (WASC). For 27 consecutive years, SMC has been California's leader in transfers to UCLA, UC Berkeley, and other University of California campuses. The college also tops in transfers to the University of Southern California and Loyola Marymount University. More than 110 career training degrees and certificates at SMC offer professional preparation for students interested in directly entering the job market, transferring to a four-year school, or upgrading specific skills. SMC provides news and cultural enrichment through its NPR radio station KCRW (89.9 FM) and The Broad Stage at the SMC Performing Arts Center as well as lifelong learning through distinctive programs such as its Emeritus Program for older adults.