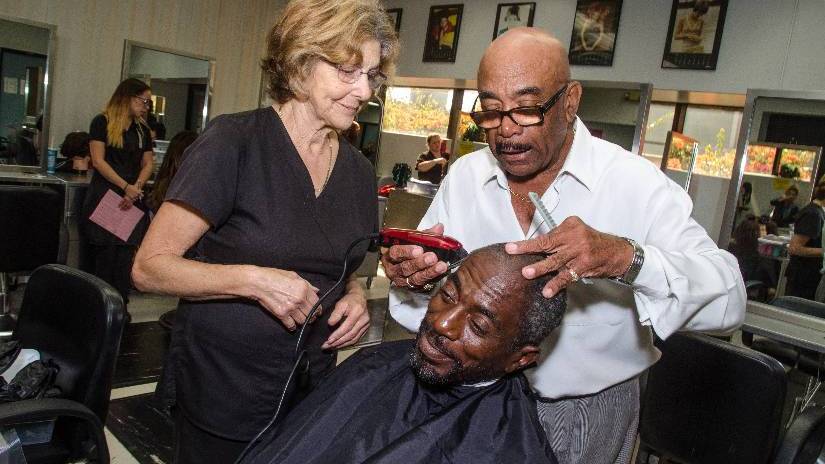 Don't worry about leaving campus the next time your eyebrows are going crazy or your hair is past the point of no return…the cosmetology department on main campus houses a full-service salon, one of SMC's best-kept secrets. All non-chemical treatments are free for SMC employees. Between classes, salon, organizing an annual hair show, fundraising and volunteering at shelters, the Cosmetology department is a busy place.
About 20 professionals teach in the department and collaborate to explore new techniques and contribute to the development of curriculum. It is one of the largest programs in Los Angeles at the community college level; and has a flexible array of offerings for both full-time and part-time students. After 400 classroom hours – it takes 1600 hours to complete the program – students are allowed to step into the salon.
The department also works with local homeless shelters, group homes and other non-profits by providing free haircuts, skin care and nail care services.
"It brought tears to my eyes to hear our students express excitement, and gratitude for the opportunity to work on the project," says Deborah Perret, speaking about Cosmetology students working on SMC's first multidisciplinary musical production "Locals Only" in October 2014. The cosmetology department collaborates with the Theater Arts Department, the Dance department and the Music Department to allow their students industry-level experience.
The salon is open from Tuesday – Friday, the hours are posted on the cosmetology department website. A haircut and shampoo would cost an outside client $11.
The cosmetology program has produced several students who have gone on to win high profile national competitions and are prominent in the field of cosmetology. In November, famed celebrity hairstylist and SMC cosmetology graduate Kim Vo – whose clients include Britney Spears, Katy Perry, Nicole Richie and Khloe Kardashian – returned for a special event with SMC cosmetology students where he talked about success, failure, and the importance of following your heart's desire in the beauty industry.
"The fact that our program played a part in his achievements is something that our instructors are very proud of and something that drives us to provide our students with the education necessary to achieve similar goals," says John Rogers, Department Chair.