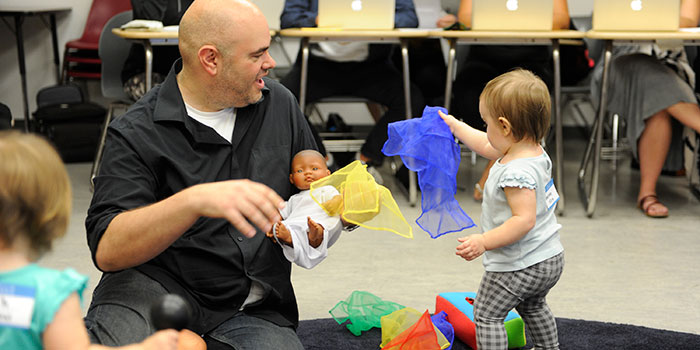 About Early Childhood Education (ECE)
Early Childhood Education majors will be trained to supervise and provide care and learning experiences for infant through eight‐year‐old children in a variety of early childhood settings. Early Childhood Education professionals adhere to the guidelines as well as the Professional Code of Ethics of the National Association for the Education of Young Children (NAEYC) providing developmentally appropriate learning opportunities for the enhancement of the physical, intellectual, social, emotional and creative domains of young children. The Early Childhood Education major focuses on educational practices that emphasize interpersonal relationships, cultural diversity, child‐centered curriculum and the inclusion of children with special needs in all educational opportunities.
The Early Childhood Education Program major follows a natural progression that allows students to move from short to long‐term educational goals: preparation for the state Children's Center Permit, fulfillment of post certificate Professional Development, completion of advanced California Career Ladder courses (including paired specialization courses as well as the California State Mentor course), completion of an Associate degree in Early Childhood Education – Career, Associate degree in Early Childhood Intervention assistant, Associate degree in Early Childhood Intervention Teacher, and transfer to a four‐year institution.
Possible Early Childhood Education career goals include Early Childhood Education Teacher, Early Education Director, Early Childhood Intervention Assistant, Early Childhood Intervention Teacher, Family Home Child Care Provider, Private ECE Center Owner/Director, K through 12 Teacher, Early Childhood Special Education Teacher, K through 12 Special Education Teacher, Parent Educator, Early Childhood Education Instructor, Marriage Family and Child Counselor, Child‐Life Specialist.
The Early Childhood Intervention Assistant program will prepare students for career placements in public and/or private early intervention and educational settings that serve typically and atypically developing young children. Specific jobs and responsibilities may include serving as an early childhood educator with a specialization in working with children with special needs, special education assistant for children birth to eight years of age, a one‐to‐one aide for a child (e.g., "inclusion facilitator"), classroom aide with expertise in special needs, or as an assistant to the early intervention team for infants birth to three years of age. Grid for Early Childhood.
Education Courses at California Community Colleges
Degree and Certificate Requirements
Programs Offered
Associate in Science Degree Options
Early Childhood Studies
Early Intervention/Special Education Assistant (formerly Early Intervention Assistant)
Infant/Toddler Teacher
Certificate of Achievement Options
Early Childhood Associate Teacher
Early Childhood Studies
Early Intervention/Special Education Assistant (formerly Early Intervention Assistant)
Elementary Teacher Education
Infant/Toddler Teacher
Nature-based Pedagogy
Transitional Kindergarten
Noncredit Certificate of Completion
Introduction to Early Care and Education
Transfer Options and Opportunities
SMC students have many options and opportunities for transfer. Make your choice and see what you need to qualify.
Completion of major requirements does not satisfy all transfer admission requirements to UC, CSU, California Private, Out of State, or International institutions.
Please note: Not all schools offer this major.
For additional information visit the Early Childhood Education department website.