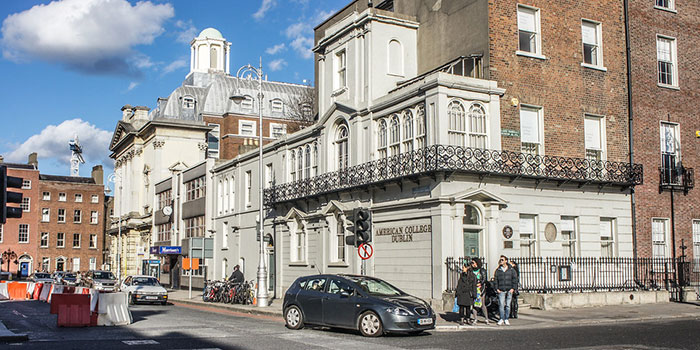 About American College Dublin
American College Dublin, a constituent college of Irish American University, is a private not-for-profit liberal arts institution accredited by the Middle States Commission on Higher Education (MSCHE). Established in 1993 in Dublin Ireland, the institution is located in the center of Dublin on Merrion Square in a number of Georgian era houses, one of which is the childhood home of Oscar Wilde. In addition to its American accreditation with MSCHE, American College Dublin offers programs placed at level-eight and level-nine on the Irish National Framework of Qualifications which are accredited by the Irish body Quality and Qualifications Ireland (QQI) and for which graduating students receive QQI awards.
American College Dublin was founded as an independent educational trust in May 1993 by Lynn University, a liberal arts institution located in Boca Raton, Florida. The college admitted its first liberal arts and business degree students in September 1993 and graduated its first class in 1996. The development of the College's Dublin campus continued through the 1990s; in 2002 the institution expanded its operations with the establishment of a sister campus in Delaware, which became known as American College Delaware.
Agreement
Liberal Arts and International Business
Additional Website