No Hate SMC Pledge
Make the Pledge Today: No Hate at SMC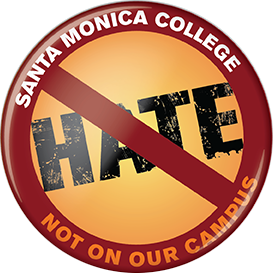 "I pledge to speak up and to speak out against all forms of hate, bias, bigotry, discrimination, harassment, and bullying. I will not tolerate intolerance based on race, ethnicity, national origin, immigration status, sexuality, gender, religion, ability, age, or socio-economic status. I will work together with my community and my peers to create a more inclusive and safe campus community that celebrates the power of diversity."
SMC Students, Faculty & Staff Who Made the Pledge
​The following is a list of ​Santa Monica College students, faculty, and staff who committed to create a safe, supportive, and inclusive campus.
SMC Students
Alexander C Totz
Alexis Gosselin, A.S. Publicity Director Elect
Biraj Gurung, A.S Student Assistance Director Elect
Brooke Harrington, Student Trustee
Carla Claure, A.S. Activities Director
Cyrus Jalili Khiabani
Daniel Cha, Associated Students President
Daniel Jimenez, A.S. Activities Director Elect
Dee Cappelli
Joshua Elizondo, Student Trustee Elect
Karina Sanchez
Karla Bellot, A.S. Equity & Diversity Director Elect
Kelsey Molle, A.S. Vice President Elect
Lili Zimble
Merissa Weiland
Natalie Lim, Inter-Club Council Chair
Nathan Silberberg, A.S. Secretary
Sabina Lee, A.S. Publicity Director
Skander Zmerli, A.S. Budget Management Director
Summer Le, A.S. Student Advocacy Director
Tafari Alan, A.S. Student Outreach Director
Tracy Hurtado, Student Worker
Wosenyelesh Gebermicael
SMC Faculty
Alexander Ibaraki, ESL Professor
Benny Blaydes, Counselor & ICC Advisor
Debra Wacks, Art Instructor
Dennis Funes, Counselor & ICC Advisor
Edward P. Mangus, Photography Instructor
Fletcher Beasley, Design Technology Associate Professor
Heather Bennett, History Professor
Laura Canellias, Dance Instructor
Maria Martinez, Latino Center & Adelante Program Leader & Counselor
Marisol Moreno, History Professor
Marissa Moreno, Dance Professor
Melissa Verlet, History Associate Instructor
Mark Tomasic, Dance Professor & Equity & Diversity Committee Chair
Nate Donahue, Academic Senate President
Nicola McGee, Noncredit Instructor
Sara Nieves-Lucas, Transfer Center Counselor
Shari Davis, Public Policy Institute Co-Director
Sherri Bradford, Black Collegians Program Leader
Tiffany Inabu, Counselor & A.S. Advisor
Victoria Santiago, Counselor
Yamissett Westerband, Women's, Gender & Sexuality Studies Professor
SMC Staff & Administrators
Angela Valentine, Disabled Student Services Assistant
AnneMarre Bautista, Research Analyst
Brenda Benson, Counseling, Retention & Student Wellness Senior Administrative Dean
Christina Fuller, EOPS/CARE, Guardian Scholars, CalWORKs & DREAM Center Student Services Specialist
Cindy Ordaz, Administrative Assistant & CSEA VP
Denise Henninger, Deaf & Hard of Hearing Services Supervisor
Denise Kinsella, International Education Center Associate Dean
Diana Askew, Student Affairs Administrative Assistant
Donald Girard, Senior Director of Government Relations & Institutional Communications
Dr. Kathryn Jeffery, Superintendent/President
Edna Chavarry, Academic Affairs Initiatives Director
Esau Tovar, Enrollment Services Dean
Eve Adler, Nursing Program Director & Management Association President
George Rogers, Student Services Clerk
Hannah Lawler, Institutional Research Dean
Isaac A. Rodriguez Lupercio, Student Life Associate Dean
Janice Tovar, Campus Police Dispatcher
Jenny Merlic, VP of Academic Affairs
Johnnie Adams, Police Chief
Joy Watson Orenstein, Customer Service Assistant
Katie Medernach, Accounting Specialist
Lina Ladyzhenskaya, Student Judicial Affairs Director
Lisa Burns, Judicial Affairs Administrative Assistant
Lisa Winter, Compliance Administrator/Title IX Coordinator
Mike Tuitasi, VP of Student Services
Mitch Heskel, Education Enterprise Dean
Nancy Greenstein, Board of Trustees Chair
Nick Mata, Special Programs Associate Dean
Pressian Nicolov, International Education Center Dean
Rachel Demski, Curriculum Specialist
Robert Hnilo, Journey Level Painter
Sherri Lee-Lewis, VP of Human Resources
Susan Fila, Health & Wellbeing Director
Teresita Rodriguez, VP of Enrollment Development
Terry Kamibayashi, Assistant Director of Facilities Maintenance
Vanan Yahnian, STEM Project Manager
Vince Carter, Police Captain