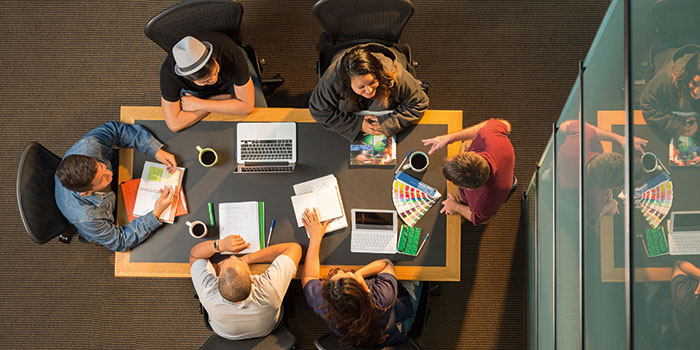 The Center's approach emphasizes collaboration, hands-on learning, and experimentation, providing opportunities to leverage the blurring of distinctions between traditional disciplines.
Foundation for Career Success
Each of the Center's core instructional programs fosters career success while also effectively preparing students who plan to transfer to a four-year college or art school.
Architecture
SMC's new Architecture program provides an analytical foundation from which students will explore design innovation through functional, cultural, environmental, and socially conscious design. Students will learn about the impact of the built environment while developing skills in drafting, rendering, and project collaboration. The program is designed to support students as they explore creative careers in digital production or environmental design for a sustainable future.
Entertainment Technology
The Entertainment Technology program offers certificates and associate degrees in animation, digital media, post production, game design, and digital effects. The courses are well-rounded and the training rigorous. Students develop professional portfolios, learn teamwork, and gain access to numerous internship opportunities.
Graphic Design
The longstanding Graphic Design program serves students wanting to build skills for careers in the field, including print, motion, user experience, and web and mobile design. The Graphic Design program prepares students to enter the industry "job-ready" with courses ranging from foundation studio classes that emphasize design process, to courses that focus on project-based, collaborative learning.
Interaction Design
Interaction Design is an innovative new baccalaureate degree program that blends the fields of design, user experience, and technology to create user-friendly experiences with the platforms people use every day, such as smart appliances, mobile devices, and the web. Interaction designers ensure that products are appealing, effective, and intuitive for users. In this program, students will develop proficiency in the skills necessary to enter this well-paid and exciting field.
Interior Architectural Design
The award-winning Interior Architectural Design program prepares students to apply artistic principles and techniques to the professional planning, designing, equipping, and furnishing of residential and commercial interior spaces, as well as set design. The program provides students with the professional and creative skills to serve their community with innovative interior spaces that are functional and safe.
Media Content Development
Media Content Development encompasses broadcasting, journalism, and film and media studies. The unifying element linking these programs is the examination of communication in all its forms — from filmmaking, news video production, and technical direction to news writing, page design, and photography. The Corsair student newspaper and KWRF student radio station will also move to the new Center for Media and Design.
Film Production
SMC's Film Production program gives students hands-on experience in all facets of the filmmaking process, including pre production, production, and — in collaboration with the Entertainment Technology program — post production in a professional environment using state-of-the-art equipment (including 4K RED technology). Students learn the art and craft of filmmaking/digital video production and produce original work on a variety of platforms, including narrative and documentary films, commercials, music videos, and Internet content.
Critical Film Studies
The Critical Film Studies program offers classes in film aesthetics/theory, film history, genres, leading filmmakers, and gender/cultural film studies. Students learn to apply critical thinking and aesthetic judgment skills, both verbally and in writing, to the analysis of film as an art form, entertainment medium, and cultural text. They also learn to express themselves creatively by developing the skills and applying the techniques necessary to communicate effectively using the specialized language of global filmmaking.
Promo Pathway
This unique industry partnership program prepares students for entry-level employment in entertainment promotion and marketing production. This industry sector includes writing/producing/editing and design of on-air and off-air promotions, commercial advertisements and public service announcements, and ancillary areas such as media strategy and planning, public relations, publicity, and broadcast/Internet/interactive media marketing and production.
Student Success
The value and success of these programs are evident in the acclaim and awards garnered by student works, as well as the many job placements and continuing employment of SMC students and graduates. Within the SMC community, these creative disciplines are sought out by other campus programs to collaborate on a myriad of projects, from world premiere musicals to broadcasting athletic games, and from promotional materials and videos to documentary production.