Welcome to the Center for Media and Design!
We are glad that you are here. We want your CMD Visit to be an engaging and welcoming one, and as such, we are providing some important information to assist you.
The Center for Media and Design Campus is divided in two separate wings - Building C & Building D with a hallway on the second floor by the Computer Lab CMD 217 joining the two. There is also a separate building on CMD Campus, KCRW Media Center, that is home to the KCRW radio station.
Hours & Location
CMD Campus Hours (TBD - This section under construction)
Closures:
Friday, November 10, 2023 - Closed in Observance of Veterans Day
Thursday, November 23, 2023 - Closed in Observance of Thanksgiving
Friday, November 24, 2023 - Closed in Observance of Native American Day
December 22, 2023 - January 1, 2024
General Office Hours:
Monday - Thursday 8:00 am - 5:00 pm
Friday 8:00am - 4:00pm
(These are general office hours. Please check with the specific department, personnel or faculty to inquire)
Email: CMDCampus@smc.edu
Phone: 310-434-3700
Physical Address
1660 Stewart Street
Santa Monica, CA 90404
Mailing Address
1900 Pico Blvd
Santa Monica, CA 90405
Parking
There is a parking structure available at the CMD Campus as well as metered parking on the streets. The CMD Parking Structure is located around the corner from the CMD Campus (which faces Stewart Street) on Pennsylvania Avenue. When Parking at the CMD Parking Structure, please follow directions and signage for Staff and Student Parking. You will need to register your vehicle prior to parking at the CMD Structure. For specific questions or to register your vehicle to park on campus, please go to Campus Parking
CMD Parking Structure:
The CMD Parking Garage is a covered 4 level Structure with elevator/stair access from each floor. The top floor is open roof.
Physical Address
Pennsylvania Avenue, Santa Monica, CA 90404
EV Charging Station
There are several Faculty and Student charging stations available
Transportation & Safety
Transportation and safe, reliable options for our students is very important to everyone at SMC. There are many transportation options at SMC with student safety in mind including bus, train, carpool, commuting between campuses, biking and a safety escort service to name a few. Please visit the following link to explore your options and see hours of operation for specific services: Transportation
LiveSafe App
LiveSafe is a personal safety mobile app that Santa Monica College is providing to all students, faculty, and staff to download for free. The app provides a quick, convenient, and discreet way to communicate directly with Santa Monica College safety officials, enhancing your overall safety and allowing Santa Monica College Police to better protect you. Please visit Live Safe App to find out more.
CMD Campus Tours
We are excited that you have decided to plan a CMD Campus Tour with us. We are looking forward to meeting you and want to make your experience a pleasant, memorable and informative one. Tours are available for individuals or groups. Please be sure to contact us with enough advance notice to provide you with the personnel needed to facilitate a great CMD Campus Tour experience.
How to schedule a Tour:
Please email us at: CMDCampus@smc.edu
For information on SMC Tours and interactive mapping experience as well as great resources for your visit, please follow this link: Campus Tours
CMD Building C - Media Wing
The 30,000-square-foot CMD Building C (Media Wing) houses a post-production classroom, a student radio station and production suite, multiple editing bays, a television and film production studio with control rooms, an art studio, café, and an auditorium.
Level 1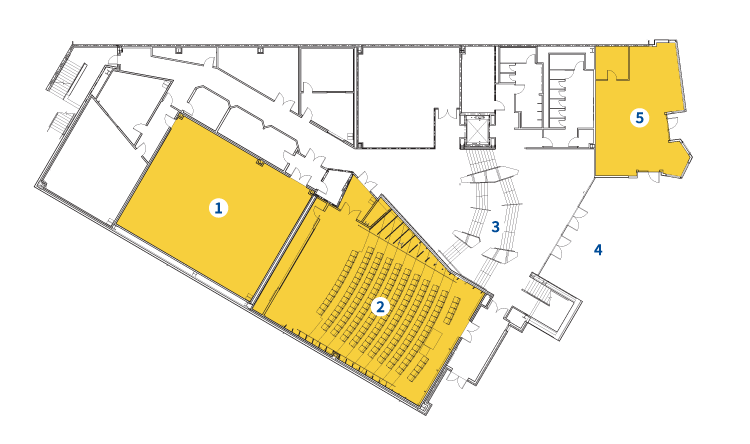 Production Studio
Used primarily for film production and broadcasting classes and for student projects, the suite includes large audio and video control booths. The studio is also used for post-production and green-screen special effects.

Auditorium
This 180-seat auditorium is used for large classes, screenings, and special events, as well as for final mixing of student-produced films. When not in use for SMC or KCRW events, the facility provides a much-needed large meeting space on the Westside and can be rented out for community events, increasing visibility for the naming donor and SMC.

Auditorium/Production Suite Lobby
This inviting, two-story space is a gathering place for audiences attending events, as well as students working in the production studio.

Courtyard Entrance Lobby
The Entrance Lobby from the courtyard is a grand space and prime gathering spot for students and faculty from throughout the campus.

Café
The new café provides students, faculty, and staff with a convenient dining and informal meeting space in the center of the site.
Level 2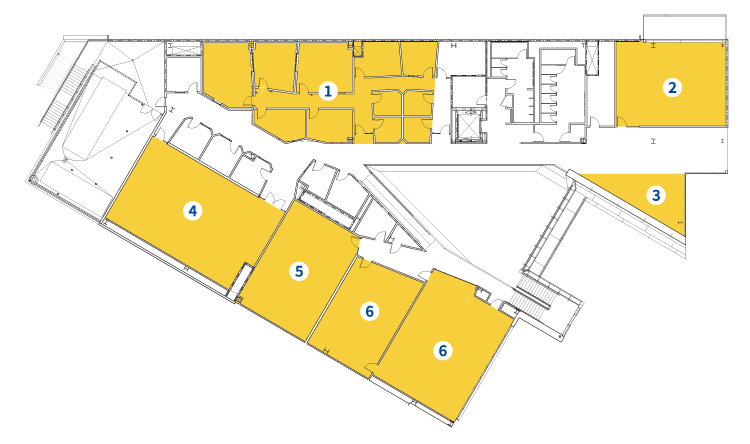 Radio Broadcast Suite
This full suite features four voice booths, three production booths, two radio control rooms, and a radio interview area. The suite also provides a backup radio broadcast facility for KCRW.

Interaction Design Classroom
This classroom is dedicated to the Interaction Design Bachelor's Degree program, building student proficiency at the intersection of the fields of design, user experience, and technology.

Media Wing Alcove
Upstairs in the renovated Media Wing, an open lounge and workspace area provides another major student gathering area.

Art Studio/Classroom
This studio accommodating traditional artistic media also features equipment for shooting animation cells derived from drawing classes.

Computer Classroom
Seven computer-equipped classrooms, including one dedicated to post production, serves students in a variety of programs.

Interior Architectural Design Suite
This specialized classroom, with a connected materials room, supports all Interior Architectural Design courses.
CMD Building D - Design Wing
Level 1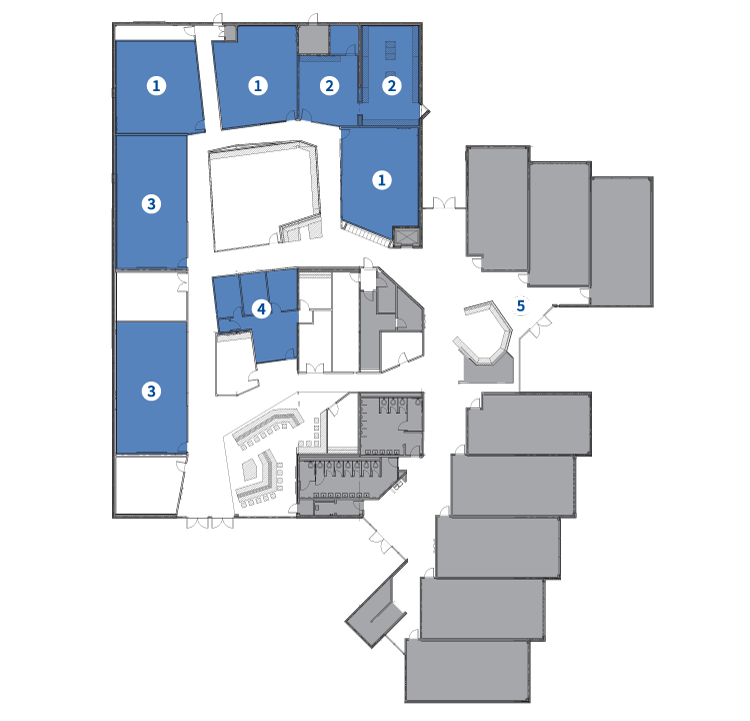 Computer Classrooms
Seven computer-equipped classrooms, including one dedicated to post production, serves students in a variety of programs.

Journalism Production Suite
Two connecting rooms with computers serves as production layout areas or meeting spaces for the Corsair student newspaper.


Table Classrooms
Equipped with modular tables for flexible configurations, these classrooms support a number of drafting and sketching courses.

Student Services
The Student Services offices and lobby is a frequently visited destination, with entrance-area seating and data ports to provide study space and a venue for informal meetings.

Stewart Street Entrance Lobby
The Entrance Lobby at the front of the building, off of Stewart Street, provides a highly visible space for all who come to the instructional facility and features comfortable seating and data ports, encouraging students, faculty, and staff to gather informally.
Level 2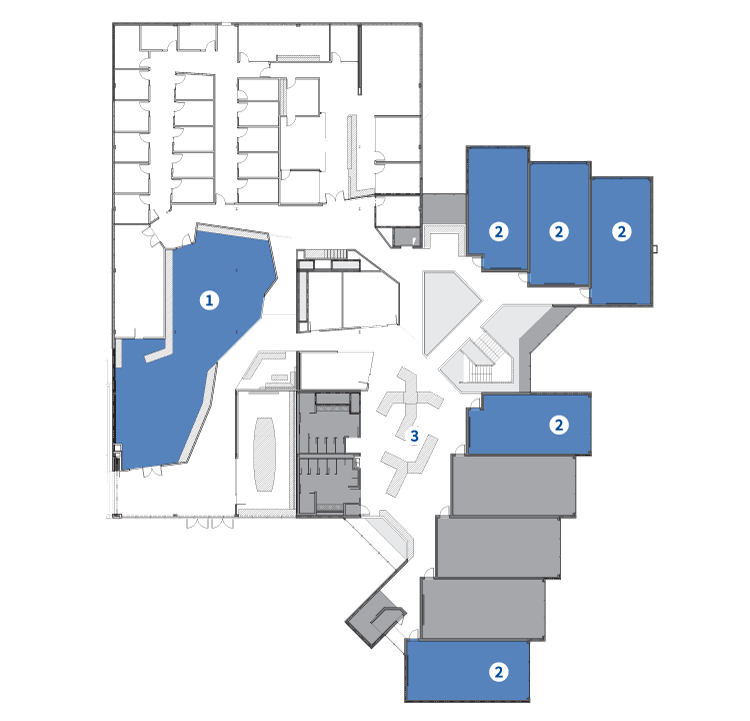 Computer Lab
The large, open, glasswalled lab is equipped with high-end workstations for students to work on digital projects outside of the classroom.

General Education Classrooms
These traditional lecture classrooms serves students across all disciplines.

Design Wing Student Alcove
On the second floor of the Design Wing, this area includes an open lounge and workspace area that is an important student gathering area in the new facility.