​
Due to COVID-19, contact transportation@smc.edu or 310-434-3909.
For transit updates, visit BBB or Metro​ ​
Lyft Shared Code
Free evening rides to PAC, CMD, and Bundy using a Lyft Shared code.
​Transportation Alternatives
Students attending SMC have many alternatives to get to campus without driving alone. In fact, 70% of our students get to campus by bus, train, carpool, bike, scooter or walking because they know it saves money on gas and permits/tickets and is less stressful.
Explore your alternatives using Corsair Commute SMC's personalized trip planner. It provides all options (bike, walk, transit, carpool, and car) in one screen, including costs, time, route maps, calories burned and CO2 emitted.​
*Some of the transportation options are provided by third parties and not regulated by SMC. Some may involve you signing legal agreements. You should carefully review the agreements and ensure that the option you select is appropriate for you.
Big Blue Bus
Ride Free. Any Line, Any Time, thanks to SMC and the Associated Students. Simply pay your AS fees, swipe your card, ride the bus and save money, time and the air! Several BBB lines service various SMC campuses. For more info, visit Big Blue Bus.
New students & staff ID cards are ready to use!
Returning students & staff must re-activate* cards at the Bursar's office each semester. (*card re-activation requires student/staff ID number)
BBB now only accepts payment via TAP. Visit the bookstore to purchase.
Expo Train
Main campus - 17th Street (10 min walk or take BBB #41 or #42)
PAC campus - 17th Street (10 min walk or take BBB #41 or #42)
Emeritus - 4th Street Station (10 min walk)
Center for Media and Design - Bergamot Station (4 min walk)
Bundy / Airport campuses - (catch the BBB #14 from the Bundy Station)
Transfer from BBB to Metro for 50¢ with special TAP card from the bookstore. Purchase Student monthly pass for $43. More Expo info.
Carpool, Vanpool and Ride-Hailing
Waze Carpool - ​Find a ride for $0.58 per mile or fill a seat in your car to make a little extra money on your commute. Download the Waze app​. Allow at least 24 hours to be matched (but no guarantees so have a back-up plan).
Carpool - Find another SMC rider via Corsair Commute or check out Metro's Ride Match for a larger pool of drivers in Los Angeles.
Ride Hailing - New Drop Off/Pick Up Zone for Lyft/Uber rides on Pico Blvd. between 18th and 19th Streets, behind Drescher Hall. See the top middle area of the map. Temporary zone due to construction until December 18, 2018. Do not use Pearl Street.
UberPool: Use promo code uberpoolsmc2016 for $20 first ride.
Lyft Shared: Use promo code SMC18 for $10 off your first shared ride.
Vanpool - Find a spot in an existing van or start a new one.
Getting Between Campuses
DAY: Use the ​Big Blue Bus for free to get to Bundy/ Airport, CMD and PAC. EVENING: Call a Lyft Shared ride for free using the code.
Tip: There is FREE and plentiful parking at Bundy campus. Buses to and from the main campus run every 14 min weekdays.
Breeze Bike Share
Over 500 bikes to choose from around Santa Monica with many located at every campus for those short trips to campus from the bus or Expo line, off campus to get lunch, run errands, or ride to another campus for class.
Become a member or rent by the hour. Special SMC student rate is $7 per month for 90 minutes of ride time per day. Use SMC email to sign up.
Bike Repair
SMC Bike Club repairs minor problems (flats & squeaks) for FREE Tue & Thu during club hours at the Pearl Bike Lot.
Free bike maintenance support at Bikerowave, for anyone with a current AS sticker on their SMC ID card.
DIY stands with pumps and tools are available 24/7 at Pearl Street Bike Lot.
Mobile Apps
These new apps take the guesswork out of planning your trip by aggregating real-time data from the nearby bus, train, bike share and car share services. Check arrival times, find closest stops, plan your route, weigh your options. Never waste time at a bus stop again.
Transit App - Real time schedule updates for all nearby transit options.
CityMapper - Plan your trip from A to B across all mobility modes.

Google Maps - Trip planning for walking, biking, transit and driving.
NextBus - Real time arrival info & vehicle locations for BBB & Metro.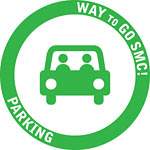 Parking
If you absolutely must drive to campus, plan extra time for traffic and parking. We recommend heading directly to Bundy Campus where parking is free, plentiful, and shuttles run to main campus every 14 minutes. The BBB #44 shuttle drops off at 17th and Pearl on main campus. To park on any of the SMC campuses you must have a current parking permit. Get a permit online or in person at the Cashier's Office.
Pedestrian Zone
Please ride to campus but not through campus. Dismount from bikes, skateboards, and scooters or risk a citation.
---
Electric Scooters: At Santa Monica College, we care deeply about your safety. With the recent influx of electric scooters, we thought it was important to give you a quick look at the state laws regarding electric scooters, so that you can be safe. Please note that electric scooters and bikes are NOT allowed on any of Santa Monica College's campuses.
California Vehicle Code (CVC) 407.5(a) defines a motorized scooter as any two-wheeled device that has handlebars, has a floorboard that is designed to be stood upon when riding, and is powered by an electric motor. CVC 21235 mandates that all scooter riders in California:
Must wear a properly fitted bicycle helmet if you are under 18.
Have a valid driver license
Ride on the road and remain off sidewalks
May not park scooters on a sidewalk in a position that blocks pedestrian paths
Be very aware of your surroundings as you may not be seen or heard by other vehicles. Drive cautiously and defensively. Please be safe and be a responsible rider. Use common sense: don't forget that these scooters are motorized vehicles, not toys, operating on streets.
---
If the maps on our Transportation web pages are not accessible to you, contact Manuel Islas by telephone at 310-434-3554 or email at islas_manuel@smc.edu.
Transportation Task Force at SMC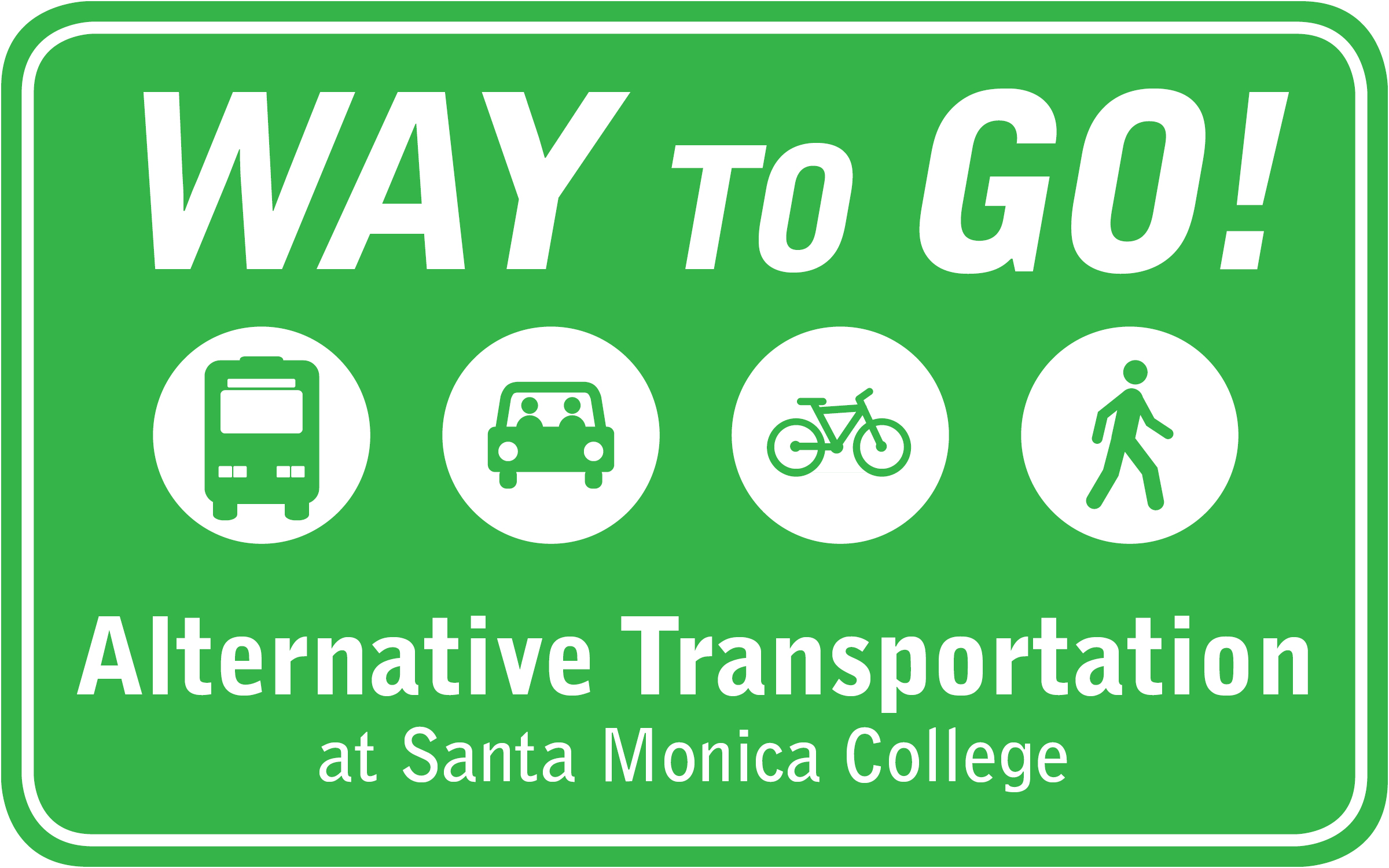 Interested in being a part of the solution? Attend the Transportation Task Force meetings on the 1st and 3rd Wednesdays of each month from 1 – 2:30 pm. Meetings located at 1744 Pearl Street.
A draft of the new sustainable transportation plan can be found here: Sustainable Transportation Planning Matrix.
SMC Employees​
Earn monthly cash incentives for using alternative modes to get to work.