Literary Talks & Readings
Welcome to SMC! Have you wanted to listen to intriguing stories? Meet and talk with fascinating, creative artists? Enjoy poetry and richness of language? It has been a regular feature of life at SMC—every semester for the last 22 years. We have the opportunity to listen to a wide variety of award-winning authors who want to share their art and experience with the students. Usually, during the Activity Hour (11:15am-12:30pm Tuesday/Thursday), when most students do not have classes. And they are free and open to everyone. This semester, the Literary Series is on Zoom. So, these wonderful sessions are only a few clicks away on a computer screen near you. Tell your friends and relatives about these events. All of you are most heartily welcome.
This series is made possible by generous support of the SMC Associates.
SMC Literary Series Spring 2023
Nana Kwame Adjei-Brenyah: "A Reading by Nana Kwame Adjei-Brenyah"
Tuesday 21 March 2023 11:15am-12:30pm PT
https://us06web.zoom.us/j/86095759184
Nana Kwame Adjei-Brenyah, Ghanaian American, is the New York Times-bestselling author of Friday Black (2018). Of the collection, George Saunders notes, "These stories are an excitement and a wonder: strange, crazed, urgent and funny, yet classical in the way they take on stubborn human problems: the depravities of capitalism, love struggling to assert itself within heartless systems. The wildly talented Adjei-Brenyah has made these edgy tales immensely charming, via his resolute, heartful, immensely likeable narrators, capable of seeing the world as blessed and cursed at once."
Adjei-Brenyah's debut novel, Chain-Gang All-Stars, is forthcoming in 2023 with Penguin Random House. About the book, Kiese Laymon says, "In a narrative world where the real is growingly more unbelievable than the make believe, Nana Kwame Adjei-Brenyah's Chain-Gang All-Stars is an uncanny, singular feat of literature. I've never read satire so bruising, so brolic, so tender and really, so pitch-perfect. It's nuts brilliant. Just read it!"
Adjei-Brenyah was selected by Colson Whitehead as one of the National Book Foundation's "5 Under 35" honorees, the winner of the PEN/Jean Stein Book Award, and a finalist for the National Book Critics Circle's John Leonard Award for Best First Book and the Aspen Words Literary Prize. His work has appeared or is forthcoming in numerous publications, including the New York Times Book Review, Esquire, Literary Hub, the Paris Review, Guernica, and Longreads.
Matt Stoller: "Monopoly Power, the Tech Goliaths, and Our Democracy"
Tuesday, 4 April 2023 11:15am to 12:30pm PT
https://us06web.zoom.us/j/89036588136
Matt Stoller is the Director of Research at the American Economic Liberties Project. He is the author of the Simon and Schuster book Goliath: The Hundred Year War Between Monopoly Power and Democracy (2020), which Business Insider called "One of the year's best books on how to rethink capitalism and improve the economy." David Cicilline, Chairman of the House Antitrust Subcommittee, has called Stoller's work "an inspiration." Stoller is a former policy advisor to the Senate Budget Committee.
He also worked for a member of the Financial Services Committee in the U.S. House of Representatives during the financial crisis. While a staffer, he wrote a provision of law mandating a third-party audit of the Federal Reserve's emergency lending activities. He also helped cut part of a $20 billion subsidy to large financial institutions. His 2012 law review article on the foreclosure crisis, "The Housing Crash and the End of American Citizenship," predicted the rise of autocratic political forces, and his 2016 Atlantic article, "How the Democrats Killed their Populist Soul," helped inspire the new anti-monopoly movement. His writing has appeared in the Washington Post, the New York Times, Fast Company, Foreign Policy, the Guardian, Vice, The American Conservative, and the Baffler. Stoller writes the monopoly-focused newsletter Big with tens of thousands of subscribers.
Tananarive Due: "Navigating Real-Life horrors through Writing Horror: A Reading by Tananarive Due"
Friday 7 April 2023 11:00am-12:30pm PT
https://us06web.zoom.us/j/81910429981
TANANARIVE DUE (tah-nah-nah-REEVE doo) is an award-winning author who teaches Black Horror and Afrofuturism at UCLA. She is an executive producer on Shudder's groundbreaking documentary Horror Noire: A History of Black Horror. She and her husband/collaborator, Steven Barnes, wrote "A Small Town" for Season 2 of Jordan Peele's "The Twilight Zone" on Paramount Plus, and two segments of Shudder's anthology film Horror Noire. They also co-wrote their upcoming Black Horror graphic novel The Keeper, illustrated by Marco Finnegan. Due and Barnes co-host a podcast, "Lifewriting: Write for Your Life!"
A leading voice in Black speculative fiction for more than 20 years, Due has won an American Book Award, an NAACP Image Award, and a British Fantasy Award, and her writing has been included in best-of-the-year anthologies. Her books include Ghost Summer: Stories, My Soul to Keep, and The Good House. She and her late mother, civil rights activist Patricia Stephens Due, co-authored Freedom in the Family: A Mother-Daughter Memoir of the Fight for Civil Rights. She and her husband live with their son, Jason.
Karen Tei Yamashita: "A Reading by Karen Tei Yamashita."
Tuesday 25 April 2023 11:15am-12:30pm PT
https://us06web.zoom.us/j/85846188446
Karen Tei Yamashita was born in Oakland, California; her parents were both survivors of incarceration at the Topaz internment camp during World War II. Yamashita is the author of eight books traversing short story, memoir, and novel, including Through the Arc of the Rain Forest, Brazil-Maru, Tropic of Orange, Circle K Cycles, Anime Wong, and I Hotel, which was a finalist for the National Book Award, the American Book Award, the Asian/Pacific American Librarians Association Award, and the Association for Asian American Studies Book Award. Her most recent publication, Sansei and Sensibility (2020), is a collection of buoyant and inventive stories where Yamashita transfers classic tales across boundaries and questions what an inheritance – familial, cultural, emotional, artistic – really means.
In 2021, Yamashita was awarded a Lifetime Achievement Award for Distinguished Contribution to American Letters from the National Book Foundation. Yamashita is also the recipient of the John Dos Passos Prize for Literature and a U.S. Artists' Ford Foundation Fellowship as well as the California Book Award, Asian/Pacific American Librarians Association Award, among others.
She is currently professor emerita of literature and creative writing at the University of California, Santa Cruz.
Douglas Macgregor: "The War in Ukraine and the US Response"
Thursday 11 May 2023 11:15am-12:30pm PT on Zoom
https://us06web.zoom.us/j/82433411268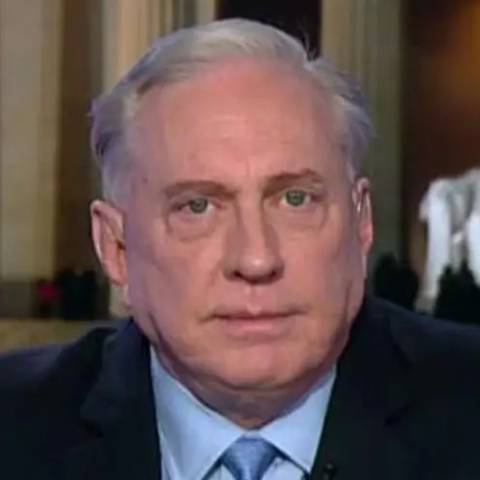 Douglas Macgregor is a decorated combat veteran, author of five books, and a defense and foreign policy consultant. He was commissioned in the Regular Army in 1976 and retired in 2004 with the rank of Colonel. In 2020, the President appointed Macgregor to serve as Senior Advisor to the Secretary of Defense, a post he held until President Trump left office. A graduate of West Point, he holds an MA in comparative politics and a PhD in international relations from the University of Virginia.
Dr. Macgregor is widely known across Europe, Israel, Russia, China, and Korea for both his leadership in the Battle of 73 Easting, the U.S. Army's largest tank battle since World War II, and for his ground-breaking books on military transformation: Breaking the Phalanx (Praeger, 1997) and Transformation under Fire (Praeger, 2003). Macgregor's recommendations for change in Force Design and "integrated all arms-all effects" operations have profoundly influenced force development in Israel, Russia, and China. His fifth book, Margin of Victory: Five Battles that Changed the Face of Modern War (Naval Institute Press, 2016), available as well in Chinese and soon in Hebrew, has provoked a great deal of discussion. In 2010, he advised the Republic of Korea Ministry of Defense on force design. In 2019, Transformation under Fire was selected by Lt. Gen. Aviv Kohavi, Chief of the Israeli Defense Force (IDF), as the intellectual basis for IDF transformation.
In 28 years of service, Dr. Macgregor taught in the Department of Social Sciences at West Point, commanded the 1st Squadron, 4th Cavalry, and served as the Director of the Joint Operations Center at SHAPE during the 1999 Kosovo Air Campaign for which he was awarded the Defense Superior Service medal.
Dr. Macgregor has also testified as an expert witness before the Senate and House Armed Services Committees and appeared as a defense analyst on Fox News, CNN, BBC, Sky News, and public radio.
Literary Series Contact Information:
If you have questions regarding the SMC Literary Series, please email Vishwanadha_Hari@smc.edu.