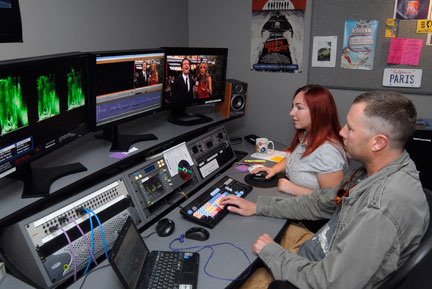 The award-winning SMC Office of Workforce & Economic Development is dedicated to bridging the gap between market needs and workforce abilities. The college specializes in preparing students for the workplace with job and technical skills they need for employability, job retention and career enhancement.
The office is instrumental in helping to launch special career ​training programs at the college, including Promo Pathways, which trains students to create and edit promotional spots for TV and film, and green programs such as the Resource and Recycling Management and Solar Photovoltaic Installers programs. A Medical Lab Technician program – created in partnership with the City of Santa Monica and Santa Monica-UCLA Medical Center – and an Energy Efficiency Auditor program are scheduled to be launched in 2012. Internships and customized training are key parts of the programs.
Through its award-winning Small Business Development Center, the college provides a wide range of services – for free or for a minimal fee – to help businesses start, expand and develop; to promote minority- and women-owned businesses; and to create and retain jobs.
Understanding that a strong partnership must exist between education and industry, SMC collaborates with local businesses through industry advisory councils composed of business executives and representatives, college administrators and faculty experts. This collaboration ensures that SMC's curricula meets and exceeds industry standards.
For more information about the Office of Workforce & Economic Development, contact us at workforce@smc.edu or 310) 434-4199.